In this article, we are going to list out some of the best apps you can use to download MP3 on your Android mobile phone.
Some of the apps in this list to not comply with the policies of Android Play Store, so we have mentioned download links for the APK files, however, the sources are trustworthy and links are safe to download.
1. SoundCloud
Soundcloud is another popular app that offers free music streaming service, this website is actually YouTube for music. Which means anyone can create an account and start uploading their media files.
It hosts Podcasts, Music files, a different genre of music. The artists on the platform to share their own music to stream for free?
They also offer a few of their songs to download for free. You can also check out these music streaming services
It is a popular website that host different kind of files, in media files is one of them. In fact, it is a large part of the file types posted on the website.
The website has a dedicated Android app that makes it easy for anyone to download music. It also has got it built-in music player so that you can directly listen to your favorite song salt are there.
The reason we prefer it because when you start listening to music inside the earth it starts showing you more music files based on your search query.
3. Google Play Music
Google play music is an official app from Google which has thousands of songs in the database, and apart from that, you can upload your own music files to Google Play so that he can stream them anywhere from any device.
Google play music also came up with a subscription-based model where it offered free music downloads on the monthly fees but even if you do not ask for music subscription there are thousands of songs available for free.
4. Music Paradise Pro
This office music downloads and also double up as an incredible search engine for providing access to sound effects, Mp3 songs, ringtones for your mobile etc.
There are three different tabs in the Music Paradise Pro app,
there is search, from where we can search for the music,
there is download, where all the files your download appears
there is a library. The app is free to use but is a little aggressive on the Ads part.
➤ Download the APK from APKPure.com
5. CloudAround Music Player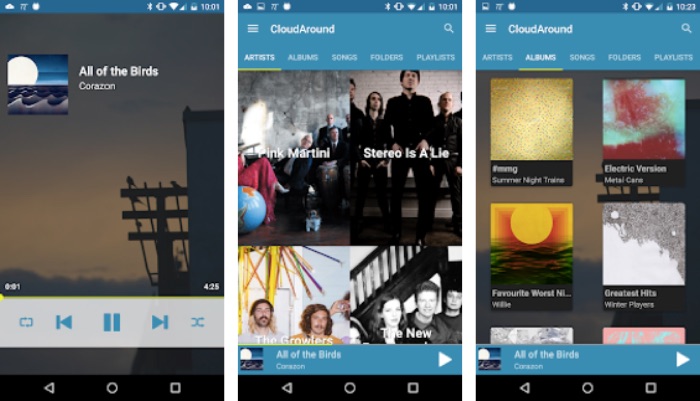 It is a music player that lets you play your Music stored on your Android Mobile as well as search and stream the songs from the Internet.
You can use the search bar of the app to look for Song name or Artist name and get the results from where you can also play the songs.
6. Snaptube
This is an incredible app that lets you download music from any platform.
It is actually an app where you have to paste the link of a video or audio from platforms like Facebook, YouTube, or Instagram, and then you can select to download MP3.
If it is a video from YouTube, it will extract the audio of the video and will download it as an MP3 file. You can read more about this happen details here.