Smartphone photography has improved so much in the last few years.
So much that I stop carrying my DSLR in my travels. I take a lot of photos from my phone, and Google photos help me keep them sync across all my devices.
But before making it get into Google photos cloud library, I make sure to copy all the photos to my laptop and put a filter in the Lightroom software, just for that artistic look on photos.
Everything works like a charm, thanks to my Samsung SSD which can easily connect with a laptop as well as a mobile phone.
But there is an issue that I face every time I have to do it.
When I move the developed photos back to my phone, the date kind of messed up because of the modified date changes and Google photos app message up the chronology of photos.
The order of making photos appear in the photo library helps in knowing the story behind your travels, but a simple modified date changes the whole thing and messes everything up.
The same thing happens in every photo gallery that you can find in the Play Store.
Here is the solution
I have found one solution that is updating the modified date of the developed photos. There is an app in the Play Store.
The name is Timestamp Changing Tool. It is available for free.
The user interface is also pretty similar. You have to choose a folder, where all the photos are stored, and then you can manually update the modified date of the photos.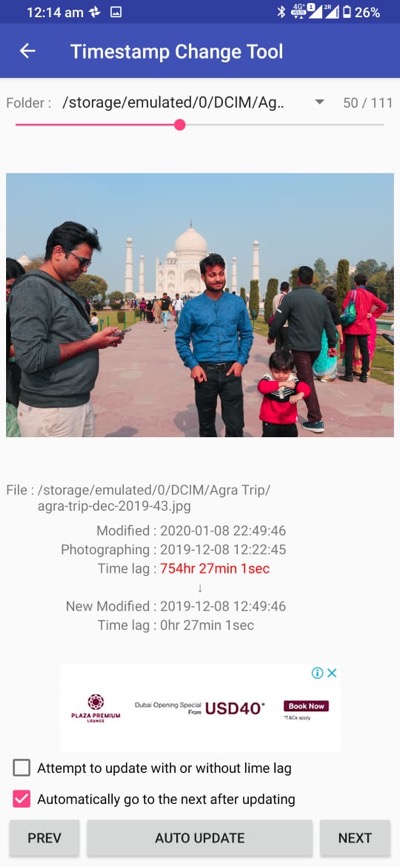 Once you have changed the modified date of photos, you might also have to force stop Google photos or any other gallery app you are using on your phone.
In my case, I had to clear the cache of Google Photos app and re-configure it in order for the app to recognise the updated modified date.
But thankfully, everything came back in order, as it was appearing before making the edits in the Lightroom app on PC.
There are a number of timestamp changing apps in the Play Store, which means it is a common issue faced by a lot of people. I tried a couple of them, but this one seems to be working just fine for me.
Install the app from the Play Store.