Quick and convenient content creation is the dream of every writer. So, how do online text editors help with that? 
Online text editors are quick convenient, and they help writers create content on the go. Since most of today's marketing and content creation depends on fast content creation, writers need to find means to create content quickly.
That's when these online text editors step in. Programs such as GoogleDocs and PPS' Online Text Editor are lifesavers for many content creators today. But, how exactly do they help? With their formatting, structure, and assistance with grammar.
These tools have become an essential tool in any writer's shed. However, finding the right tool to use on the go can be a challenge. So, how do you find a program that's ideal for you? Also, the kind you can use from any device?
To help you find out, let's dig deeper. 
5 Best Text Editors Writers Can Use In 2022
Finding the best tool for online usage can be a challenge. It needs to contain a particular array of tools for writers to use extensively. One of the key offerings of an online text editor should be convenience.
Does it provide formatting tools? Does it include other fundamental essentials like grammar or tone correction? If so, is the program paid? Considering the nature of online text editors needs to be on the go, it needs to allow swift usage without causing the writers much hassle.
That's why finding a good tool with essential elements can be a challenge. Yet, you can find a plethora of tools that offer all these elements, but do they deliver? Since convenience is one of the first requirements of such programs, they need to be swift and hassle-free.
So, we went ahead and checked for specific tools from major providers and their smaller counterparts. Then, we comprised a list for your ease and convenience. Each of the following tools has been vetted for a writer's everyday primary usage.
Including formatting, ease, mobile phone usage, etc. So, without further delay, here are five best text editors content writers can use:
1. Prepostseo's Online Text Editor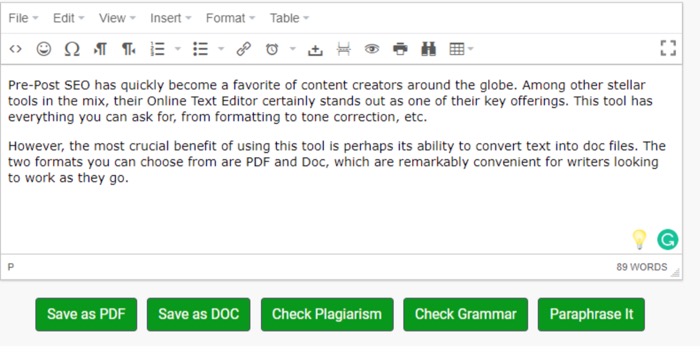 Prepostseo has quickly become a favorite of content creators around the globe. Among other stellar tools in the mix, their plain text editor certainly stands out as one of their key offerings. This tool has everything you can ask for, from formatting to tone correction, etc.
However, the most crucial benefit of using this tool is perhaps its ability to convert text into doc files. The two formats you can choose from are PDF and Doc, which are remarkably convenient for writers looking to work as they go. 
Formatting

: Yes

Other Benefits

: Doc convertor 

Free

: Yes

Paid Service

: Yes, but has no effect on Online Text Editor

Mobile App

: Yes
2. Grammarly

Grammarly is one of the household names in the writing community. It has quickly become the backbone of writers around the globe, assisting them in creating astounding content or copy. While professionals and academies use it alike, the program itself has a wonderful set of features.
Granted, it doesn't have a basic feature-set as you would hope from Microsoft Word or its likes. However, other features more than making it up for it, making it one of the best programs available today for on the go usage. 
Formatting

: No

Other Benefits

: Grammar & tone correction, plagiarism checker

Free

: Limited use

Paid Service

: Yes

Mobile App

: Keyboard only
3. GoogleDocs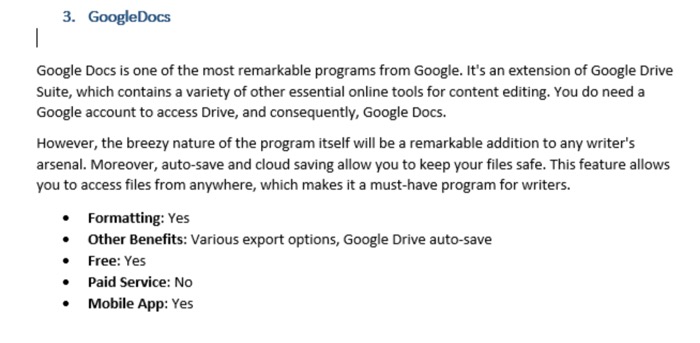 Google Docs is one of the most remarkable programs from Google. It's an extension of Google Drive Suite, which contains a variety of other essential online tools for content editing. You do need a Google account to access Drive, and consequently, Google Docs.
However, the breezy nature of the program itself will be a remarkable addition to any writer's arsenal. Moreover, auto-save and cloud saving allow you to keep your files safe. This feature allows you to access files from anywhere, which makes it a must-have program for writers. 
Formatting

: Yes

Other Benefits

: Various export options, Google Drive auto-save 

Free

: Yes

Paid Service

: No

Mobile App

: Yes
4. OneDrive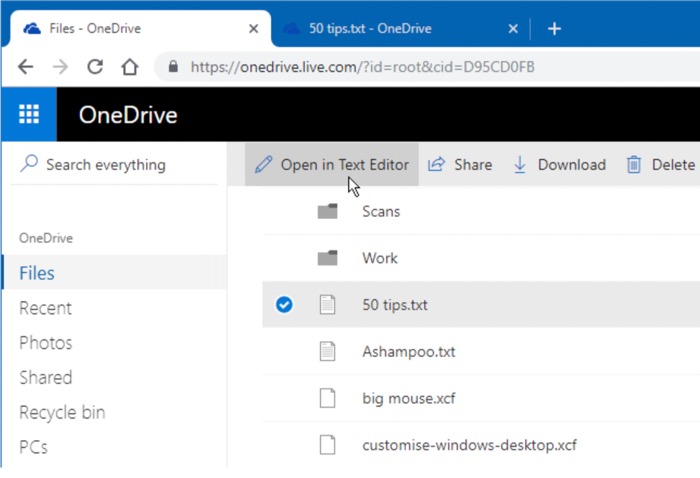 OneDrive is one of the free programs you get with your Windows operating system. The software itself is not as popular among writers as Google Drive. 
However, the text editor that it offers can help you create amazing content on the go. With its swift formatting and Microsoft Office-esque features, the OneDrive Doc editor is definitely an excellent tool for writers. 
Other Benefits

: Auto-save
Paid Service

: Yes/Not necessary
5. Edit Pad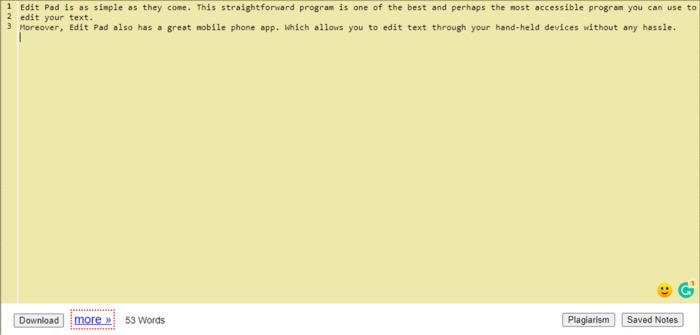 Edit Pad is as simple online notepad. This straightforward program is one of the best and perhaps the most accessible program you can use to edit your text. 
Moreover, Edit Pad also has a great mobile phone app. Which allows you to edit text through your hand-held devices without any hassle. 
Formatting

: Yes

Other Benefits

: Paraphrasing

Free

: Yes

Paid Service

: No

Mobile App

: Yes
Why Is It Important To Use Online Text Editor?
While these are all remarkable tools, why do you need to use them at all? Considering the nature of writing, you can need content anywhere. Using these programs allows you to do just that. To understand their importance, here are a few key benefits of such online editors:
Use From Anywhere
Whether you're using a hand-held device or a laptop, these editors allow you access to writing/editing content from anywhere in the world. This factor alone makes these programs a necessity for any writer.
Create Content Quickly
Instead of downloading and installing a program like Office on your computer, you can use an online text editor. These tools let you write content rapidly without having to download or install anything.
Format Content Swiftly
Suppose you're looking to format your content correctly without firing up a program like Office. In that case, once again, a tool like Online Text Editor can help you format it easily & swiftly.
Conclusion
Online text editors have become a necessity for writers around the globe. And these are five of the best tools you can find. With their swift and convenient nature, many writers use these whenever smaller requirements arise.