Buying a used car instead of a new one sounds like a massive win to your wallet or savings.
However, failing to do a proper VIN check on it may consume a significant portion of your savings later. A used vehicle can come with multiple problems, including auto theft, not being roadworthy, and rolled back odometer. 
Checking your potential car's VIN against multiple databases allows you to unveil its history and helps you avoid buying damaged or unsafe vehicles on the road. A few VIN tools can guarantee accurate and authentic vehicle reports on this history. 
Below we've sampled the best five free vehicle identification platforms based on their in-depth vehicle reports, availability, speed, UI-friendly, and more. Read on to find what each has in store for your vehicle's VIN.  
5 Best Free Vehicle Identification Number (VIN) Platforms
1. Free VIN Check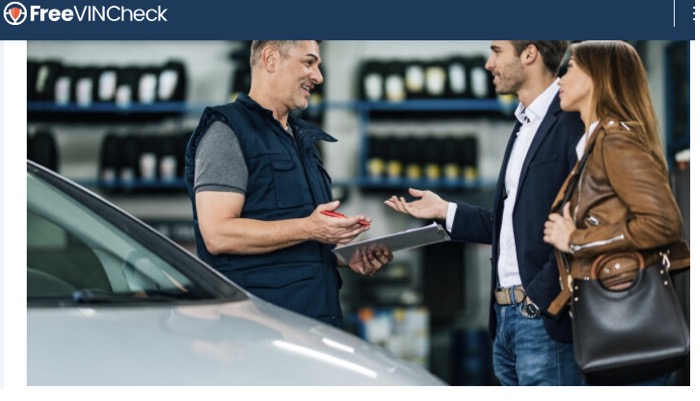 If you are searching for the best free site for a VIN check report, Free VIN Check is one of the best platforms to visit. Free VIN Check results generally contain information about any vehicle's specs, condition, and history. 
These are basic information on the manufacturing details, make and model, engine displacement, transmission type, actual mileage, maintenance history, accident history, vehicle theft claims, and past or open recalls. 
Checking a VIN via this platform also enables you to identify hidden risks that come with a used car. You might not be able to identify these risks if you buy a used car without checking anything.
These risks are often classified as lemon, odometer fraud, title washing, and VIN cloning. VIN cloning is where criminals exchange the VIN of a stolen vehicle with a legit one to avoid being found.
Pros
Zero-cost VIN check process
Instant vehicle results
Comprehensive and in-depth vehicle reports
Up-to-date and authentic vehicle data
Cons
This free VIN check platform is relatively new in this industry
It lacks a phone app for more convenience 
2. VinPit
VinPit is a constantly growing VIN tool that provides detailed information on your vehicle's background and specs. It is a web-based platform that can provide detailed reports on a vehicle, including odometer readings, distance covered, history of recalls, and estimated market value.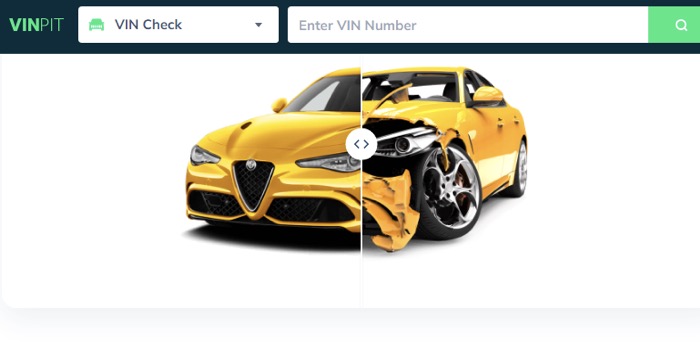 What most customers love about this VIN service is that it can reliably act as an initial point for buying a secondhand. And that is because when you decode your VIN using it, you can access minute details of a car. 
For example, from this site, you can view all the recalls, past damages, or accidents a car has ever had, including an outline of the recall and the potential fixes it should undergo. You can also access all information about the vehicle, such as its model, manufacturer, engine power, fuel efficiency, and a complete list of the vehicle's original equipment.
Additionally, the platform has had the chance to help millions of used car buyers make informed choices about their potential car. Their VIN check odometer readings are always precise.
Pros
Easy-to-navigate platform
It comes with quick software that process reports within minutes
Their databases update daily, which only ensures accuracy
Can detect hidden issues within a car, such as fraud and damages
Cons
It may not reveal well how a vehicle was kept in the past by its owners
Some countries may require to pay to access some reports 
3. Toyota VIN Decoder
The Toyota VIN Decoder is a totally free and easy-to-use VIN tool that can decode the VINs of all types of Toyota cars. No matter where you are, you can collect vehicle data on any Toyota brand.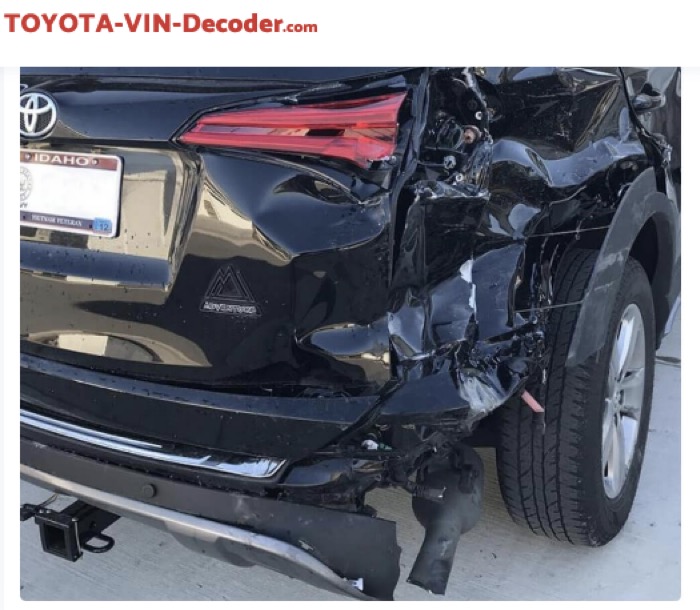 This utility tool can reveal much information regarding this vehicle, including its past owners, damages and accidents, recalls, precise odometer readings, and so much more.
Note that you may not be able to retrieve all this information using just any VIN tool. The Toyota VIN Decoder is designed explicitly for Toyota models.
This tool has a unique feature that enables you to spot fake vehicle identification numbers. You can also check the vehicle's recall log to see whether any recall was issued on the car, together with their explanation.
Pros
Allows you to lookup for vehicle information using engine type and each engine specification
The tool features a vast database that guarantees the latest and up-to-date vehicle data.
Vehicle information from this site is available for free.
Cons
It can only provide reports of Toyota's new and old models
4. Bumper
Bumper allows you to estimate a vehicle's value based on information from its past – what it can generate about a car. The data in their vehicle history reports generally have information on accidents, market value data, in-depth ownership costs, and so much more.
They source their vehicle data from government and private organizations, such as NMVTS, NHTSA, and JD Power. 
Also, you need to know that Bumper is not necessarily a VIN check tool. It is primarily a car dealing website.
And as such, it offers an all-in-one destination where dealers can offer their cars for sale, and buyers can estimate their potential vehicle worth or compare vehicles side by side and other services.
Pros
Partnered with certified NMVTIS data provider
All-in-one vehicle services 
Reports are easy to understand
Cons
It is not primarily a VIN check service 
You may have to pay for any valuable data 
5. ClearVIN
ClearVIN provides VIN check reports for any type and brand of vehicles – Cars, trucks, RVs, Trailers, and motorcycles. Their data sources employ a wide range of government and public records as data sources for their extensive vehicle information.
Financial departments, federal agencies, and local institutions are some of its other data sources. 
Their VIN check reports typically provide information on odometer rollbacks, recalls, insurance total loss records, ownership history, theft records, and so much more.
This data can reveal whether a vehicle has had crashes, the number of times the collisions have occurred, including their severity.
Pros
Offers distinctive vehicle data, which makes their reports reliable
It comes with an easy-to-navigate website with informative data
Provides money-back guarantee
Cons
Has fewer data compared to competitors
The site may become slow a times
Sometimes you need to pay to access valuable details.
Conclusion
Checking your Vehicle's VIN doesn't have to be a laborious or fruitless process. Best free platforms like Free VIN Check offers an easy-to-perform VIN lookup process and in-depth car reports within minutes.
Try out this site for information theft records, precise odometer readings, photos from vehicle exploitation, the number of previous owners it has had, its technical specs, and so much more.