Like humans, machines also tend to get old with time. No matter how powerful, or beautiful they are, they will not remain at it optimum after a few years.
And, in this particular article, we are going to talk about the MacBooks. I have a MacBook that is a few years old now and it has started the show that it's old.
I've started facing battery issues, sometimes my laptop doesn't turn on, then I have to do in SMC reset. Sometimes the charge on the battery doesn't hold for too long, and the MacBook shuts down without prior notice.
If any of these things are happening to your MacBook as well, the chances are the battery isn't in its good state.
Now, how do we check the health of the battery of MacBook? Read further
How to check your MacBook battery health status
By default, the battery icon on MacBooks appears on the top right-hand side in the menu bar, when you click on it, you will be able to see the notification regarding the battery. Mine is showing Condition: Replace Now
Now, to check the more information about the battery, click on the Apple icon on the top left-hand side, and then press the Option key, so that 'About This Mac' turns into 'System Information', click on it and then select power in the first column.
You will find the battery information on the right column, it looks something like this.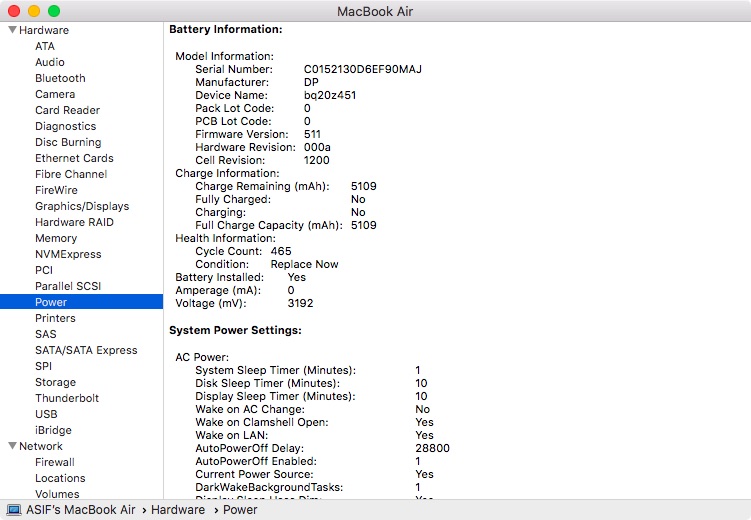 So my battery is more than a thousand days old and has got a cycle count of around 465. According to Apple's official website, my MacBook model, which is early 2015, has a battery that can have a cycle count of around 1000.
So, I have more than half of the cycle count left, but it doesn't matter if the Condition of the battery says 'Replace Now' because he might be the unlucky one like me.
Here is a video showing you how to do it:
Use tech to your advantage to check your MacBook's battery. This is made possible with software programs or apps to automate battery health inspection. 
But make sure to download a verified secured app. Otherwise, you'll only expose your MacBook to malware and other cybersecurity threats. The app may infect tracking mechanisms to steal your personal and financial data and use the information to perform fraud and other cybercrime activities. 
So, what's the recommended app to check your MacBook battery?
If you want more information about your battery, you can download the coconutBattery app, which is a free utility.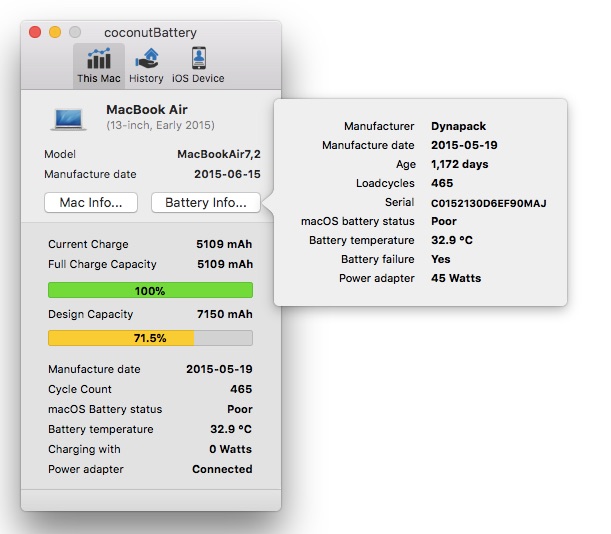 It will tell you how much charge the battery can hold now vs the charge it was designed to hold. In my case, it could hold 7150mAh when it was new, it can now hold 5109mAh after 1000 days, which is not too bad.
But, if the System Information already mentioned that you need to replace the battery, this utility is not going to prove it wrong.
What can you do if you find the battery Condition to be 'Replaced Now'
Well, as the option suggests you need to replace the battery. You can either go to the Apple service center and have the battery replaced.
You will be able to get it done for free if your computer is in warranty, but it would hardly happen that the battery would have a problem when your computer is under warranty, that is 1 year after you purchase the MacBook.
So, if it is not under warranty Apple is going to charge a hefty amount. What you can do at this point, is visit a local repair shop that does repairs of Apple computers,
They might arrange the battery for you at a far lesser price than what Apple would ask you.
But how can you find a reputable computer repair shop in your local area? You can run a query online or ask for referrals or recommendations from family and friends. They probably had experienced the same computer problems with their MacBook. So, they know the best computer repair shops in the city. Choose one that specializes in MacBook repair.
You can also look for MacBook battery is on eBay, and watch some battery replacement tutorials on YouTube and try to do that they are waiting. But I wouldn't recommend that if you are not into tech that much.
You might aggravate the problem if you're unsure what to do, which will only cost you more time and money to have your MacBook fixed. So, bring the new battery and your MacBook to a local Apple repair shop to replace it. Once your battery is replaced, take due diligence to inspect its health regularly and follow the best charging practices that Apple recommends to preserve its lifespan.