In this article, we will discuss how you can reduce the size of PDF files using online PDF document compression tools to compress PDF file. The listed online PDF compressor tools reduce the file size by up to 70%.
Why Compress a PDF file?
These days, PDF files are mainly created using mobile phone cameras. You take a picture of your document and create a PDF, either natively or by using a third-party app. Even though it is a text-based document, it was taken as a photo from your mobile camera, which can be in the range of 2MB to 3MB, which means, the size of your PDF file will be too big and you can use PDF compressor to reduce the size of a PDF up to 70%
A PDF file can be compressed to reduce the file size and make it easier to upload, download, or transfer. PDF compression is done by reducing the image quality of your PDF, which may result in some loss of information or fidelity. However, if the PDF mainly contains texts and graphics, it can be compressed up to 70% without losing a noticeable quality.
There are forms, reports, and other text-based documents in the form of large PDF files that need to be sent via email can create space usage issues. Compressing them will make the process of sending and receiving multiple PDF files seamless.
How to Reduce PDF file size?
There are many free and paid tools available to reduce PDF size, you will find the list of apps for mobile and online PDF compressor that can work inside a browser on any platform.
How to compress a PDF on Android and iPhone?
PDF Compressor apps for iPhone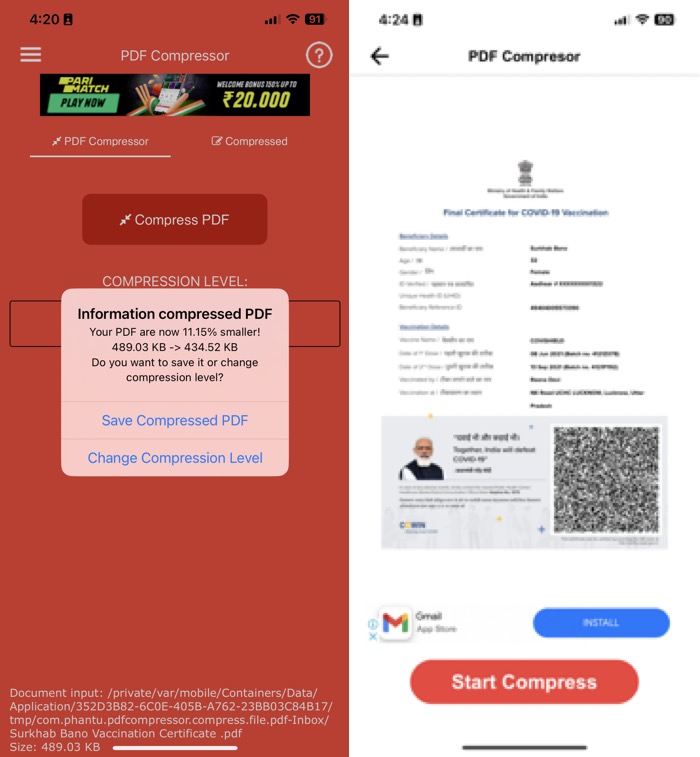 I tried a few PDF apps on iOS, mostly every app from an individual developer is filled with ads. And are still broken. One app I found was able to compress a 500kb PDF to 250kb, which is reasonable. But this one shows ads a bit too much. Consider using it if it's a one-time job and you don't have to do it on a regular basis. Else, my recommendation would be to get rid of the ads and try the next app in this list.
I Love PDF

It is an app that lets you create PDF files on your iPhone by taking a picture of a document. But it also has a few other tools inside the app. One of them is the PDF compressor, which works well. Also, there aren't any annoying popup ads. But it has a daily limit of performing only three actions across various tools offered by it.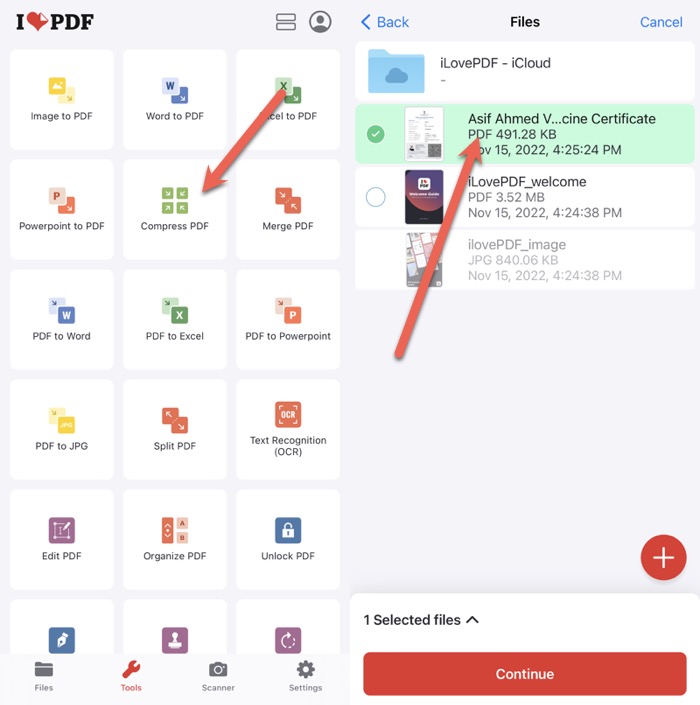 Although there is a way to choose the strictness of the compression, Extreme compression didn't make any difference and the 500kb PDF was compressed to a mere 430kb whereas the PDF Compressor app did a 50% compression in the PDF file size.
PDF Compressor for Android
There are plenty of PDF Compressor tools listed in the Play Store, probably more than the App store, but the majority of them are poorly designed and full of ads here are the ones I found to be working and are better than other apps.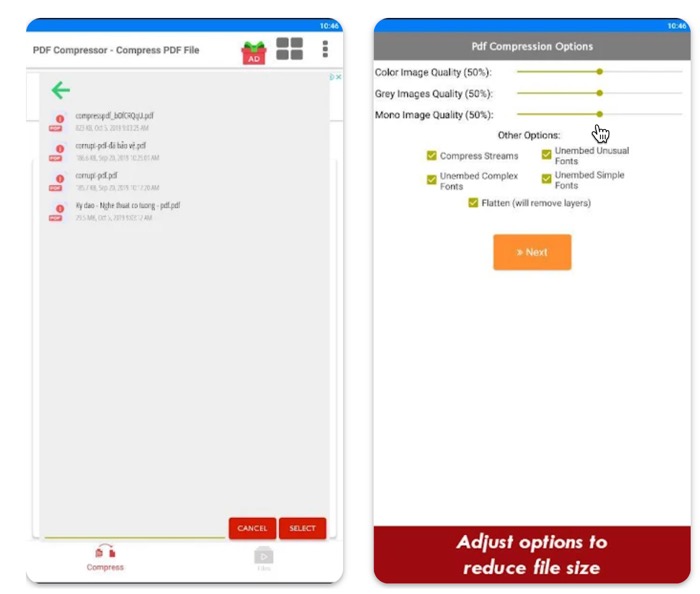 Although poorly designed, it still works and gets the job of compressing PDF files. You can choose the aggressiveness of the compression by individually selecting the compression for images, fonts, and layers used in the PDF.
If you want to keep an app for compressing PDF files on a regular basis, I would suggest you install I Love PDF, though it has a limit for its daily usage, it is designed nicely and there aren't any intrusive ads in the app.
If you don't want to install these apps, you can alternatively use one of the free online PDF compressors mentioned below. Simply open them in the mobile browser and follow the instructions.
Reduce PDF File Sizes Online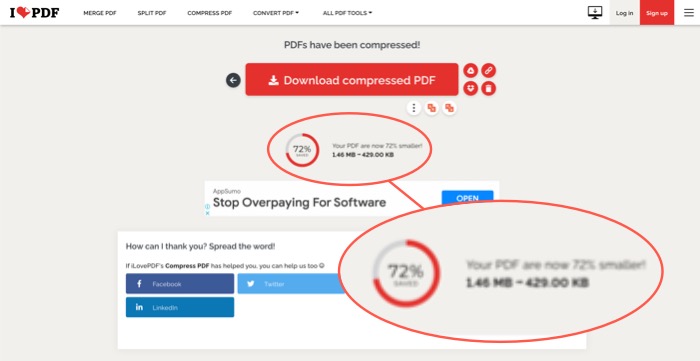 I Love PDF having an online PDF compressor is not a surprise, You can compress PDF online using their web app. The web app is clean and simple to understand. You can upload the PDF by browsing the folder or just drag and drop the file in the web app. It reduced my PDF by over 70% from 1.5MB and the downloadable PDF I got was around 400kb. And no signup is required.
Similarly, there are other online PDF convertor tools that are simple and easy to use and do not require you to signup or install any app. Here are a few you can use apart from the I Love PDF.
I hope these free apps and online PDF compressor to reduce the size of your big PDF files will help you make your life easy. Read more articles on the blog to make your tech life easy.
5 Best Free Websites to Convert CSV files to XLS, XLSX, PDF, DOC, DOCX etc