If you are a minimalistic guy, you will love this tip. And if you are a productivity freak, you will love this even more.
One of the tips I have been following for years to clear my mind and focus on things, is by writing down things I have in my head.
Now, the best option is to use pen & paper, and it works for a lot of people. But, here is an alternative in this digital age. That is, using your mobile phone for using it like a Digital Diary.
There are a lot of android apps in the Play Store and Pphone apps in the App Store for a digital diary that can be used for writing down anything that comes across your mind.
You can also use you existing note-taking apps on your mobile phone for writing your thoughts, but there is a slight difference between putting down random thoughts and writing down important things you need to take action on.
I don't recommend you use your current note-taking app, or your to-do list app for writing random thoughts. What if you do not want to download another app on your mobile phone just for this?
This is where the tip comes in handy,
Using whatsapp as your digital diary.
I have already shared a great tip for using whatsapp as a note-taking app, which works on a similar method.
Create an empty group, which you will use to note down when thoughts come across daily to get them out of your head.
Here are the following steps to create a group for a digital diary on whatsapp.
Tap on 'New' to create a new group, add someone else, preferably your second number or someone in the family, and create the group.
Once the group is created, you can remove that person so that it's only you in the group. You can rename the group something like 'Digital Diary' or 'Daily Diary.'
You can go one step further to do a google image search for the diary icon, save it on your phone and upload it as a group icon.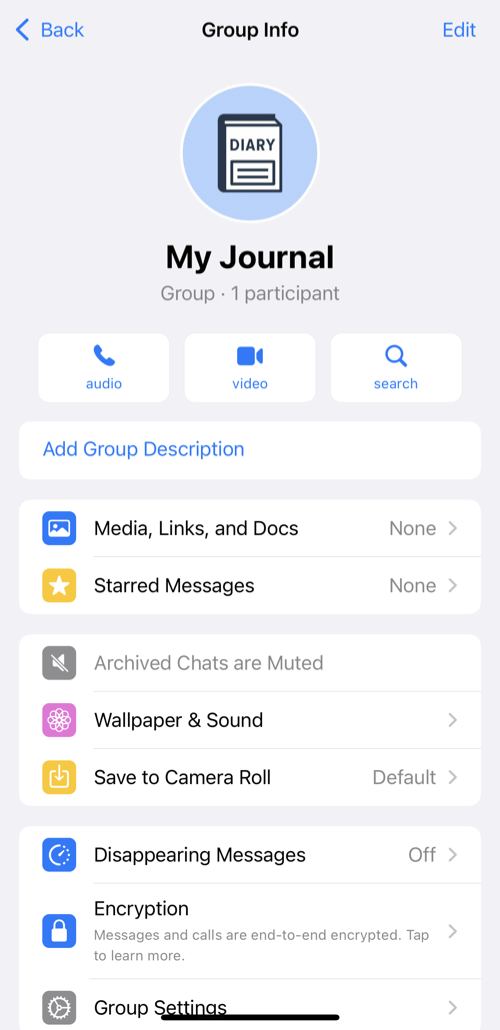 You can start writing down your thoughts in that group, it behaves like a chat, but it's only accessible to you. Everything you write will appear in reverse chronological order, with the latest message at the bottom.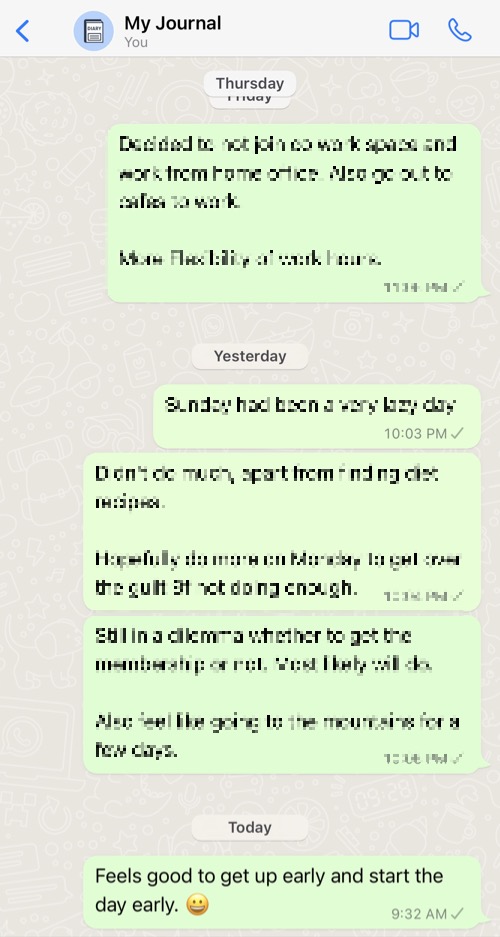 This is also helpful in going back to a particular message on a particular day because whatsapp records the date and time of the message sent. The great thing is it also gets backed up and other messages on whatsapp, which is also accessible to you on multiple platforms.
You can also hide this digital diary from the chat list by Archiving it. The good thing is that the Archive appears on the top of the chat list, so it is also accessible to you in just two taps and is also not visible to anyone in the chat list if someone is looking at your phone.
I have been using this tip to use whatsapp as a digital diary, and I love that I don't have to install another app just for this purpose.