I am writing this WhatsApp Tips & Tricks guide with the intention that it will be the last guide you will ever need. Make sure you bookmark it since it will be updated whenever we find a new trick worth sharing. For other WhatsApp related articles check out the WhatsApp tag. 
Whatsapp is probably one of the very few apps that have got such a massive userbase. So big that every one person on this planet uses it.
WhatsApp is a revolutionary app that has made communication so affordable and fast. We send hundreds of texts to our friends and family every day. Not just text messages, but images, videos, voice notes, express ourselves using emojis, share our day with Status Stories (many people hated this initially).
WhatsApp can easily be considered SMS 2.0, and it's everything SMS couldn't be. Now enough with the hype. Let's get straight to the list.
1. Control Privacy: Hide, Profile Picture, Status, Read Receipts (Double Blue Ticks)  etc
WhatsApp gives you complete control over what things you want to show others and what items you want to hide.
This can be done from the Settings-Account-Privacy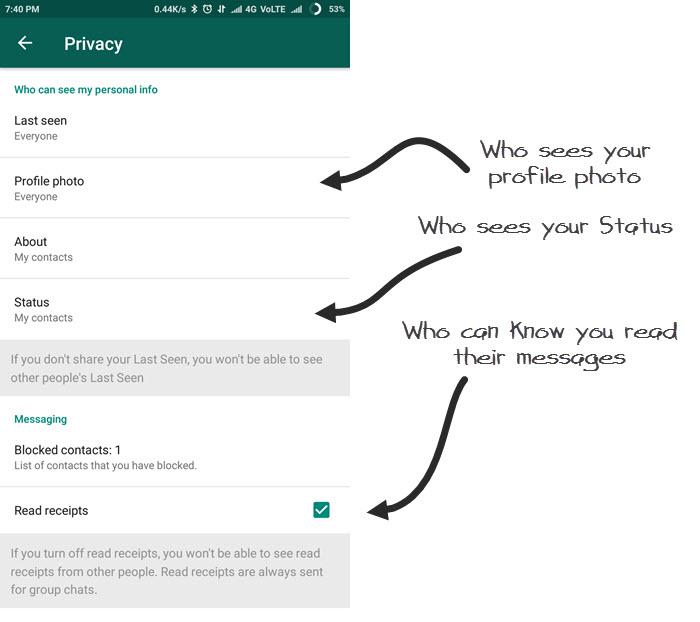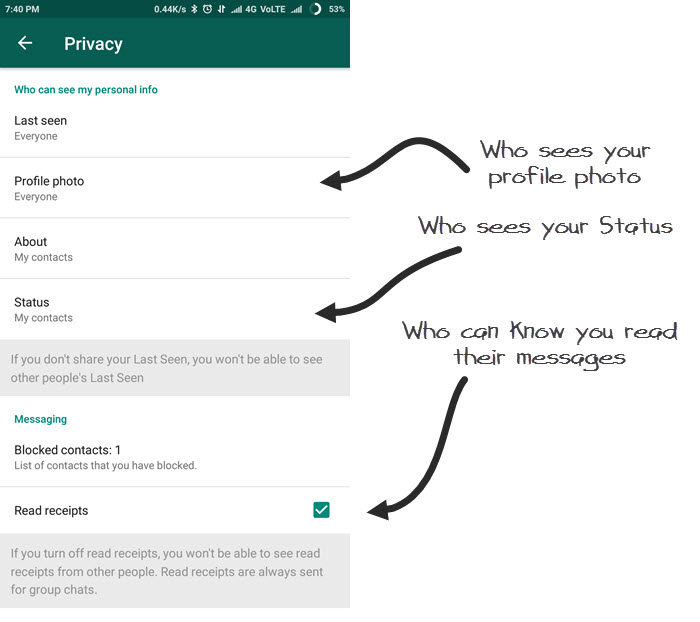 2. Manage WhatsApp Media Files Clutter on Your Android Smartphone
If you use WhatsApp a lot or have joined a lot of active groups, you might be aware of the number of photos your phone is storing.
Though the photo files won't take a lot of space on your phone, it can add up to be a lot in a few weeks.
Stop WhatsApp from downloading the files automatically, and you can turn it off from Settings -Data usage. Turn off media auto-download by unchecking all the options.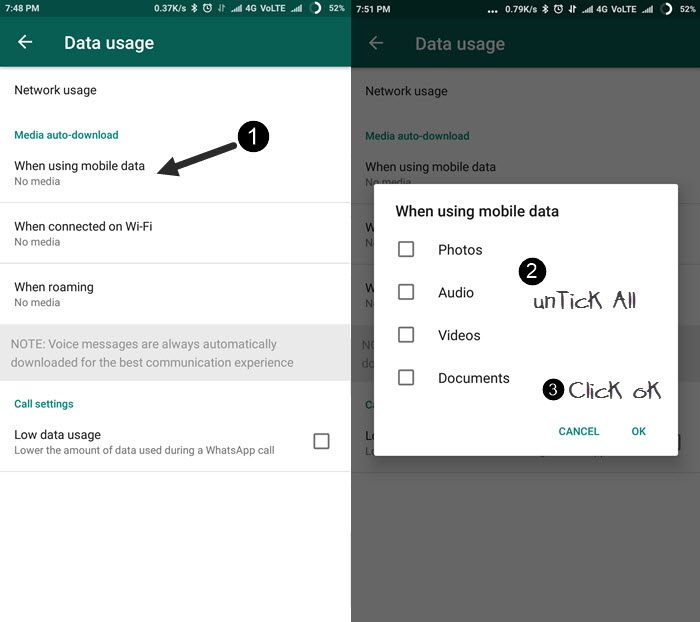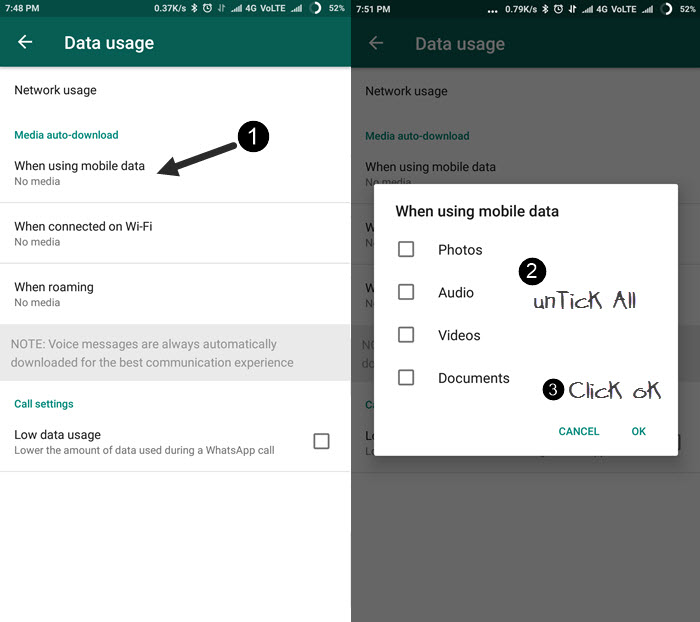 Also, most smartphones don't show images from different folders in the Gallery App, but if your phone doesn't do that itself, you can do it manually. The '.nomedia' trick still works well.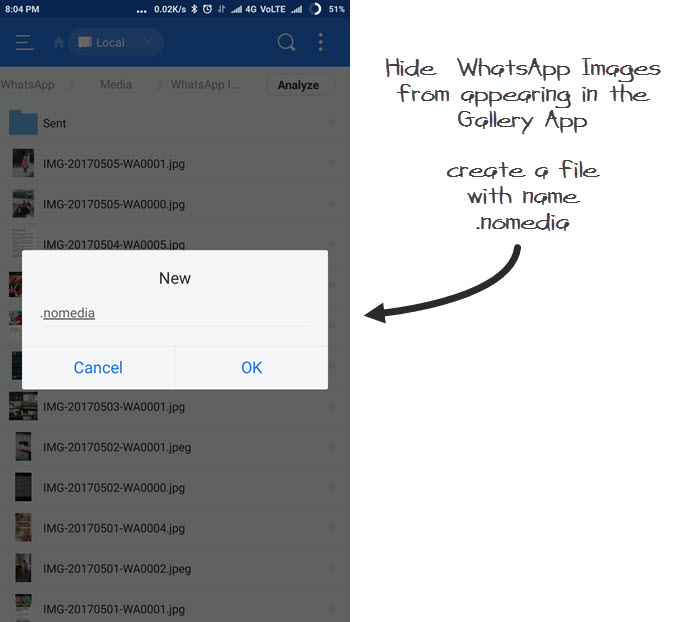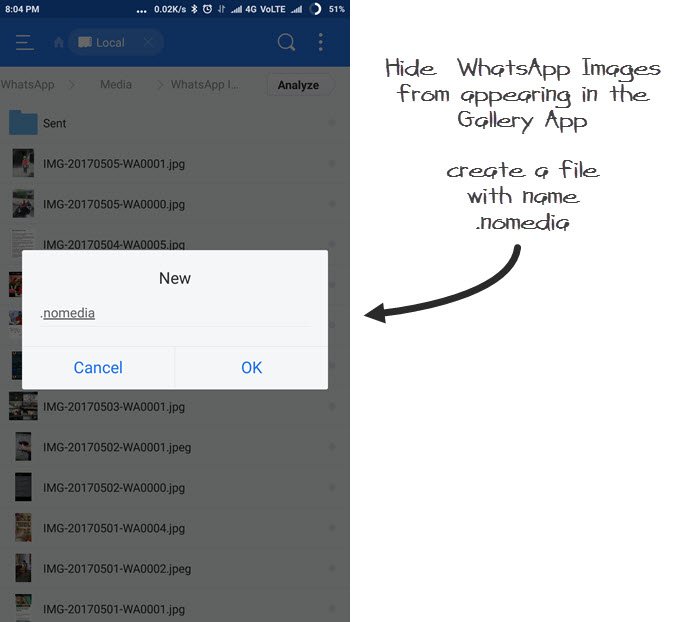 To do that, go to the WhatsApp Media Folder then the Image Folder on your phone (you can use ES Explorer) and create a new file with the name .nomedia. This will hide the images from that folder in the Gallery App.
3. Read Messages without Notifying Others (without Turning Off read Receipts)
Read receipts are helpful to know when a person has seen your message. So I keep it turned on.
But there are times when you want to cheat and see the messages without notifying the sender. Here is a neat trick for that.
Suppose the message appears in the Notification Bar. Swipe using two fingers, and it will reveal the last message.
If you want to read more messages,
Turn off mobile data, put your phone in Airplane mode, open WhatsApp, read the messages, turn on the mobile data again, or disable Airplane mode. Neat, isn't it.
4. Create a WhatsApp account without your phone number
If you are an Admin of a WhatsApp group and looking to expand it by asking random people to join it, you may not want to share your number with them.
Or if you want to share your WhatsApp online
It could be any reason for not sharing your phone number. You can get an online phone number using apps like 2ndLine (Android app) – You need it to verify the WhatsApp.
Note: Online phone numbers can be assigned to others if you delete your account on their service, 2ndLine, in this case, so make sure you do not delete your account as long as you want to use the WhatsApp. 
5. Send Any File Format to WhatsApp Contacts (Dropbox)
WhatsApp has expanded its file support in the last few years. Users can now share Images, Videos, Audio Files, PDFs, etc. But you can share any file format you want with this cool trick.
You can even share large files, as big as a movie. It would help if you had Dropbox for that.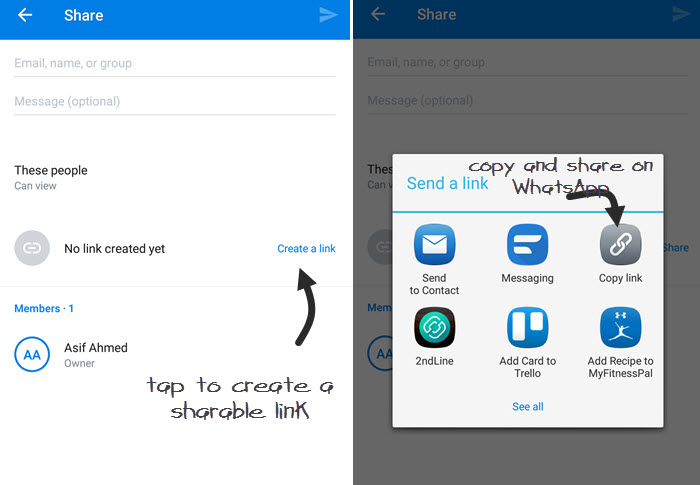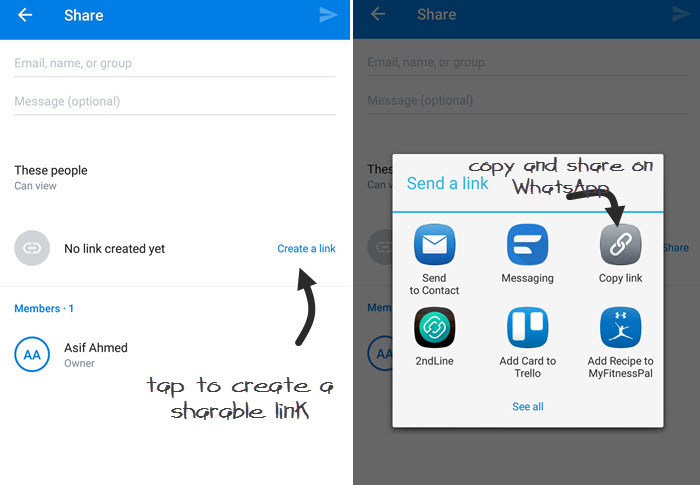 The Free account of Dropbox offers 2GB of space (enough for two HD movies. What you need to do is, upload the file to Dropbox, create a link by tapping on the 'Share' option, copy and paste the link into your WhatsApp Contact.
6. Pin Frequently Use Contacts on top to message them quickly
Small features like these can make life easy, such a the ability to Pin Chats. If you are a frequent WhatsApp user, mixing up the chats will sound familiar to you.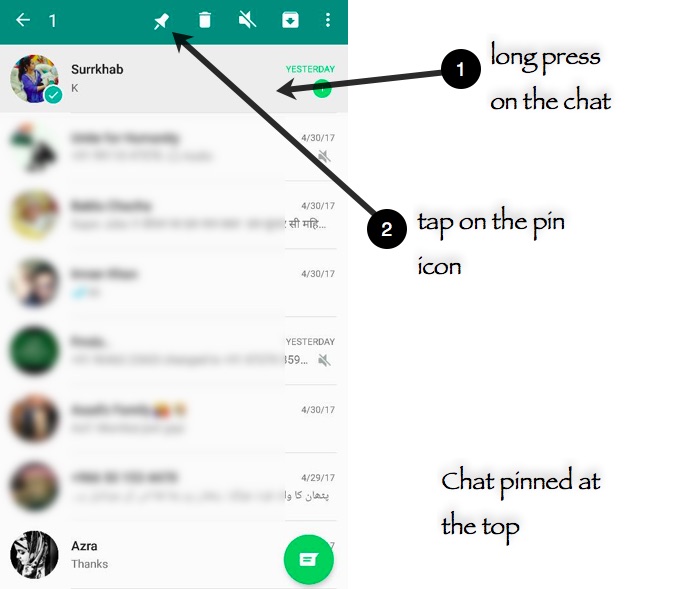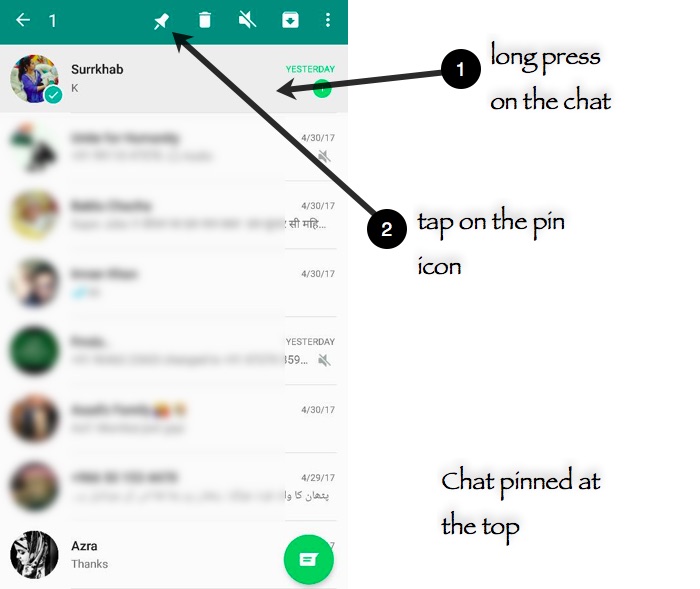 A new update allows you to pin the chats are that is important. Long press on the conversation, and a Pin icon appears on the tip, tap the Pin icon, and the Chat is pinned at the top.
No more searching through all the frequent chats to find important ones.
7. Use WhatsApp as a Personal Space for Saving Important Notes, File etc and Access it from Mobile and PC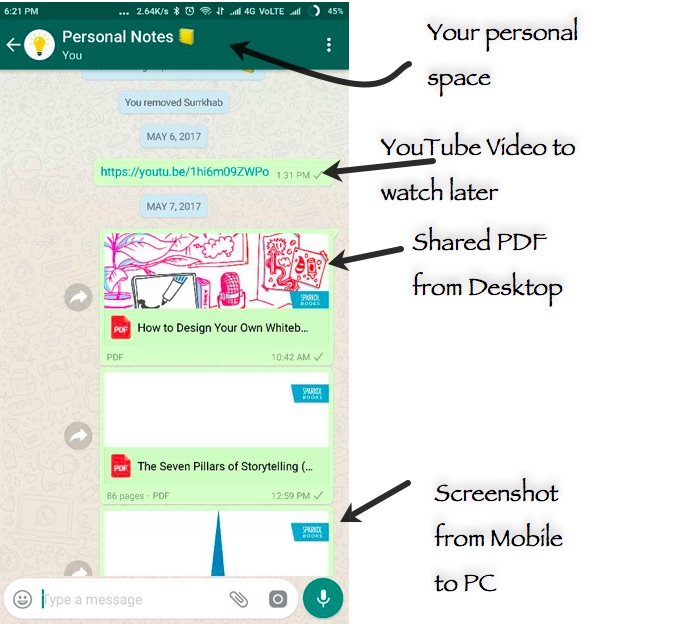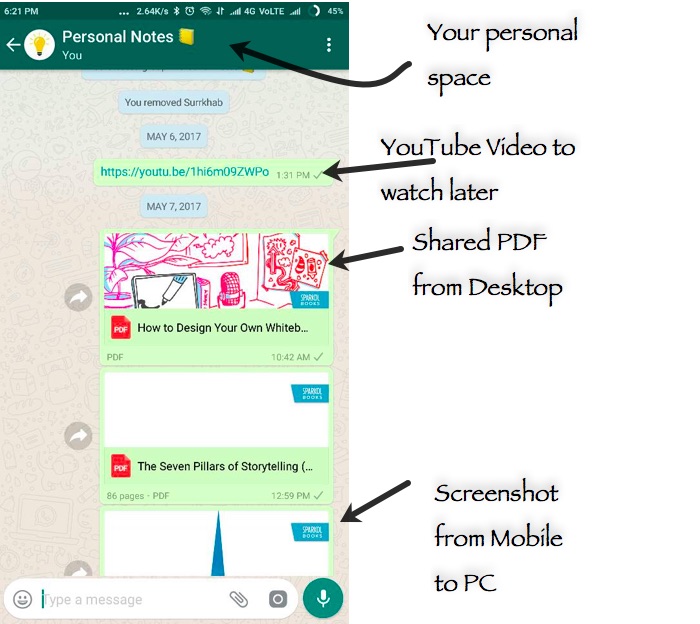 Now that you know you share any file on WhatsApp, you can use WhatsApp as your personal space, a personal diary, a note-taking app, or a place to dump ideas.
I have been using it lately to check a website link later or watch a video or a document. The best part is the ability to access them from PC using WhatsApp Web.
Use this tip #6 to Pin your Personal Notes Group to the top so that it comes in handy.
8. Create GIFs from Videos Captured via your Smartphone
WhatsApp enabled GIF support a few months ago, and According to me, they are better than small videos because they don't open in full screen and can be viewed as an image.
WhatsApp also allows you to turn 6 seconds of your videos into GIFs.
Capture a video, select the start and endpoint (it has to be 6 second or lesser part), you will notice the 'GIF' option appear on the top, which turns the video into a GIF.
9. Quickly know who all are in a WhatsApp Group
This one is simple, You might know this already, but I use it for finding who is there in the group. Type @ lets you tag a Member in a WhatsApp group (and notify them even if they've muted the group).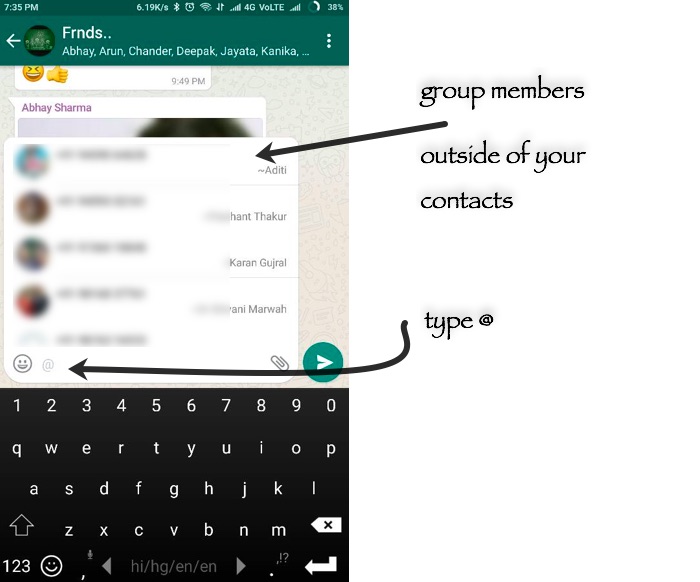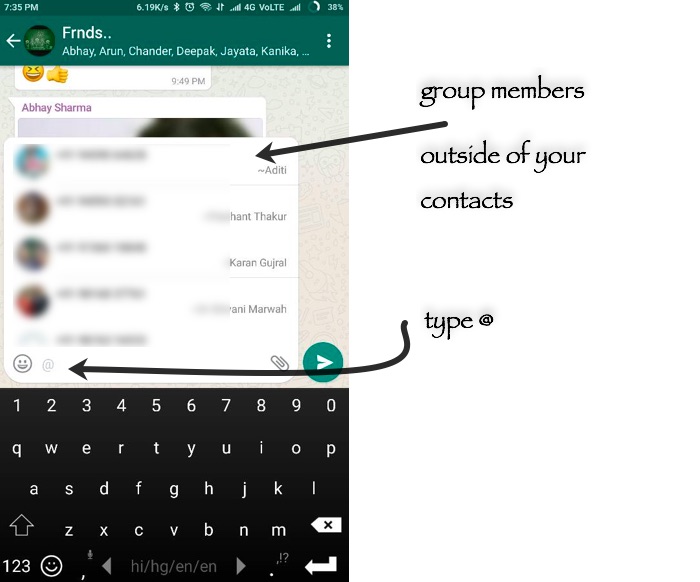 But if you only type '@' it gives you a list of all the members, which comes in quite handy sometimes to see who all are there in the group or how many members are they outside of your contacts (only their phone number will display)
10. Find who all are inactive in a WhatsApp Group
Talking about groups, they are quite popular and are used by Families and Friends to keep in touch all the time. There are also Business groups, Office Colleagues Groups, Students groups. You name it.
Most of us are so many groups that we tend to keep them muted and next get to check what's happening. If you are on the opposite side of this situation, you want to know who is inactive in the group.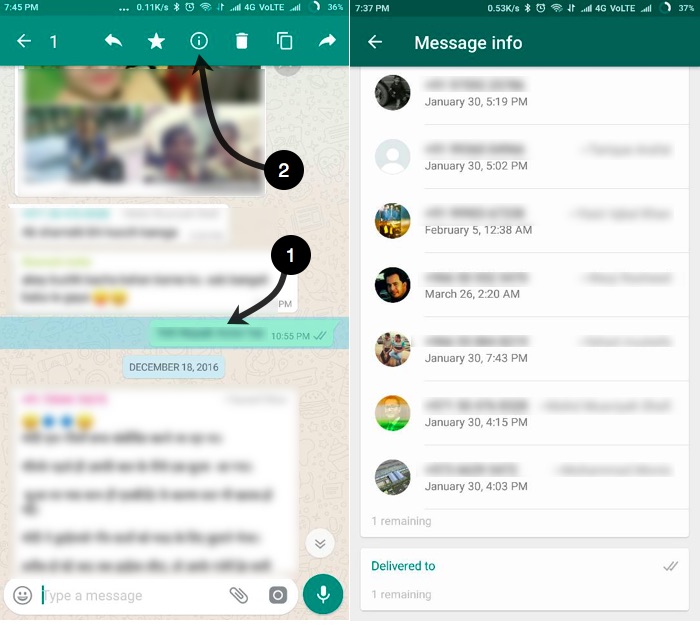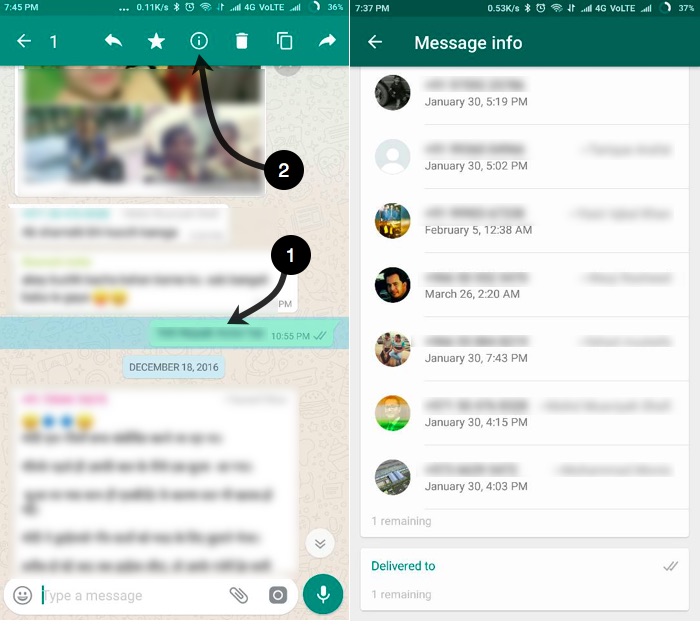 You can do so by going back to the previous chats (your 7-day old message in the group), long tap on it, and tap on info (i) and look at all the members who read, got the message delivered and who didn't get delivered.
Though the WhatsApp Groups limit has been extended to 250 members, you can remove a few inactive members if you have to make a place for others.
11. Run Two WhatsApp Accounts in a Single Smartphone
Most phones these days are Dual SIM Phones, and if you use two SIMs, for different purposes, like Personal and Official. I won't be surprised if you want to run two different WhatsApp accounts.
Xiaomi phones have this feature inbuilt into their Custom ROM, where you can run two accounts on the same app.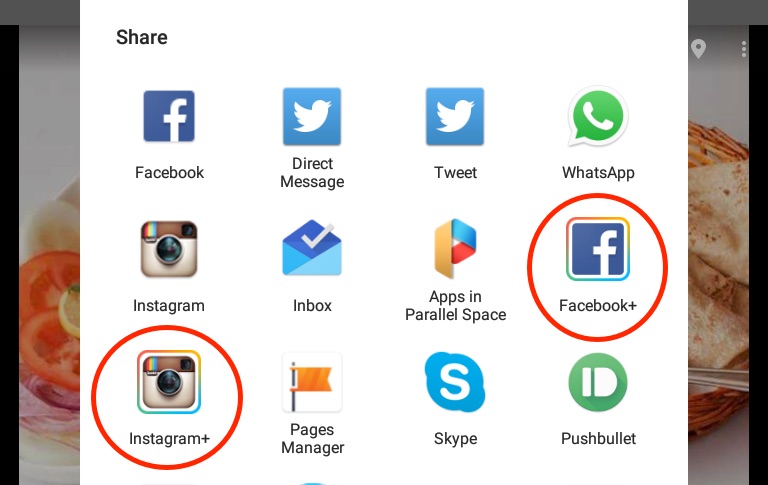 If you are not a Xiaomi Phone user, you can use apps like Parallel Space. You can read about it in detail.
12. Run Single WhatsApp on two Smartphones
Okay, so running two WhatsApp account on a single Smartphone can be done using trick #11. How about running the same WhatsApp account on two different phones?
Well, technically, it's not possible since WhatsApp doesn't allow that. It only lets you use WhatsApp on your phone and WhatsApp for The Web on PC.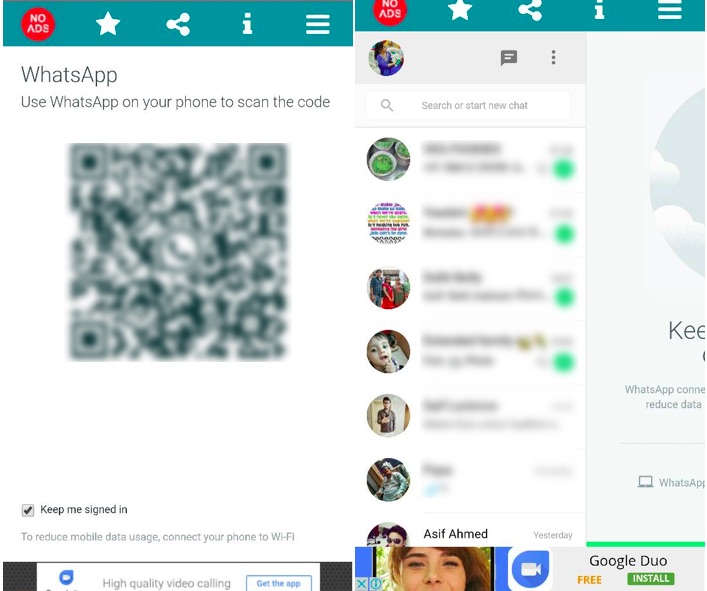 WhatScan is an app that uses the WhatsApp for Web feature and brings it into an App form. It works similarly since it is the WhatsApp Web.
Install the app from Play Store
Open and Scan the QR Code using your WhatsApp account, and you are ready to use it.
Note: Since WhatScan is WhatsApp Web, it has its own limitations, like the Calling (Voice/Video) is not supported. 
13. Find important Information Messages/Image/Files Easily (Using Starred Messages Feature)
There are times when someone shares an important piece of information via a WhatsApp text (because it's SMS 2.0) but that text can easily get lost in thousands of messages you type on WhatsApp (because it's free and fun to use).
The Starred feature comes to the rescue as you can start any message/image/video/voice note etc. so that it will be easy to find them later.
14. Listen to Voice Notes in Privately
Most of us use our earphones to listen to or watch anything on our Smartphones. But we don't have earphones all the time, and it could be not very pleasant to listen to a voice note sent by a friend all loud in public.
WhatsApp's cool feature allows you to listen to the voice note via the Earpiece instead of the speakers.
To do that, play the voice note, and then place the smartphone near your ears as if you are taking a call. Your smartphone's proximity sensor activates, and the voice note plays via the Earpiece. Pretty Cool.
15. Set Custom Notification Tones for Individuals and Groups to know who is it without even looking at the phone
I've set up a different Notification Tone for Groups and Individual Chats to know whether to pick the phone to read the message right now or do it later. Most of the time, it's a MEME sent in a group.
To set custom notifications for Contacts and Groups in WhatsApp,
Select a Chat Conversation,
Tap on the Contact/Group Name
Tap on 'Custom Conversation', and
Select a different tone for different Contact.
Note: Don't use too many tones you can't remember who is who. 
16. Send Messages to Someone Without Adding them to Contact List (eg: Courrier Guy)
If you often find yourself in a situation where you have to send a message to someone who is not in your contact list, and since WhatsApp doesn't allow anyone to send a message outside of your contact list, you end up adding the contact number then message.
This app can help you by sending messages to the numbers that are not saved. For example, if you have to share your location with a Courrier Guy and that Pizza Delivery Guy, this will come in handy.
Update: now it is even easier. Simply write the number in an existing chat box inside Whatsapp (I use my private empty group), if the number is registered on Whatsapp, it will be Tap-able and will give the option to start chat or make her call. When you type on start a chat new chat window will open with that contact.
18. Hide a Chat from the list without Deleting it (aka Archive Chat)
One cool feature of Android is rare to use. The Archive feature. By long-pressing a Chat, you can archive it, and it will not show up in the list.
You don't always want to delete a conversation and stop appearing on the list for a while. By long-pressing a Chat, you can archive it, and it will not show up in the list.
By long-pressing a Chat, you can archive it, and it will not show up in the list. You can unArchive it anytime.
19. Write WhatsApp Messages in Different Fonts Styles
This has been making rounds in mostly all the posts talking about WhatsApp tips and tricks.


Different formats help you present your message differently. With the combination of Bold and Italic styles, you can emphasize particular words in your message.
To write in Bold add an asterisk (*) before and after the text. (eg: *Hello*)
To write in Italics add an Underscore (_) before and after the text (eg: _Hello_)
To write in strikethrough  add a tilde (~) before and after the text (eg: ~Hello~)
To type in a different font style add apostrophe ("') three times before and after the text (eg: "'Hello"')
20. Draw Over Photos/Videos taken by WhatsApp Camera to Highlight Something in the Photo/ Video
Another update for WhatsApp has brought the feature of drawing over the photos taken from the WhatsApp Camera ( i/e Camera option in WhatsApp).
So instead of editing a photo for pointing something out, please take a photo directly from the WhatsApp camera and then draw/write over it. It saves a lot of time.
21. Post longer Videos as Status Updates
WhatsApp lets you post videos that are 30 seconds long. Even if you try to post longer, it will chop it down for 30 seconds. Fortunately, it lets you select which 30 seconds part of the video you want to post.
Check out this article to know more.
22. Read deleted messages in WhatsApp
WhatsApp recently brought in a new feature that lets anyone delete their messages, not for themselves but for everyone.
While this has saved some relationships, it also creates confusion and anger at the receiving end. Here is a neat trick that will let you read those deleted messages from WhatsApp.
23: Edit WhatsApp Messages
A new update came in may 2023 that now let's you and it messages on WhatsApp. However there is a time limit, you will only get the option to edit the message with in 15 minutes. But looking at the history of how WhatsApp rules the updates, the limit might be increased in coming months.
If you know or have found a cool trick you use on WhatsApp, let us know in the comments below. This post keeps updated when we find more, so make sure you turn on the notifications to know about it.