If you buy more than one tech product from the same company, you can enjoy the ecosystem that the tech company is trying to build around its products.
For example, if you use a Google service, its integration with another google service for different tasks would be much better than a third-party app.
And like Google, Apple is also known for its closed ecosystem and the privilege it provides its users when they buy more than one Apple device. Be it sending files across different Apple devices via Airdrop or be it a seamless connection switch between Airpods and iDevices.
Apple has another unique feature that makes integration between your MacBook and your iPad so smooth that you feel it's just one device you are using.
The Universal Control brings the ability to control different connected Apple devices from a single keyboard, mouse, and trackpad. And it is different from Sidecar, where you can only extend your MacBook's display to an iPad to use it as an extended screen.
In Universal Control, you are still in iPadOS on iPad, able to use all the apps you have on it, but you can access them using the Trackpad of your MacBook. You can even see the keyboard of your Macbook for typing something on the iPad.
And it works like magic, even though the connection is wireless. But the way it works is simply flawless. Kudos to Apple for that.
Requirements for Using Universal Control on Macbook and iPad
To use Universal Control, your Macbook needs to be updated to macOS Monterey 12.4 or later. And your iPad needs to be on iPadOS 15.4 or later.
Macbook launched in 2016 onwards would support the macOS Monterey 12.4, 6th generation iPad, 3rd iPad Air, 5th generation iPad Mini, and all iPad Pro models would support iPadOS 15.4.
Both the MacBook and iPad should be on the same Apple ID, and devices need to be within 10 Meter range all the time.
How to Enable Universal Control on Macbook and iPad
Once you meet all the requirements to enable Universal Control, click on 'Display' in 'Settings' on your Mac.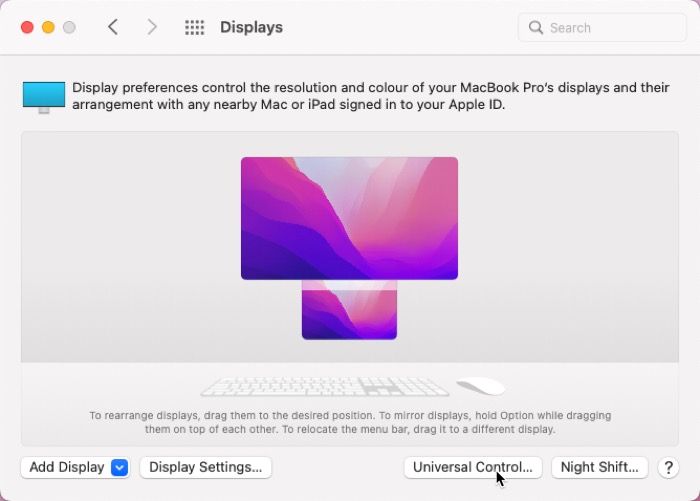 It will have the 'Universal Control' function available. Click on it and click on checkboxes to allow your cursor on the keyboard to move between any nearby Mac or iPad.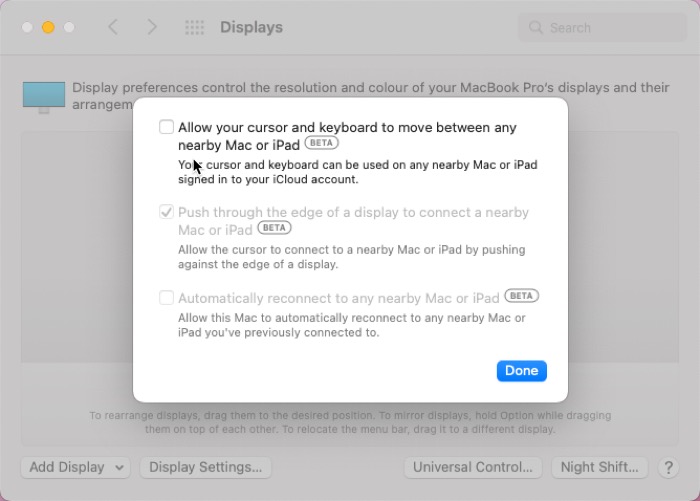 Once you do that, move your cursor to the age of your MacBook's screen, and make sure your iPad screen is awake. You will notice your MacBook's Cursor (which becomes a circular pointer) trying to push through. Drag it even further, and you enter in iPad.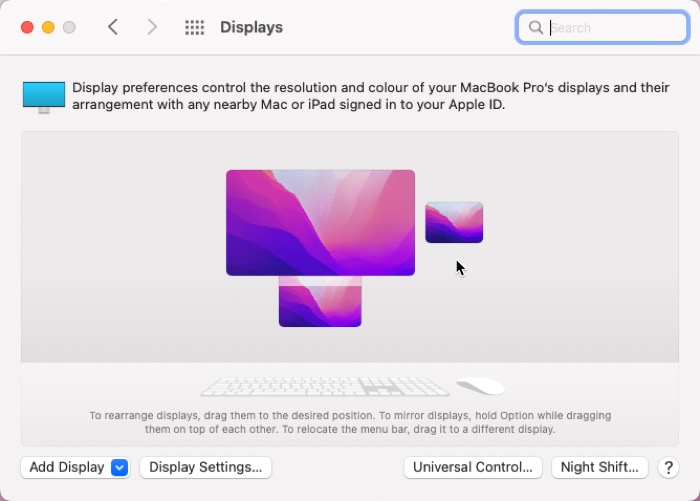 You will be able to see the iPad appearing in the display section. You can drag it over to arrange your screen. Once you are done, you will be able to enjoy controlling your iPad and your Macbook using the trackpad and the keyboard of your MacBook.
What things you can do with Universal Control
Universal control feels like the trackpad and keyboard are connected to the iPad. But its being brings a big convenience of moving files between both devices. You can drag and drop photos that appear in the photos gallery.
You can also drag and drop other files to the iPad. First, open the location when you want to drag and drop the file. Similarly, you can also copy and paste text between the devices.
And pretty much every trackpad gesture works on the iPad.
Use Cases for the Universal Control
As I said, the ecosystem gives us the privilege to ease up your workflow. You can use your iPad to draw something using the Apple Pencil, and then you can drag that sketch into your MacBook.
I also find it extremely useful for posting content on social media, like posting Reels on Instagram, which can only be posted through their official app available for iPad and iPhone.