So I have been using the M1-based MacBook Pro from last few days. I have even made a video talking about how much I love it, for mainly two reasons.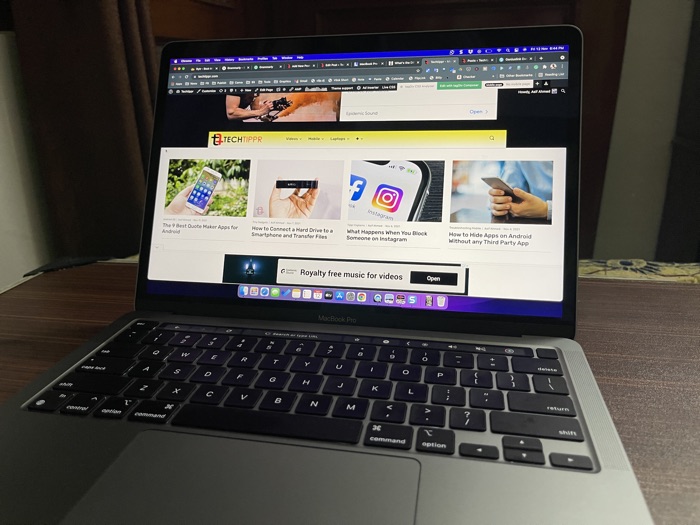 #1 – When it is connected to my 4K display it doesn't make any sound, runs smoothly, and 
#2 –  How much the battery life it gives me when I am not connected to the charger. Which allows me to finally live the laptop lifestyle that I have been not able to live because of low battery on the Intel Core i5 based MacBook Pro 13.
Talking about battery, I was already getting around 15 to 16 hours of battery life with a combination of works like video editing, browsing, and writing articles. 
And, with a single life hack, I am able to get additional eight hours of battery life without connecting to the charger.
Get Extra 8 Hours on M1 MacBook Pro 13 using a Powerbank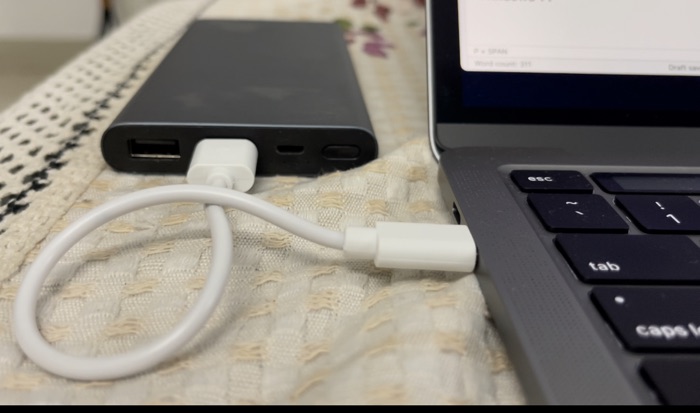 And the life hack is, to use my Xiaomi 10,000mAh power bank. Since the MacBook Pro 13 has got type C, it can be charged using a power bank.
It was also the case with the previous one, but the previous MacBook Pro, the Intel core i5 version, required so much power that it wasn't really a great idea to charge the laptop with a power bank that has an output of 18-watt only, while the provided charger with macBook 13 Pro is 61-watt.
To be honest, I also had a little life hack when I was using the Core i5 version where I used the 30-watt type C charger of my Chromebook. 
And it worked fine until I edited videos where even the 30-watt charger was not able to keep up and charge of the battery was at decline rather than staying consistent, if not charging the battery.
But these M1 Best MacBooks are so efficient in power management that the 18-watt output of this power bank was able to prevent the battery percentage from declining.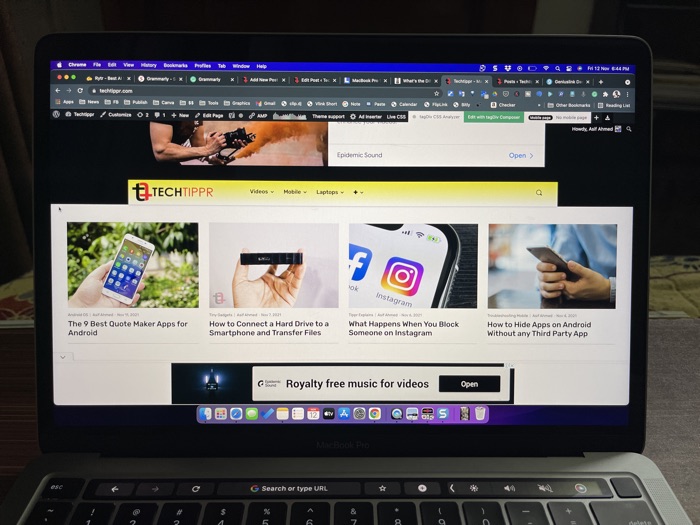 I mean it is definitely not able to charge the battery, but being able to trick the laptop into thinking it is on power adapter mode, so that you continue your work without worrying that your laptop is going to shut down in a few minutes, is great. 
I was actually able to get additional eight hours of work time which is pretty much a full work day. I was noting down the percentage of the MacBook Pro 13 battery and the charge left on the power bank which again see below.
Does it affect the battery?
Some people might have been concerned about the battery's life since they are not using the original charger provided by Apple, but we all have been using a powerbank to charge our devices.
I have done some research, and as per my knowledge, the only thing that can harm a battery is charging it with higher capacity charges because the more the voltage, the more heat it will generate, and the heat is the battery's enemy.
And also, when you click on the battery icon in the menu bar, you can see it displays that the battery is not charging. So if it is not charging, it is not damaging also.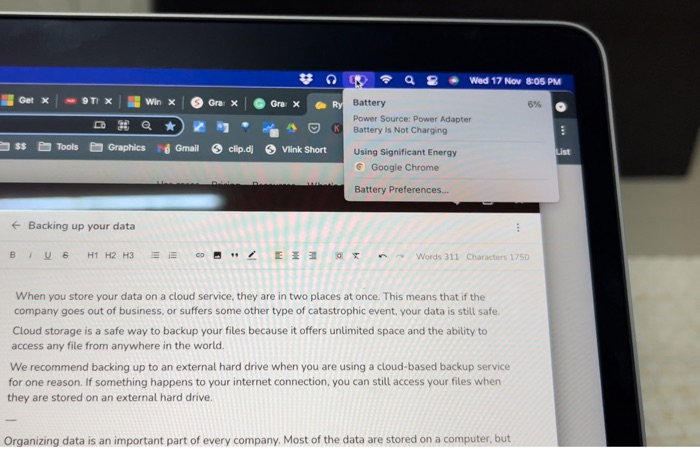 16 hours is a great battery life from this laptop, and it is just good to know that you can get some extra hours for working on a computer by connecting it to a power bank. It's not that you are going to use it every day, are you?
There are 4 LED lights on the power bank. Each LED represent 25% charge, so when the 4 LEDs are blinking, it means it's 100%, and three are blinking, it's 75%, and so on. 
---
Battery Status of M1 MacBook Pro 13
→ 6% battery at 7:30PM –

 
Connected to Xiaomi Powerbank. 100%
→ 9% battery at 10:30PM – 2.5 hours of working (typing & browsing) – Shutdown
Connected to Xiaomi Powerbank. 75%
→ 9% battery at 11:20AM – Turned on
Connected to Xiaomi Powerbank. 75%
→ 5% battery at 12:20PM – 45 Minute Video Editing (15 Minute idle)
Connected to Xiaomi Powerbank. 75%
→ 12% battery at 2:20PM – 30 Minutes of casual work (1hours 45 minutes idle)
Connected to Xiaomi Powerbank. 50%
→ 12% battery at 3:20PM – 1 Hour of article writing sesson.
Connected to Xiaomi Powerbank. 25%
→ 15% battery at 4:10PM – Mostly idle for an hour
Connected to Xiaomi Powerbank. 0%
---
Using Final Cut Pro for 45 minutes was the only time when the charge was actually declining and it declined from 9% to 5%.
So, with this life hack, I can use my laptop for 3 days without a charger, which also means I can take it on a short three-day trip without carrying the charger with me.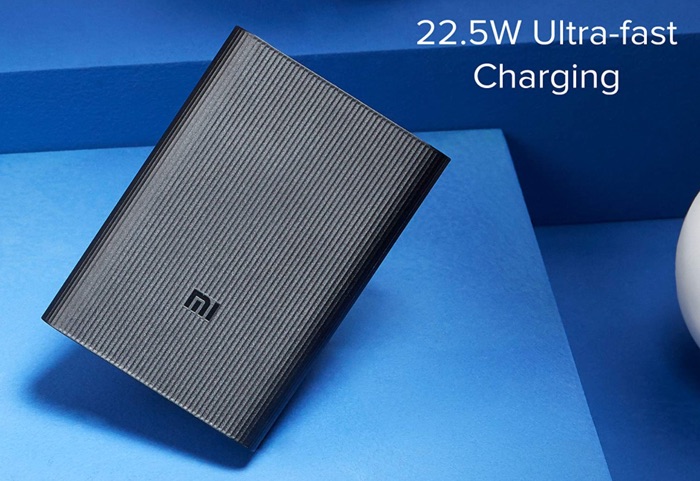 I have got the Xiaomi Mi Powerbank 3i, which is two years old power bank. Xiaomi has now released a smaller power bank with 10000mAh capacity which has 22.5-watt fast charging. 
It would really be a great accessory for anyone who does not want to carry the charging brick everywhere. 
And, the power bank is multipurpose which can charge your other devices as well.
Watch the Video