In the past, we have shared quite a number of applications that will help you write faster,  we have also shared articles about apps that can help you write better.
Some of them are paid, some of them are free, So you can use them according to your needs and budget.
But, if you are looking for a completely free solution that can help you write better by fixing your grammar mistakes, then you can use Google Docs.
You can use Proofreading with AI in Google Docs
It is quite an effective add-on for Google Docs which lets you proofread your articles using artificial intelligence,  it not only identifies spelling mistake but also tells you about the incorrect usage of words with suggestions to use instead of them.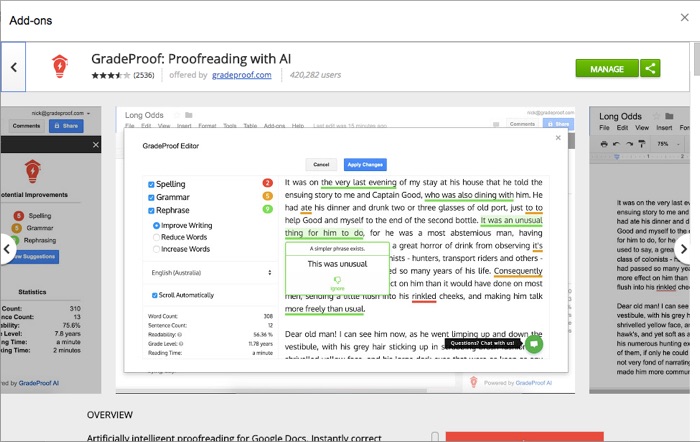 You can add this Add-on by clicking and add-ons then searching for Proofreading with AI,  after adding at you can again click on Add-ons, then click on 'Proofreading with AI', then 'Start'.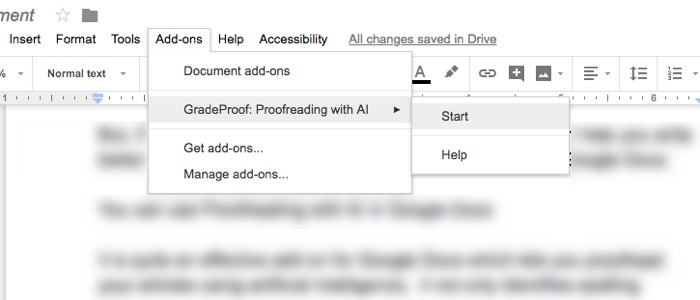 It starts working to find spelling and grammar issues with the article that appear on the right-hand side all the browser window. once it is done finding issues you can click on given suggestions to fix your article with the recommended suggestion.
Note: To use 'Proofreading with AI', you need to create an account on their website and log in using your login credentials.
It's really is a tiresome method but only for the first time once you are done with all the things and set it up it's actually easier.
Alternatively, you can also use Grammarly,  which is also available as a Chrome extension so that you can use it anywhere you have to type. It works even for social networking sites like Facebook and Twitter.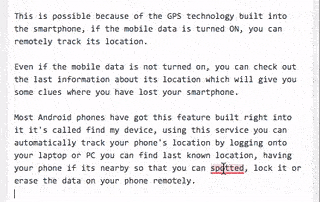 If you want to do it inside Google Docs then here is an even better solution that is coming soon or maybe it has arrived already, depending on when you are reading this article.
Google Docs' own AI based Grammar Checker
Google recently has added a new feature in Google Docs,  it's called the Grammar checker, something similar to Microsoft Word,  but much better thanks to the Machine Learning (ML), Google's new focus on making things smarter and more dependable.
Talking about Machine Learning and Artificial Intelligence (AI),  Grammarly also claims to have a sophisticated intelligence system in place, that catches Complex grammar issues in articles.
But, there is only a handful of options available for the free users,  you have to subscribe to the premium plan to use all the features.
Google machine learning algorithm will first be available to the G Suite users (a paid package of Google Software for small-scale businesses and individuals), and then it will eventually be rolled out to all the Google docs it uses.
You can also show your interest in using this new feature by filling up this form.
Looking at all the recent improvements by Google such as the Smart Replies app and Smart Compose feature in Gmail, it will be cool to have something like this in Google Docs as well.