Are you looking to know how to get free spins coin master unlimited? You are on the right page; continue reading the article for more information.
There is a new game in town that has been making a lot of news lately. And if you are looking for Coin Master cheats, you are on the right page.
Suddenly, I see many friends asking me how they can get unlimited spins in the Coin Master game. They think I am some Iron Man tech junkie who can solve all the problems related to that.
What they don't know is, I also rely on Google.
When I Googled, I saw many search results promising to give unlimited spins in the Coin Master game.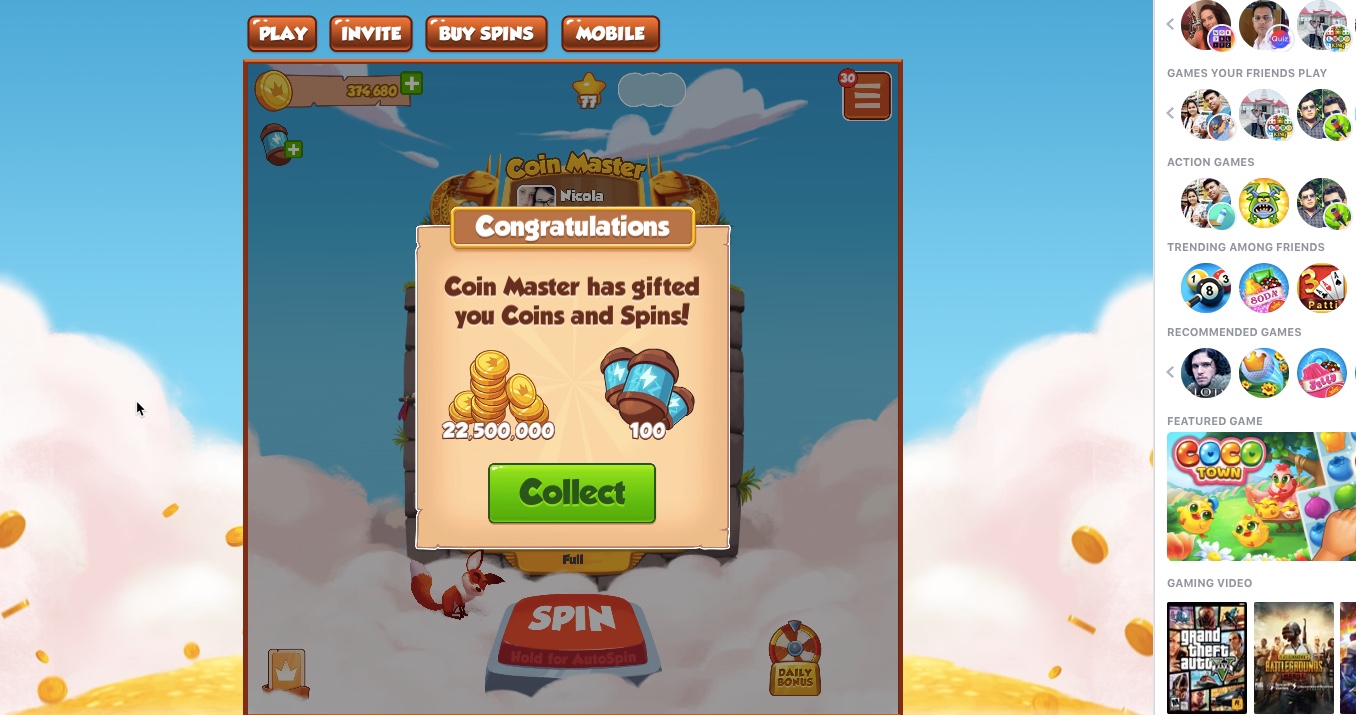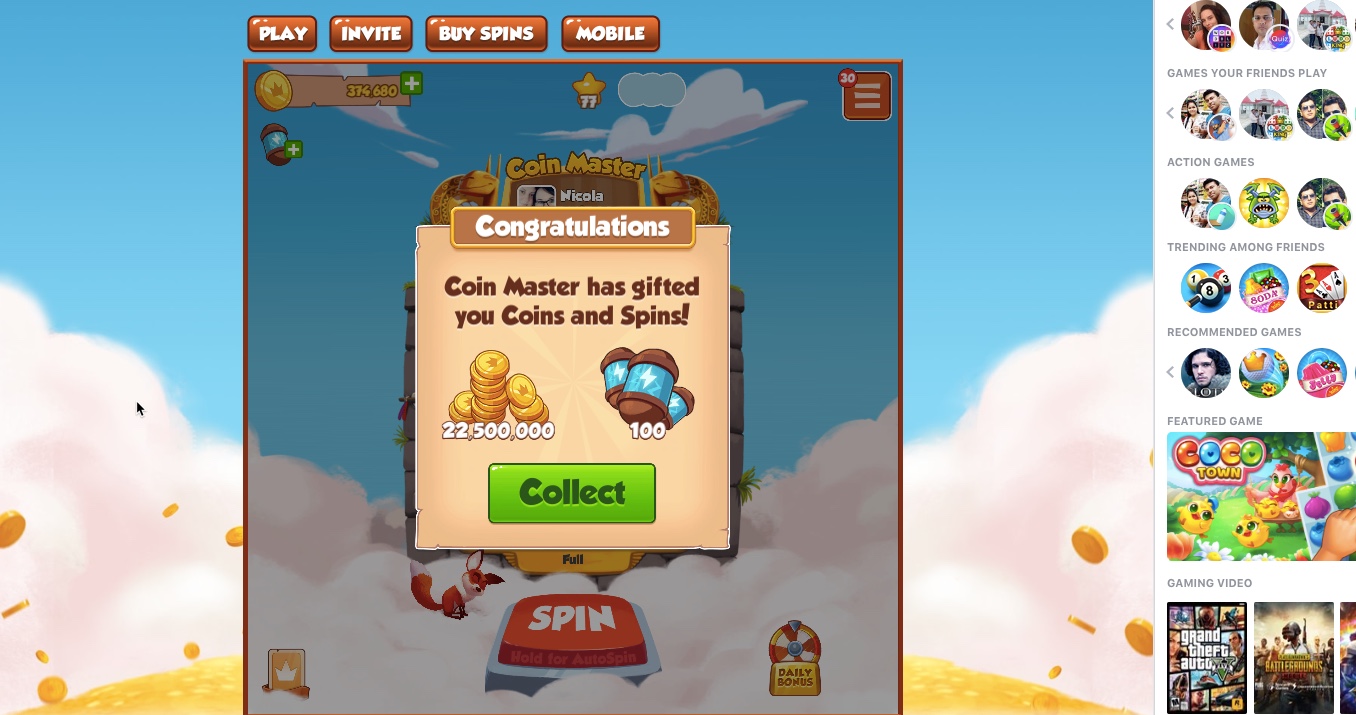 What is Coin Master Game Anyway?
For those not aware of the Coin Master game, it's a strategy game where you get points (stars) for making villages that can be built using coins that can be earned by spinning the Slot Machine.
When you get started with the game, you get five spins, and after that, you keep getting five spins every hour.
You can also get spins by watching ads and inviting friends using a unique link.
You can also buy spins with real money, which is the revenue model of this game.
You can connect your Facebook account and compete with friends, which is the game's very essence and keeps the gamer competitive.
Some of my friends have got so addicted that I keep getting requests if there is a way to get unlimited spins to beat their Facebook friends.
Coin Master Cheats / Tricks of whatever you want to call it
Coming back to the question, how to get unlimited spins in Coin Master?
Is it possible to get cheat codes for this game or any other way to get unlimited spins?
The internet is filled with promises of offering unlimited spins in the Coin Master game. But none do it. What they are doing is, riding on the popularity of this game and making money off it.
While the short answer is, there is no way to get unlimited spins in the Coin Master game, I would recommend you read the entire article to understand why there are so many articles promising unlimited spins.
Get Unlimited Spins by Connecting to Remote Servers.
I found a dozen websites that promise how to get unlimited coins if you connect my account on the Coin Master servers remotely to the website.
It asks you to put in the email address or the user id of the Coin Master game, and it prompts you to get successfully connected after pressing the connect button.
Then it asks for how much space you need. Then the screen shows some matrix-style scrolling numbers, and in the last step, it asks you for human verification, which you need to install from apps on your smartphone.
"Are you still with us? I'll share a practical way to get free spins in Coin Master."
It is the very reason these websites are promising unlimited spins. These are websites trying to make money with CPA offers where they get paid for every installation of the apps.
These all are fake websites, and the easier way to know is by typing a random word in the user id area.
It will still Get Connected, and it will again let you pass all the steps because they are fake. All they want is to complete the offer and once you are done with it, you get nothing. It doesn't work.
Get Unlimited Spins by using Modded Apps.
The other popular option the internet is using is the modded apps for Coin Master game. And there are some apps available that offer unlimited coins and unlimited spins.
Do These Tricks Really Work?
To run the modded app, you need to uninstall the Coin Master app from your phone, and if you have connected your Coin master app to Facebook, you will retrieve your score.
These Modded apps will show unlimited coins and unlimited spins, but you will be able to use only the ones in your real account.
So, again, this method also does not work in offering unlimited spins. It just makes you happy by showing you unlimited coins and spins, nothing else. You can try it yourself by downloading and installing a Moded APK of Coinmaster. It doesn't work.
Modified Coinmaster Game for iOS?
So, I recently came across many videos claiming that you can install a modified coin master game on your iOS device by going to a random website.
And this modified coin master game gives you unlimited coins. The sad news is, all these videos are fake. They are most probably using the same script on the domain they are promoting in the video.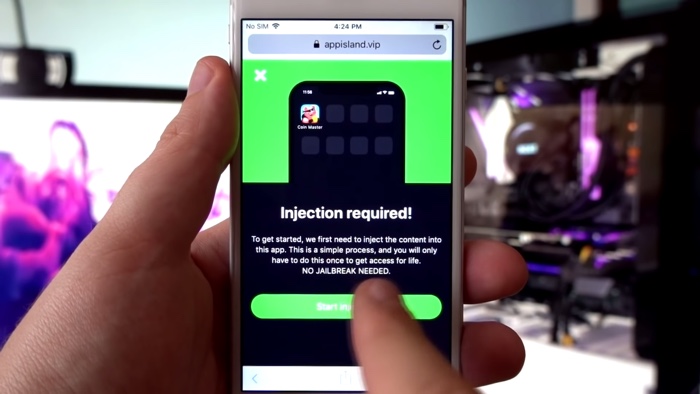 It is a script that asks you to install two apps on your iOS before downloading the modified game. These websites are making money by tricking you into downloading and installing these two apps.
If you watch multiple videos, they mention different sites, but the user interface is pretty similar.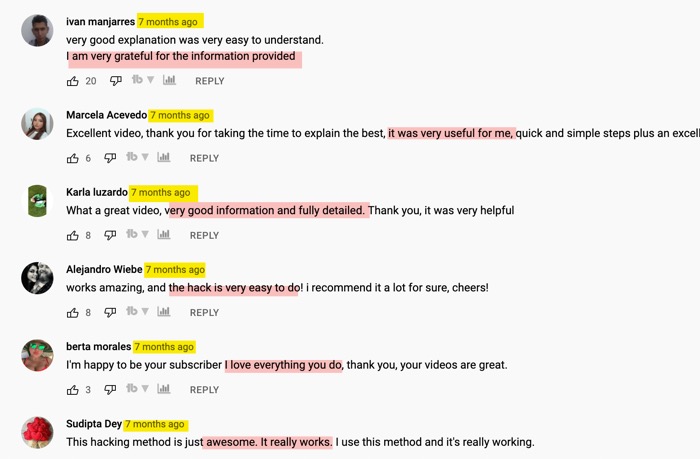 And if you look at the comments on these videos, you will find they all are positive and are made precisely when the video was uploaded.
Everyone knows it is nearly impossible to install an app on the iPhone outside of the App Store unless it is jailbroken. It doesn't work
Get unlimited Spins by Inviting Facebook Friends
It is the third popular method. Coin Master allows users to invite other people to join the game, and once they accept the invitation and start playing the Coin Master game, the users get 25 spins.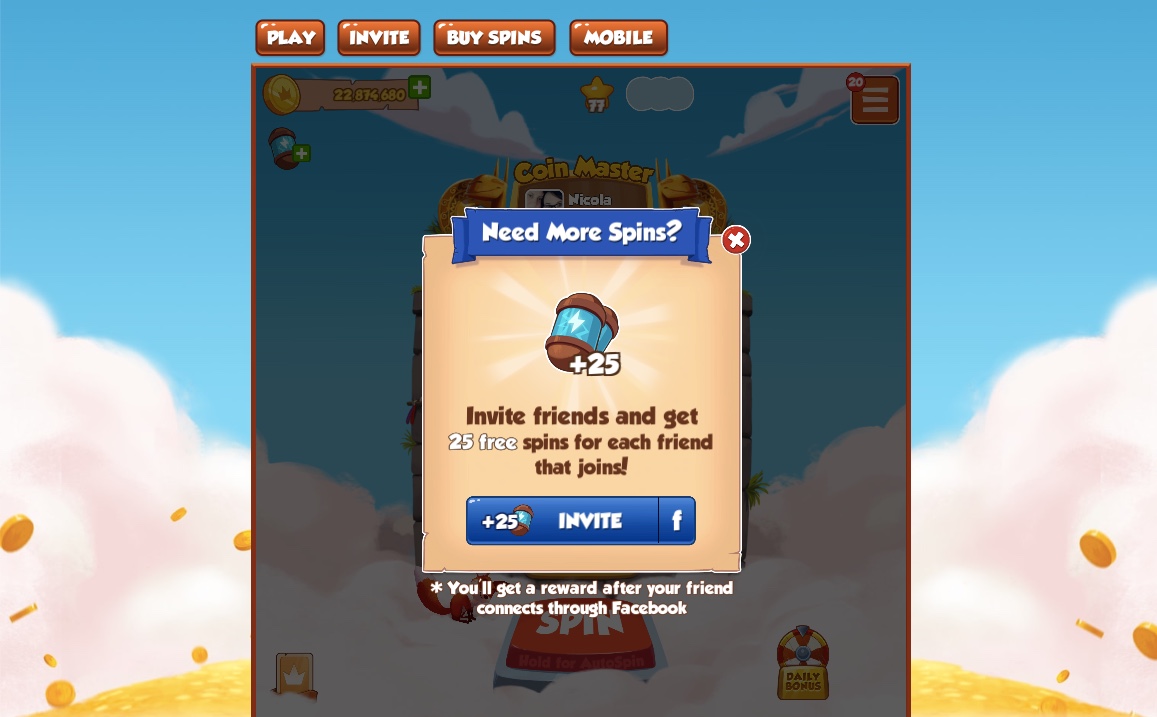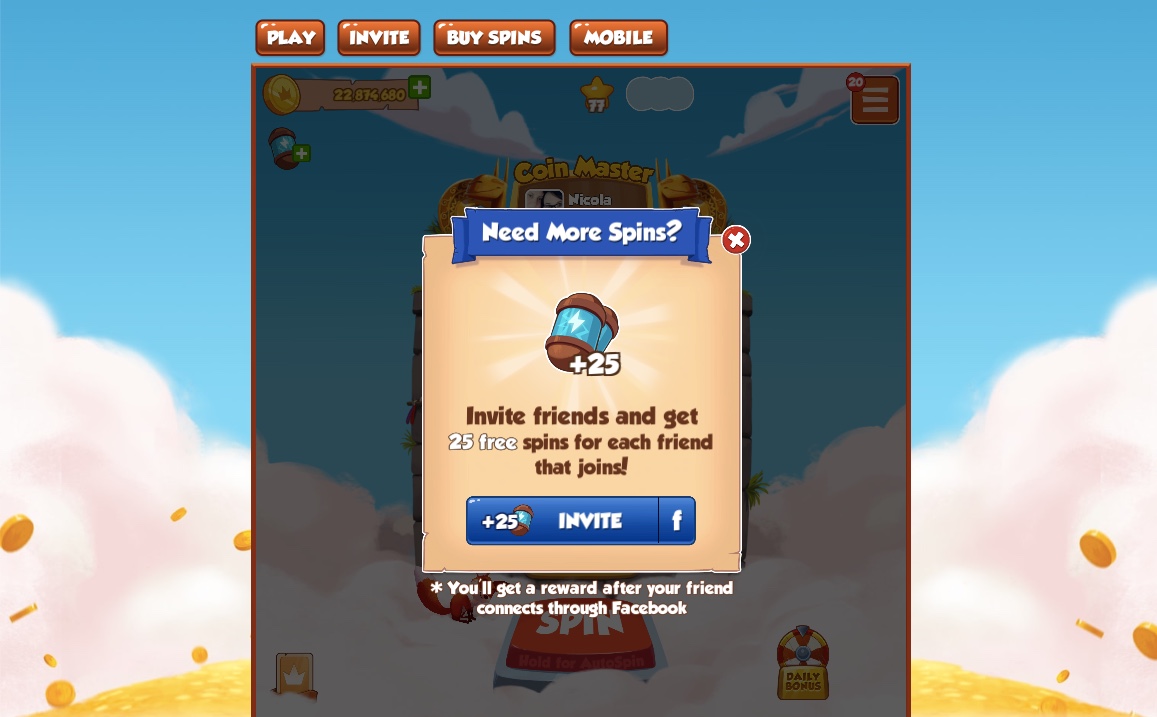 If you invite ten people, you will get 250 spins, add one more zero to the number of people to ask and get 2500 spins.
Now the question is, where you are going to find so many people to accept your invitation.
Even if you send the invitation to your entire phone list, there would only be half a dozen who will be interested in it.
This is How to Get Unlimited Coins in Coin Master Games
Many articles talk about creating Fake Facebook accounts to accept the Coin Master invitation and get free 25 spins.
Leverage your following on social media to get free spins
The invitation system is useful if you have got a large following on social media. Because you can invite them.
If you are popular on Twitter using Twitter to get free spins, you can post stories repeatedly by inviting the people if you are popular on Instagram.
If you do not have got a large following on social media, you can try using the method mentioned below.
Creating multiple Facebook accounts is not a tough job, all you need is
A temporary email address, which you can generate from websites like tempmailaddress.com/
And the Incognito mode to create a Facebook account.
While it is difficult to work, it surely gets the job done. However, I don't recommend doing this because you will be creating a lot of e-waste, and as a responsible internet citizen, you shouldn't be doing this.
The reason for writing this article is to let everyone know that there is no way you can get unlimited spins in the Coin Master game app.
Alternative Facebook Invitation Method to Get Unlimited Spins in Coin Master
After a few days of writing this article, I learned about a new method that has been getting popular among the coin master game users. Learn how to get free Facebook coins without paying.
This method also involves Facebook invitations, but you do not have to create fake Facebook accounts to get invitations to yourself and gain some spins.
Instead, you can join Facebook groups that are dedicated to the coin master game.
If you are good with keywords, you will be able to search for them yourself. But since you are on this page, let me help you a little.
When you put in a keyword, something like coin master freespin,  In the Facebook search bar, and then type on groups, you will find plenty of them.
Some of the groups have got hundreds and thousands of members. Take a look at the screenshot below.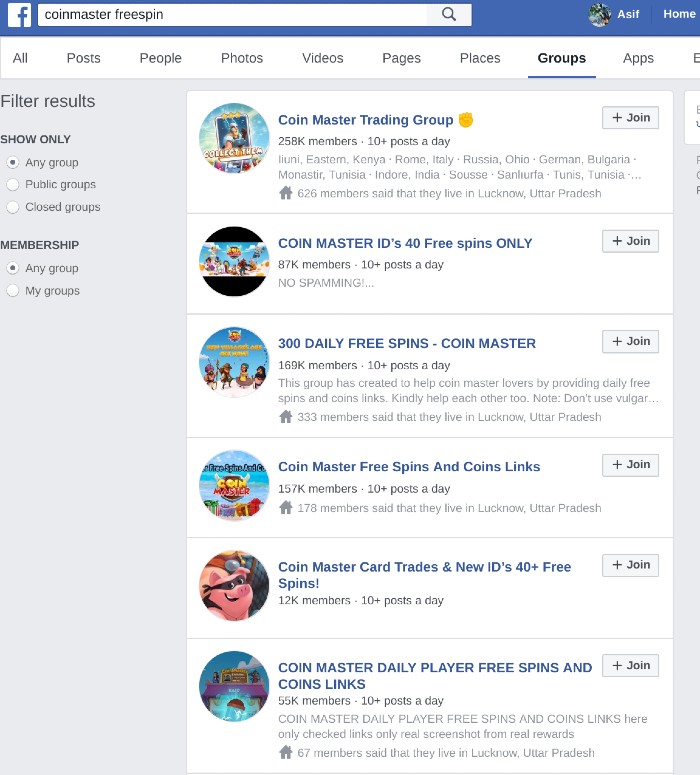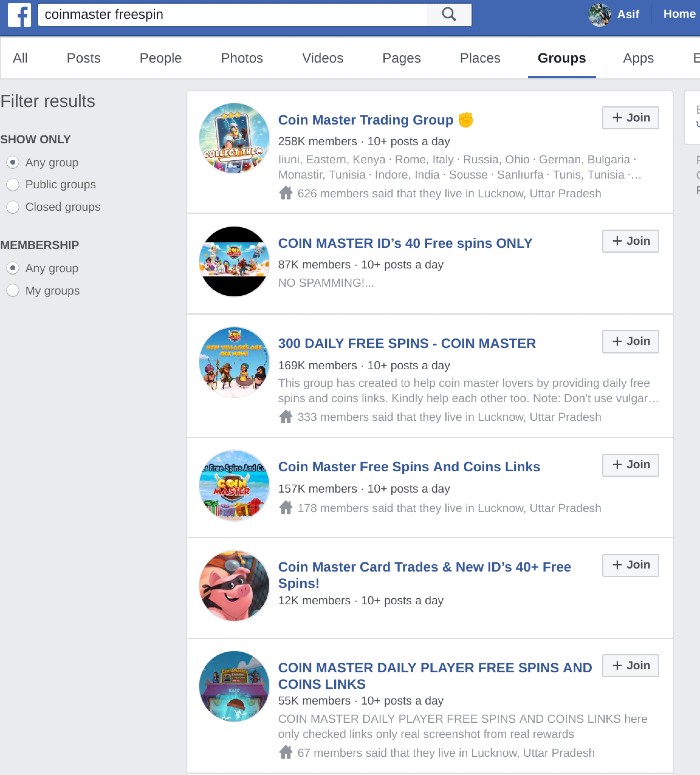 Join coin master trading groups on Facebook
This is another thing that is getting popular, where you join coin master trading groups on Facebook and trade cards with them.
The coin master game is to get cards to complete the deck to move to the next level.
If you are ready to explore this new field of getting free unlimited spins for the coin master game, you may continue on Facebook.