In 2020 we are witnessing something no one has ever seen in the last hundred years. The Global pandemic, because of the covid-19, has put the entire world in a lockdown state.
Thanks to technology, many of us can work from home using our laptops and staying connected to the internet.
Thanks to various web conferencing services, which made it possible for a lot of people to collaborate with their teams and a lot of students who were able to attend online lectures.
One particular service called Zoom, which was established in 2011, saw tremendous growth during the lockdown period because many people turned to it.
The growth was so unprecedented. It grabbed the attention of people from all over the world because of its ease of use. Soon, its key feature, which is the ease of use, turned into you the reason the service was criticized in media.
Anyone could attend any lecture if they had the code, anyone could take over the webinar or online classes, and there were a lot of security issues related to Zoom.
People chose Zoom over other services because it was one of the very few services offered to a lot of people to attend a web conference.
Google had a similar service call Google meet, which was only exclusively available to G Suite users, which is a paid service offered by Google.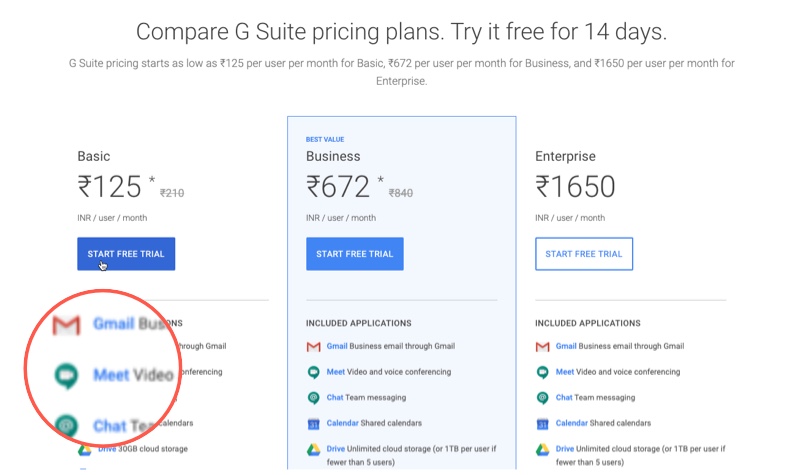 Google Meet is Available for Everyone
Google has Made it free now, and it is available on its own URL as well as inside Gmail.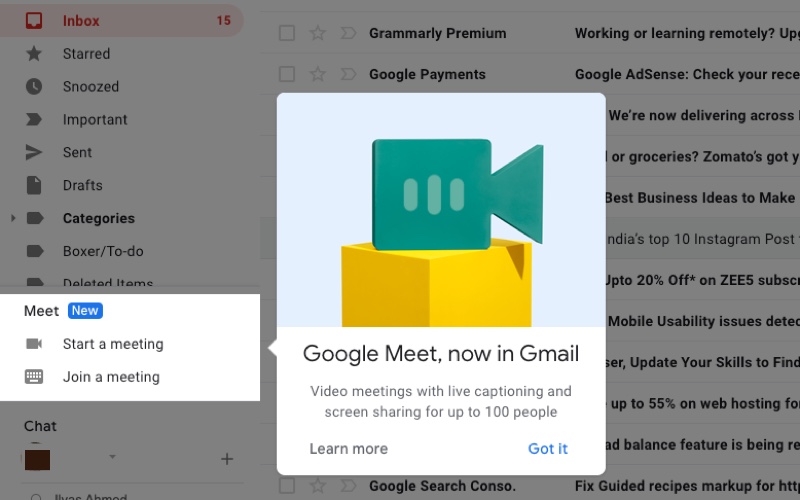 So you can either go to meet.google.com and start a meeting, or you can find the option to start a meeting inside your Gmail account.
You can then share the URL with other people who can join, without having to log in to their Google accounts (Zoom also allows joining meeting without signing up).
Google meet offers more control over the meetings. No one can hijack a meeting. No one can join if the host has selected specific settings.
Since it is web-based, it is available on every OS, and there are dedicated apps available for mobile phones that you can install from the respective app stores.
Use Cases Where Zoom Would Be A Better Option
Google meet surely looks a good deal. You don't have to create a separate account since it is already a part of your Google account and built nicely. The user interface is pretty clean and clutter-free.
But, there are many use cases where Zoom would be a better pick for video conferencing.
The first use case is the number of participants. While Google meet has a limit of to 250 people, you can hold large meetings on Zoom, where you can get as many as 500 people to participate, which would cost you around $69.99 a month (100 Participants in free account)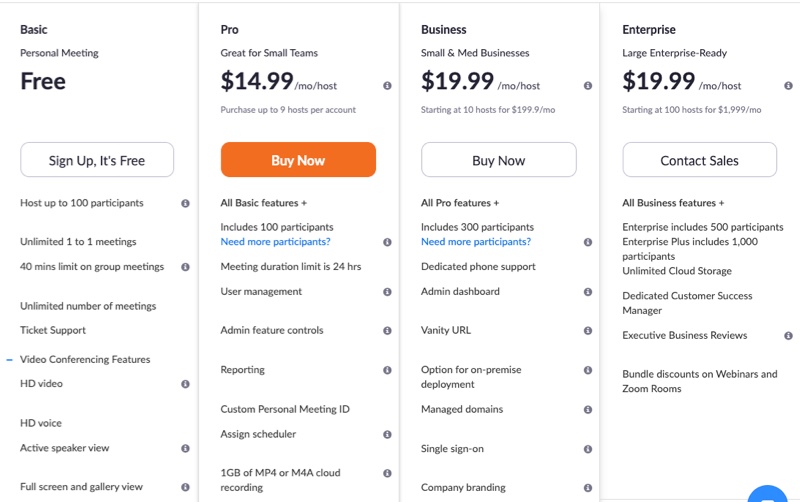 In the paid plans starting at $14.99/month, you get a lot of other options, such as the ability to record the entire conference and save it on their cloud, which you can share with other people using a URL.
The Business plan starts at $19.00/month, gives you the option to set up a page with your branding, and a custom URL as well as all the features available in Pro account.
Google Meet Free vs Zoom Basic
If we have to compare the free version of both the services, you will have to pick according to your requirement.
For example, the free version of Zoom limits hosts up to 100 participants, and there will be a limit of 40 minutes on the group meetings. But you will still be able to record the meeting and store it locally, which can let a be uploaded on services like YouTube if you want to share it with other people.
And the free version of Google meet will allow you up to 250 people but will limit you to host a meeting for up to 60 minutes. You would also not be able to record the meeting (also, you can use screen recording software like Snagit to record it).
Zoom has also improved its services and added some security features, so now, you have options to either go for a Zoom set up or use Google meet for arranging your meetups, online classes.