There is no point in guessing that you too use Facebook on a regular basis, around 1.5 billion people use it after all.
But we all know what kind of data hogger the Facebook's official app is.
The Android app installer package itself is more than 50MB, meaning every time you have to update it, which is as frequent as every other day, you have to spend your data on it.
And when you are not updating it, the app still consumes a lot of data by throwing in a lot of Videos that autoplay.
And not to forget the Promoted stories that appear every once in a while.
For someone who has a Flagship phone in their pocket and a good data plan it won;t really matter, but for people with Mid to Low range smartphones, having such data hogging apps on the phone can affect the smartphone experience.
Thankfully Facebook has alternatives to offer, like the Facebook Lite app, which is meant for low-end smartphones and for data sensitive consumers.
While the Facebook Lite app is a cool official alternative to the Offical Facebook app, you still need the Facebook Messenger, unless you go for the newly released Facebook Messenger Lite app.
But then you still have to keep two apps on your phone.
Unless you look for alternative apps from third-party developers.
Like this app called Fella for Facebook, I tried recently.
Fella for Facebook is a paid app, and it's one of the top grossing apps in the Paid Apps section.
The Good thing is, it's available for just Rs 10, or maybe it's a limited time offer.
So the app is clean and really lightweight, the Android App package is just under 2MB.
Simply install and log in and you are good to go. After you are logged in, it really feels like a Native app with some really nice features that better your Facebook experience.
Things You can do inside Fella fo Facebook
Customize the Colours and Fonts
Bring the Navigation bar to the bottom,
Download Videos Directly to the Phone (though it raises piracy issues)
Enable Text Selection (you can copy text unlike in the Native Facebook app)
Reply to Messenger messages directly from the app.
Disable AutoPlay for Videos
Disable Images
So the Good thing about this app is the ability to customize the look of Facebook. I mean you obviously might have got bored of the plain blue colour of Facebook.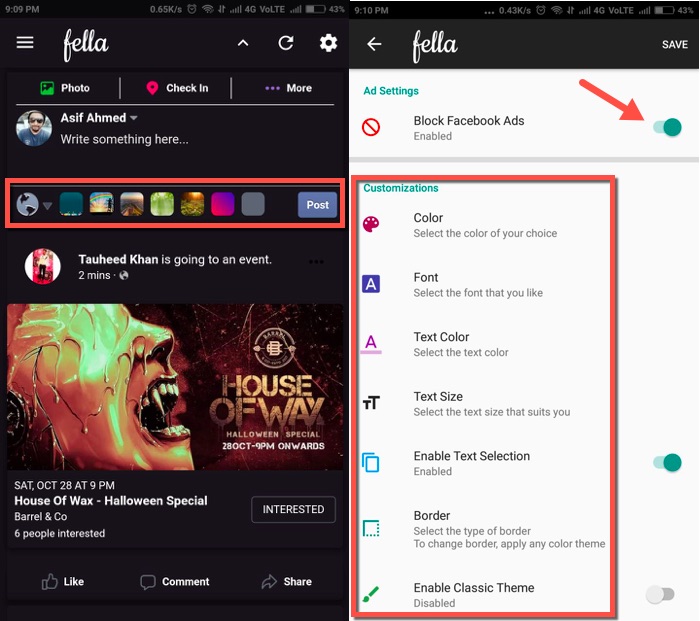 And when you can customize every corner of your smartphone, why not Facebook? Perhaps you want to backgrounds to be all Black (for those late nighters), maybe the fonts should be a little bigger, or different. Fella lets you do it all.
The other good thing about Fella for Facebook is that it lets you directly download the videos on your Phone unlike the 'Save Video' feature in the Offical Facebook app that does not allow you to share the video outside of the Facebook app.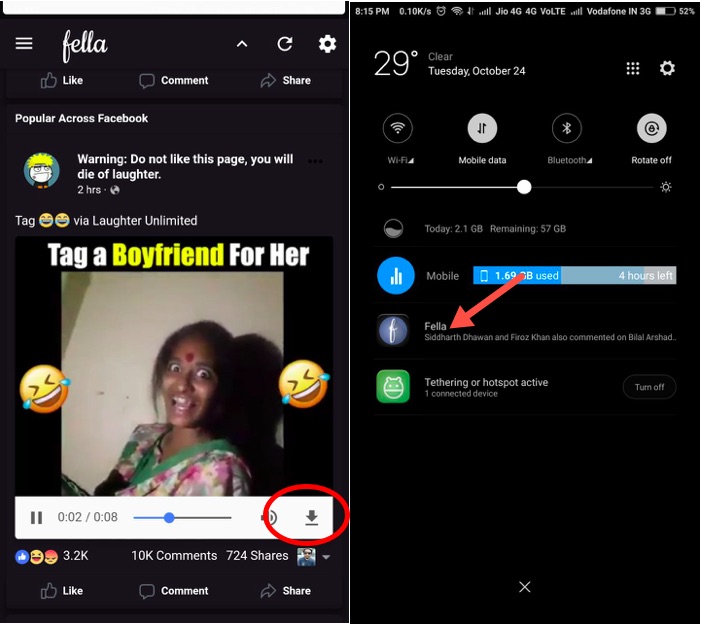 Saving it to your phone means you can share the video on WhatsApp or any other way.
Despite all the good things about Fella for Facebook, an official app is always going to provide a better experience, but having an alternative to it does not hurt at all. Plus you can add so many new features to enhance your experience.
Or, if you own a smartphone with less storage and RAM, switching to this app will result in a drastic change in the performance of your phone since you will be able to free up more than 100MB from your precious App Storage.