Facebook now lets you play the videos on its platform while you are scrolling your newsfeed for the next video to play. You can even play it outside the app, something like Facebook Messenger Chat Heads, that can float on your Mobile phone anywhere.
There is no denying how aggressively Facebook is promoting itself as a video platform, my newsfeed is filled with Videos. It is directly competing with YouTube. I've actually written about it in detail.
Undoubtedly, YouTube is still the king when it comes to Videos, but there are a few features Facebook has nailed, like the ability to keep scrolling through the news feed while still watching the video. It was earlier enabled for the desktop version of Facebook. You could play Videos on Facebook while scrolling on the Desktop.
Also, here's a cool way to PiP videos from any website (Facebook, Twitter, YouTube etc), and it plays on top of every other window on your laptop screen.
Play Facebook Videos anywhere on your Mobile
I know how addictive the videos that appear in Facebook Newsfeed are, they Autoplay one after another, making it tougher to get out of the loop.
Update: Facebook has moved their settings in the latest design list, so you might have to find these settings which aren't the way this tutorial shows. But it's easy to find and enable Pop-up videos. 
Thankfully this feature will save little of our time since we can now at least scroll and view other stuff while the videos play.
To enable it,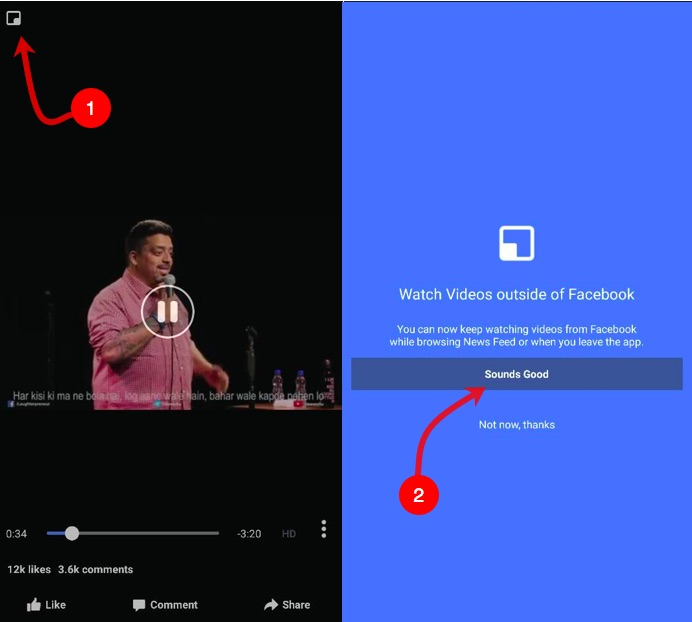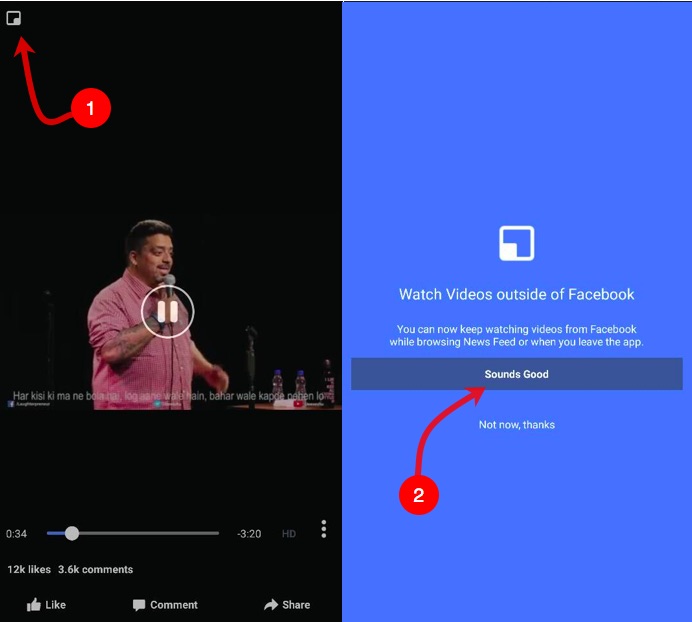 Find the Popout icon on the top left of the video player. 
The Facebook app will require your permission to overlay the video over other apps. 
Once you allow it, the video can appear on the corners of your mobile phone while you scroll your newsfeed.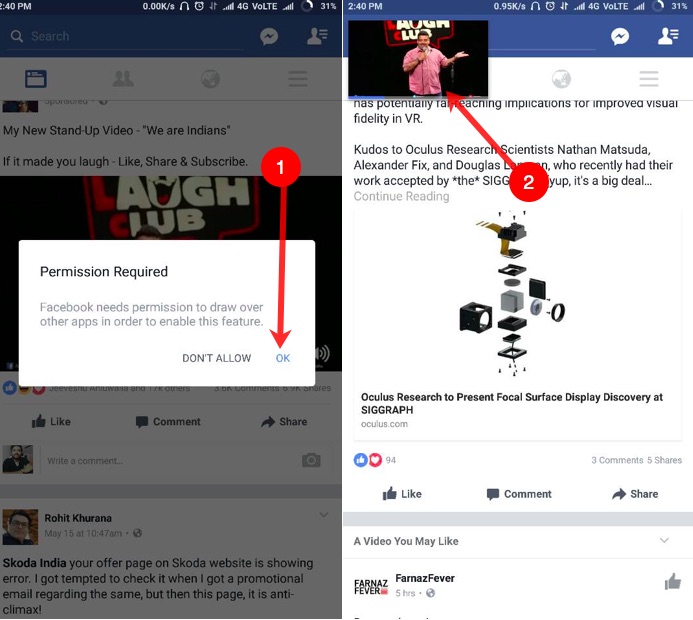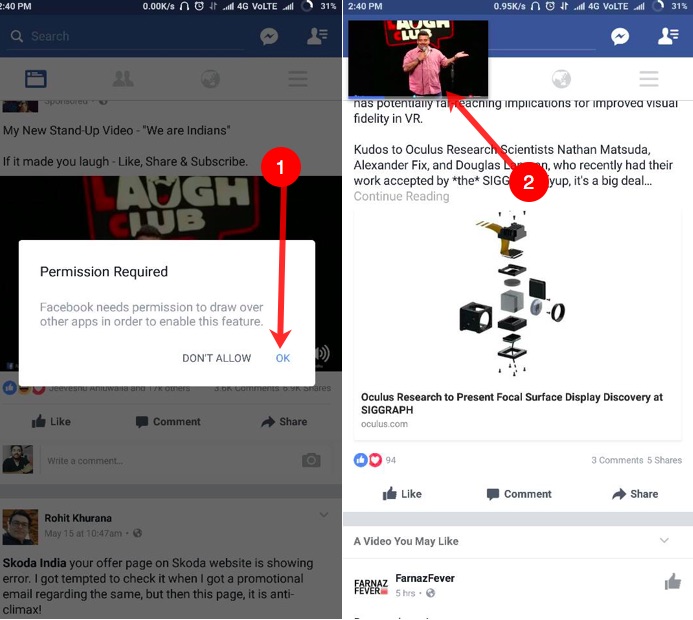 If you tap on Home button, the video continues to play even when you exit the Facebook app.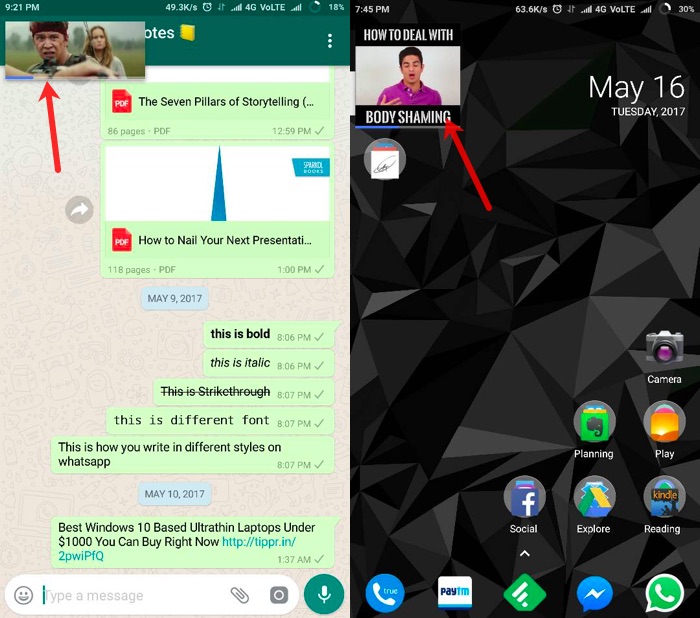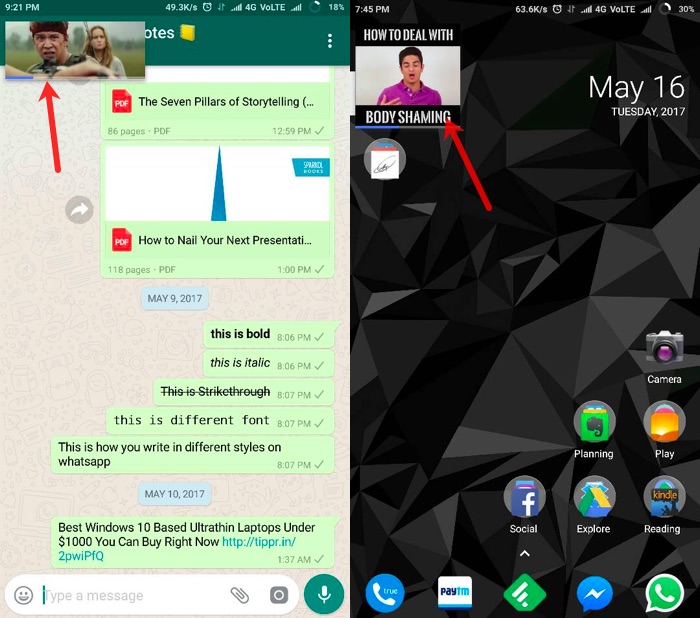 The action is not as snappy as it should be but is still a big time saver if you too find yourself stuck in the Facebook video loop.
While this is an app-based feature bought by Facebook, a similar feature will be natively available in Android O and is called Picture-in-Picture. Google has already given a demo at the Google I/O, 2017. It will initially work on YouTube though.
But having this feature built-in natively in the Android OS is not enough, considering only less than 7% of the total Android user base is on Android Nougat, which was released last year.