Of all the tech-related questions we get on our blog, one of the most common ones are about tracking a mobile number. So let's discuss it in this post.
Track Your Mobile Phone Number's Location
If you are talking about tracking your own mobile number, which is in an Android mobile, where you are using the same Google account you use on your computer or on another phone, then yes there is a possibility.
You need to simply type, 'where is my phone' or 'track my phone' or 'locate my phone', and you will be able to see the exact location of the mobile's last known location.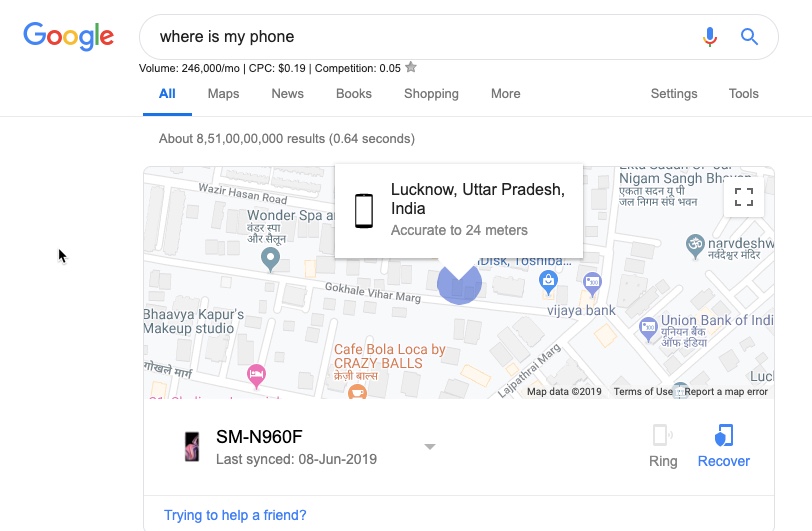 And by last known location, I mean, when the internet data was available on the mobile, because then only it can send its location Google.
But in order to get this to work, you need to make sure that you have enabled location history on your mobile phone, read this article for further clarification
Watch this video
Track Someone else's Mobile Phone Number' Location
If you are looking to trace someone else's mobile phone number as you see in the movies, it is is not available to the general public, and would only be available to the mobile operator the mobile number belongs to.
In fact, precisely locate the exact location of the phone number, by calculating the distance of the device from the tower it is getting the network signal, including direction.
Stay away from scam sites claiming to track a phone number
Since it is widely searched and there is no proper solution for it, scammers are taking advantage of this too to leverage this situation by enticing People by showing fake case studies And tracking them to to make a payment to get the job done.
Needless to say, the job is never done after the payment because it is not possible unless someone hacks into the network operators system.
I would suggest you stay away from these scam sites that claim to track a phone number, no matter how real it may look.
Also, please share this article with other people so that they can also be aware of such scams.