Over the years, many Android users have been switching to iPhone. According to Counterpoint Research, the number of Android users switching to iPhone increased from 10% in 2020 to 15% in 2022.
In 2023, the number of switchers is expected to reach 17%.
And interestingly, moving WhatsApp from one platform to another has been one of the most common questions 'How to move messages from Android to iPhone'. Some people are looking to move from Android to iPhone and want to know how they can transfer WhatsApp from Android to iPhone.
Watch the Video Tutorial
Some people are moving from iPhone to Android and want to know how to transfer WhatsApp from iPhone to Android. This article will help people stuck in both situations. 
In this article, we will learn possible ways to transfer WhatsApp from Android to iPhone.
Before we do that, if you are looking for an easy way to switch all other data from iPhone to Android without having a headache you should check out this article. It was written a few years ago, but I keep going back to update it with relevant information, and frankly, nothing much has changed in these years.
I am sure that you will have some idea about switching from iPhone to Android without too much effort.
Transferring WhatsApp data from Android to iPhone
WhatsApp has made it easy to switch phones. Still, only if you are changing within the platform, for example, if you are switching from an Android phone to another Android, you have an option to backup your data in Google Drive, and then restore it on your newser Android Phone.
Similarly, if you switch from one iPhone to another, you can backup all your WhatsApp data to the iCloud and then restore it to the new iPhone.
This is where the problem lies. For android smartphones, the backup service is Google Drive, and for iPhones, it's the iCloud.
WhatsApp could easily have given the option to backup chats in Google Drive on the iPhone, making things a lot easier for switching between these different platforms. Still, I am sure it is a limitation put down by Apple because it does not want to give anybody an option to move out of their ecosystem.
Native Solution to Transfer WhatsApp from Android to iPhone
iPhone finally has made a native solution to move whatsapp from Android to iPhone. They have released Move to iOS app for Play Store and it has an option of moving your WhatsApp to iPhone. 
Here are the steps on how to move WhatsApp from Android to iPhone using the Move to iOS app:
On your Android phone, open the Move to iOS app.
On your iPhone, go to Settings – General – Erase All Data. When your iPhone is in new state, start setting it up by following screen instructions,
Tap on Setup Manually, and then select Move Data from Android from the list of options. 
A code will be displayed on your iPhone. Enter the code on your Android phone.
Tap Continue on both devices.
On your Android phone, select WhatsApp, along with other contents you would want to move to iPhone.
WhatsApp will start preparing the transfer by exporting 1 big file, it might take a while, depending on how big your WhatsApp data is.
Tap Start on your Android phone and wait for the data to be transferred.
Once the data is transferred, you can open WhatsApp on your iPhone and log in with your account information. 
The iPhone will find there's WhatsApp data move from Android and you can restore it easily. 
There's a Downside of using the Native Method to Transfer WhatsApp from Android to iPhone. 
You need to do it when you just bought your iPhone, or if you've a;ready setup your iPhone, you will need to reset it. Unfortunately this is the only way you will get the option of Move data from Android.
Also, it doesn't work for every Android smartphone. Since the Move to iOS app is created by Apple Developers based in the US, they have tested only a handful of Android devices. They are also keen on targeting flagship owners. So if you have smartphones like Xiaomi, Vivo, Oppo, there is no surely will will work. But. there's a workaround. 
Workaround to transfer WhatsApp data from Android to iPhone
Here are some workarounds you can follow to move WhatsApp Messages from Android and restore WhatsApp on iPhone without Factory reset
Use WhatsApp on iPhone as a Linked device
WhatsApp has launched a feature where it allows users to use their WhatsApp on multiple devices by linking it. You will find this option of linking your WhatsApp to other devices in the settings area. You can link your WhatsApp on Android to another WhatsApp app on iPhone, Mac or even WhatsApp Web.
If you are planning on keeping your android phone with you, this can also be a thinkable solution of using your WhatsApp on your iPhone, without having to erase all the contents of your iPhone, just to move your data Android.
Now, over to the paid solutions, Why Paid? because it just doesn't stop at buying an expensive Apple device. Everyone knows Apple people have deep pockets, they can pay for things like moving their data from Android to iPhone, without having to do a lot of geeky effort. I've also figured it's not worth trying to find free solutions. 
Transfer WhatsApp from Android to iPhone using iToolLab
Lately to move WhatsApp from Android to iPhone, and the process was smooth. Although, it is a paid app. There is one time plan as well, which is $13. 
For $13, you get access to the app for one month and you will be able to Transfer your WhatsApp from Android to iPhone or, from iPhone to Android. Everything from Chat history, to Media files, to Voice notes, to GIFs you sent. Everything will be included in WhatsApp backup and will be restored to iPhone. 
Once you have downloaded and installed the iTunes lab application on your computer, connect your iPhone and android data cable. Make sure that you have selected both devices correctly, your android phone in source and your iPhone. If you're connecting your iPhone for the first time, you may have to unlock your iPhone and then tap on trust this computer. 
And for Android, you have to enable USB Debugging. Which is an option, you will find in the Developer Options. (If Developer Options is not enabled, it can easily be enable it by going to the above section of your phone from the Settings, where your Android version is written.
You have to tap on it several times before the Developer Options is enabled) Once the options is enabled, you will be able to find USB Debugging. 
Create a new backup of your WhatsApp on your Android and also enable encryption. When enable encryption, you will be given the Encryption key, you can take a screenshot of it as you will have to use it in the transfer process. 
Once you have created local backup of your WhatsApp on your android mobile, you can start the process, your computer will backup all the files from Android, decrypt it (using the key you took screenshot of), then convert it in a format that can be restored on iPhone. 
And then it will be restored to the iPhone, (before that it will notify you to login into your WhatsApp account on your iPhone). 
Once the transfer process is done, you can click on okay and check your iPhone, if done correctly, you will see all your WhatsApp data transferred successfully to your iPhone.
Watch this the video that I created, for better understanding. 
Transfer WhatsApp from Android to iPhone using MobileTrans
And if you want to do that, there is undoubtedly an option that involves a third party software available for Windows and Mac, which will allow you to transfer WhatsApp chats from Android to iPhone or vice versa.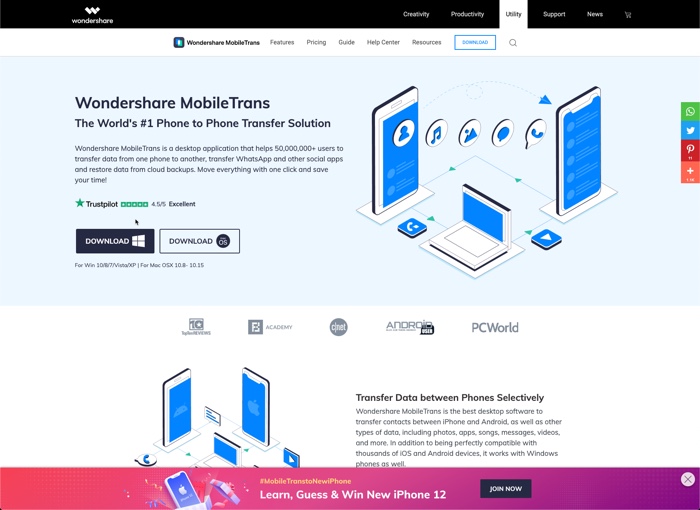 The software is called MobileTrans, and it's from Wondershare. It is available for both Windows as well as Mac. If you want it for windows, you can get it for $29, and if you wanted for Mac, you would have to pay $39.
But once you get the license, the process is relatively easy. All you have to do is connect both your Android and iPhone to the computer using the cable provided with the mobile phones, let the software recognize both the devices, and then you can choose to transfer WhatsApp data from one smartphone to another.
The time taken by the software to move WhatsApp data depends on how much data there is. I've used the software to transfer WhatsApp data from Android to iPhone, and the process was seamless.