It is not an unknown fact that is Xiaomi is always inspired and motivated by Apple. It pretty much shows in every design choice of Xiaomi products and even sometimes the names are inspired from Apple.
And it's not just mobile phones in the company also makes laptops and has, in fact, Xioami had got its own version of the MacBook Air, it's called Mi NoteBook Air 12.5 and it was recently launched in China, and is available at almost half the price of what Apple MacBook Air is available for.
Mi NoteBook Air features a 12.5-inch 1080p display, and when it comes to design, it pretty much mimics the MacBook Air.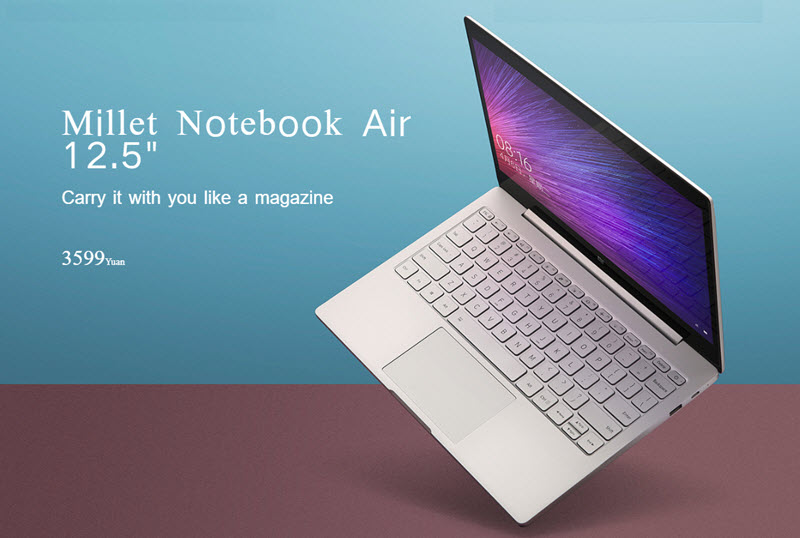 Although when it comes to the software part, Apple has got the proprietary Mac OS, so Xiaomi uses Windows OS for its machines.
Specifications of the Mi Notebook Air 12.5
The Mi NoteBook Air has got Intel 7th generation i5 7Y54 processor. Although it is a powerful processor, the base version starts with just 4 GB of RAM which is a bit of turn off, since we all know how much of a big resource hogger Windows OS is.
There is 256 GB of SSD for storage options, the MI notebook 2.5 is just 12.9 mm thick and weighs around 1.07 kgs.
Xiaomi claims that the laptop offers as much as 11. 5 hours Long battery life, at par with what Apple offers for it's MacBook Air.
Xiaomi has also included fast charging capabilities and also claims that it can charge 50% in just 30 minutes.
Mi NoteBook Air has got a USB port, USB C port, an HDMI port, and a 3.5 mm audio jack for input and output, and some other features include a backlit keyboard, support for faster 5 GHz Wi-Fi, AKG speakers and a glass trackpad which is scratch resistant.
Pricing and Availability of Mi Notebook Air 12.5
Coming to the price the Mi NoteBook Air 12.5 is priced at CNY 3999 which is roughly converted into $580, which is indeed almost half the price of one Apple sells its new MacBook Air.
Now, if we have to compare the Mi NoteBook Air 12.5 with the Apple MacBook Air the Mi NoteBook Air definitely offers more functionalities and it also offers more input options is there is still a USB airport available along with an HDMI port.
Which is not present in the Apple MacBook Air, also the price can also play as a big factor in deciding which laptop to buy.
If we have to talk about the availability, it is currently launched in China only, there is no word on this laptop getting launched anywhere else, as is the case with all other Mi NoteBook brand laptops.
The only way you can get one is by importing it from China itself. I tried looking at the listings on all the popular Chinese e-commerce websites, I couldn't find as of now. The only place I got the information about the product is on the official website of Mi for Mainland China. Here is the page.
Too bad that the official website doesn't offer imports, so you might have to wait for other e-commerce websites to list it, maybe Gearbest or Banggood manage to do it in a few days.
So what do you think about the Mi NoteBook Air 12.5? Do you think it can offer better value than MacBook Air and can compete with Apple in terms of sales? Let us know in the comments below.