Xiaomi's easy solution to turn a regular Tv into a smart TV, the Mi Box, has been around for a while. It first made news in 2016, when the company was planning to bring it to the US.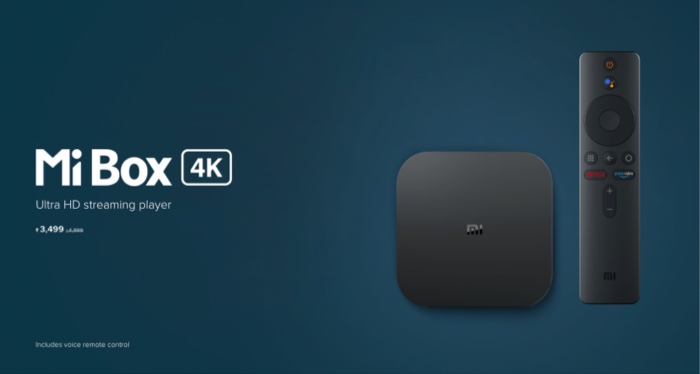 It has been launched in several countries since then, and India is its recent addition when the Mi Box was launched last month in 2020.
Let's talk about why we are still talking about the Mi Box when the price of Smart TVs have drastically reduced. You can buy a 32-inch smart TV for just Rs 12000.
It's not every day that you buy a TV for yourself just because a new smart feature is introduced to the newer model the next year.
Okay, maybe some people do, but the majority of people are going to buy a new TV when the older one stops working. And that is the way it should be.
If you bought a new TV 5 years ago, chances are, it's running fine. But there's not smart capability, no Netflix, no YouTube.
Well, you don't have to upgrades to use these features. I'm sure you are already aware of several options available in the market that will turn your normal TV into a smart TV.
Our recommendation has been the Amazon Fire TV Stick from the last few years. A small HDMI Stick that hides at the back of your TV and lets you enjoy your favorite web series from streaming services.
Now, we have a new favorite, the Mi Box which was recently launched in India. It's a small, square-shaped box, with Mi branding on the top of it.
Watch the Video
What's in the Box
The Packaging of the Mi Box is quite minimal. You get the Mi Box itself along with remote control, an HDMI cable to connect it with a TV, e a power adaptor to power the Mi Box, and user manual, if you need help to set it up.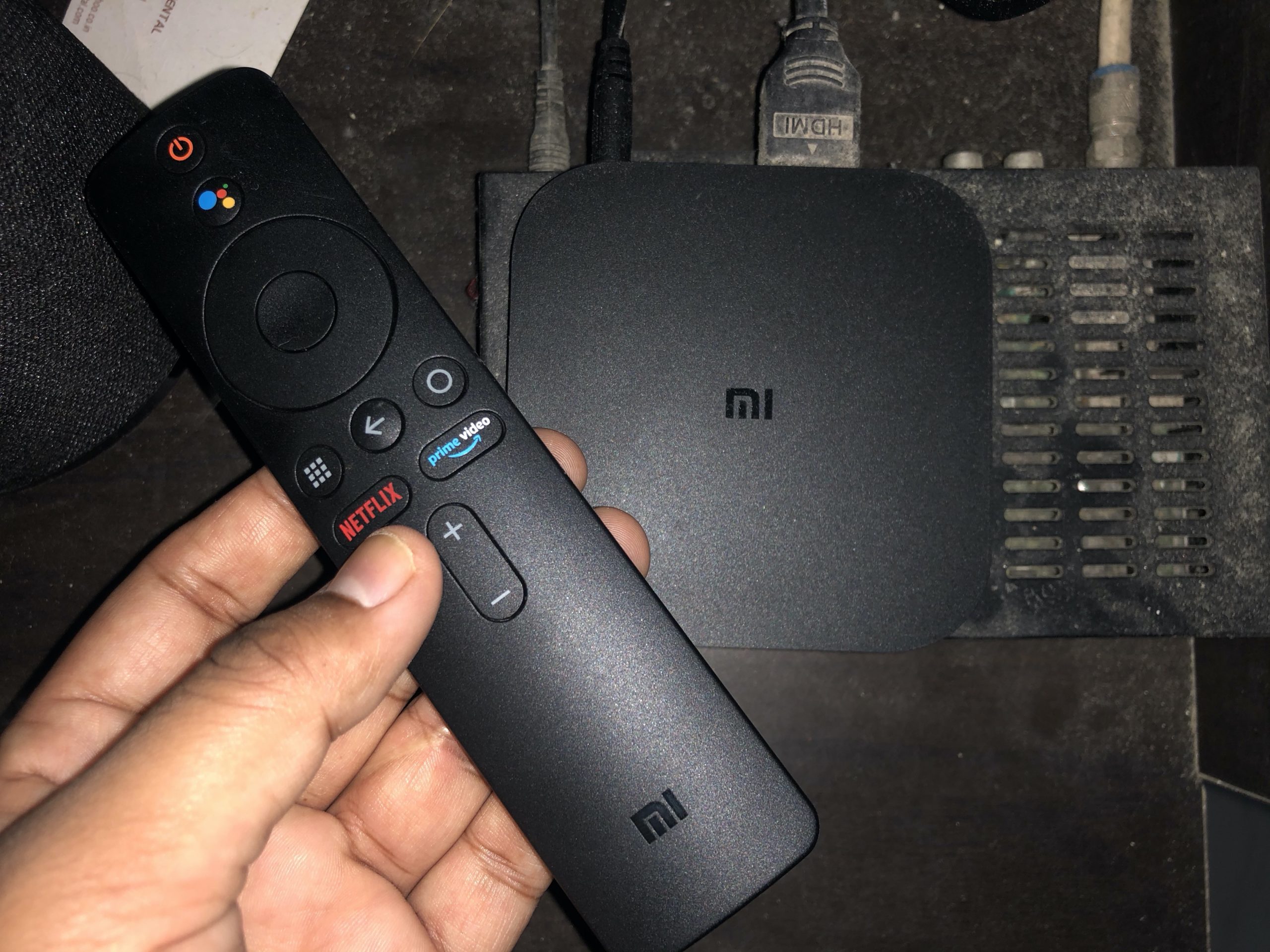 The TV remote is the same Xiaomi ships with their Mi Box. It's a Bluetooth remote.
Experience of using Mi Box with an Old TV
Here is the Mi Box in action on an 8-year-old non-smart TV, which had 1 HDMI Out, used for DTH connection, it had to be removed to plug in the Mi Box, and a power source is required to power it.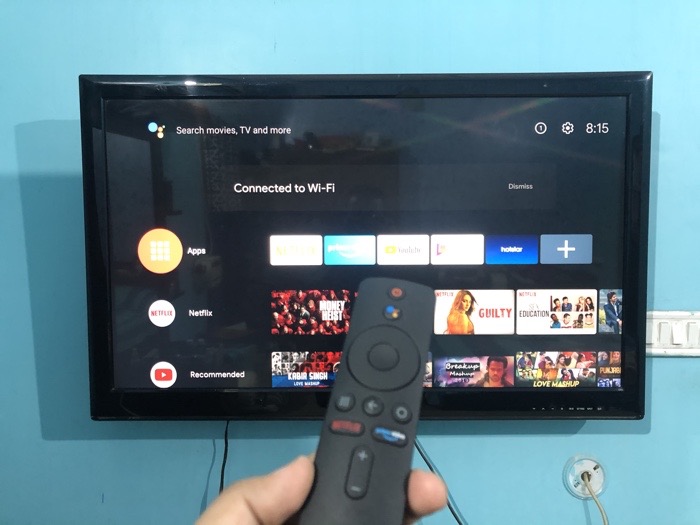 After you have selected the HDMI option on your TV remote, it almost feels as if you have got an Android-based smart TV.
Most TVs let you set a default input source, which enhances your experience of using the TV as you would only require the Mi Box remote to operate it further.
The Remote has Google Assistant, which makes it easy to play content without having to navigate through the content library manually.
You can also install Android TV remote app on your Mobile (iPhone /Android) and control it using your mobile-only. You can also replace your TV's IR remote if you buy a universal smart remote, install the app, and turn it on/off using your mobile phone.
Connectivity Options on Mi Box
The Mi Box has an option to connect Hard Drive or Flash Drives using the USB 2.0 and has Wi-Fi, which makes it easy to connect and get started with streaming content on your bigger screen.
The inbuilt Chromecast support makes it easy to cast whatever you are watching on your Mobile to your TV. Mostly, all the popular apps support casting feature.
Can you hide it behind the TV?
Here is the size comparison of the Mi Box with my hand. I have medium-sized hands of a 5.8-inch tall guy.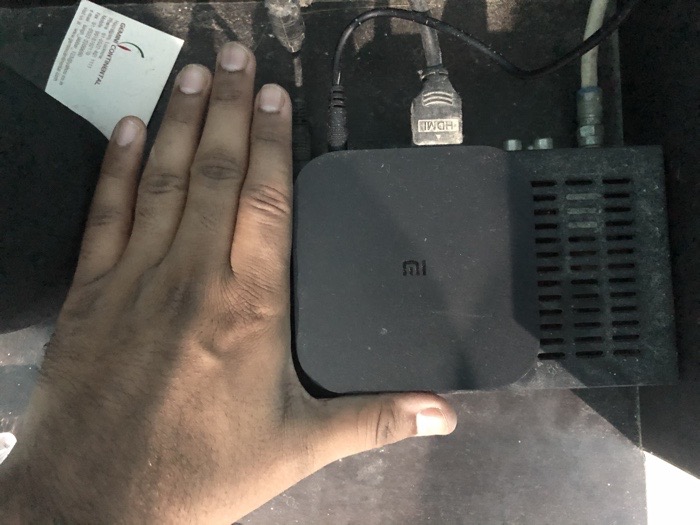 So, it covers the palm of my hand. It isn't even that thick also. Although it's a big heavy in comparison to the Fire TV Stick, 148g isn't too heavy.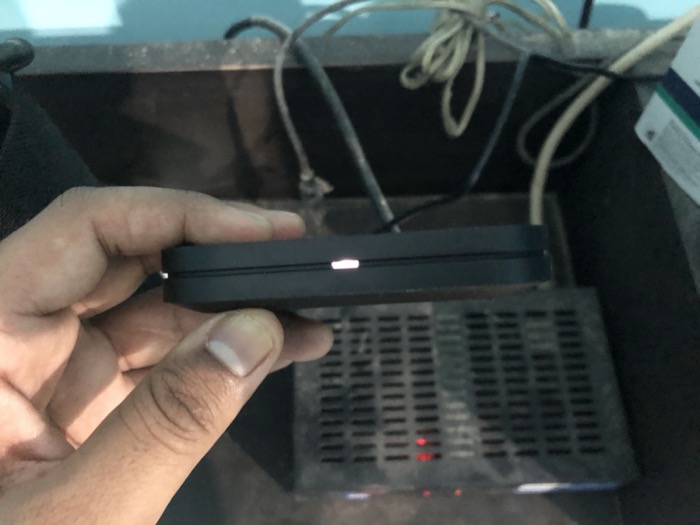 You can easily hide it behind your TV, although you would require an extra power outlet to power this device.
Is it better than the Amazon Fire TV Stick?
After having used both these devices to turn a normal TV into a smart TV, I can see the benefit Mi Box offers over the Amazon Fire TV stick.
The shorter answer to this question is the Mi Box is much better in comparison to the Amazon Fire TV stick.
It is cheaper, faster, has got more options. You can read about the difference between both in detail, in this dedicated article.
Where to buy the Mi Box TV from?
Since it is a direct competitor to the Amazon Fire TV stick, it could be a reason why the Mi Box is not listed on Amazon. But surprisingly it is also not listed on Flipkart and the only option to buy Mi Box TV online is from there Mi Store.
It has been a few months since it was launched in India and the product has been out of stock several times. Thankfully, it gets back in stock.
It is currently available at Rs 3499 which they call the introduction price, and it will be increased to Rs 3999 later.