If you don't like seeing Ads while browsing, you can choose to block ads using popular Adblock methods.
We have even written a detailed article listing out all the possible Adblock options available for both PC as well as a mobile phone.
But, in this article, we will specifically talk about using ad blockers on the Google Chrome app for Android, also known as Chrome for Android.
Use the native ad block option available in Chrome for Android
Google has started offering the option of blocking out all the intrusive ads you may experience on different websites.
Because Google knows that people get irritated by all the annoying pop-up ads on some websites and decide to use them as blockers that function as bad players and hard-working publishers.
Also, advertising is Google's primary revenue source, so it offers an option to block all the annoying ads while still keeping its ads on websites that are not that annoying.
Watch this video tutorial to enable Ad Blocker in Chrome for Android
I want to mention that we at Techtippr also use Google ads, and I hope it does not interfere with your browsing experience.
Use Opera mobile as an alternative to Chrome for Android
If you do not want to see ads at all, call. You can also try Opera mobile, which comes with an ad blocker built into the app, which is also enabled by default.
While downloading the Opera mobile app only for browsing websites without any ads might not sound like a great idea, it would be great if you could explore other exciting features of Opera mobile. You can check out this particular article to know more about it.
Use Adblock Browser for Android
A Browser is available in the Play Store by the name of Adblock Browser and blocks ads as the name suggests.
Interestingly the browser has more than 10 million installs and still maintains a rating of 4 stars out of 5.
Add the Adblock Chrome extension to the Kiwi Browser
There are a handful of browser apps available in the Play Store that support Chrome extensions.
So you can add any Chrome extension to one of the browsers called kiwi Browser.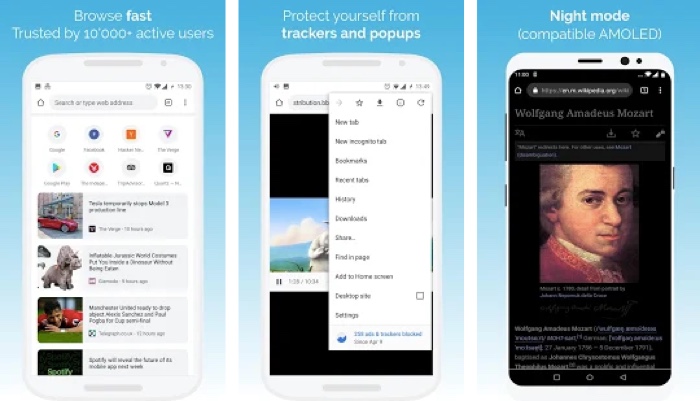 The Kiwi browser is a Chrome-based Browser that runs on Google's Blink Engine and Webkit, which means you can expect the same speed and page loads that you expect from the Chrome for Android app.
Not just that, the user interface is also pretty much like Chrome for Android.
You cannot just install the Adblock Chrome extension but other extensions as well. However, the Kiwi browser already comes with an inbuilt ad blocking option.
Simply install the Kiwi browser from the Play Store open the Kiwi browser and enter chrome://extensions in the address bar.
Enter developer mode, and reload the Kiwi Browser. Then type chrome.google.com/webstore in Desktop mode, search for Adblock Chrome Extension and install it.
So these are a few options you can try to block ads on Google Chrome for Android. I hope you find this article helpful. You can check out other articles on the blog.