Okay, not everything but any TV that has got an HDMI port. If you have bought a flat TV in the last few years and it wasn't smart then you can buy a tiny device to make it a smart TV.
We are talking about Amazon Fire Stick that is developed by Amazon.com.
Think of it as a CPU on a stick with a small Operating System that is specially designed for TVs, you can connect to monitor or TV, and you get to control it with a Bluetooth enabled remote.
The stick is also Wi-Fi enabled, so it can be connected to your home wireless network. You can install video streaming apps on it and then play content on your TV.
Amazon advertises it as a way of cutting the chord as you wouldn't require cable TV to watch your favourite movies and TV shows.
The best part of such a setup is that you get to watch anything you want at your own time.
It has been available in the market from last few years but I just got it, so I thought I will write about my review of The Amazon fire stick in case anyone of you if interested.
So the Amazon fire stick is available on Amazon India for Rs 3999/- ($39 on Amazon.com)
What's in the Box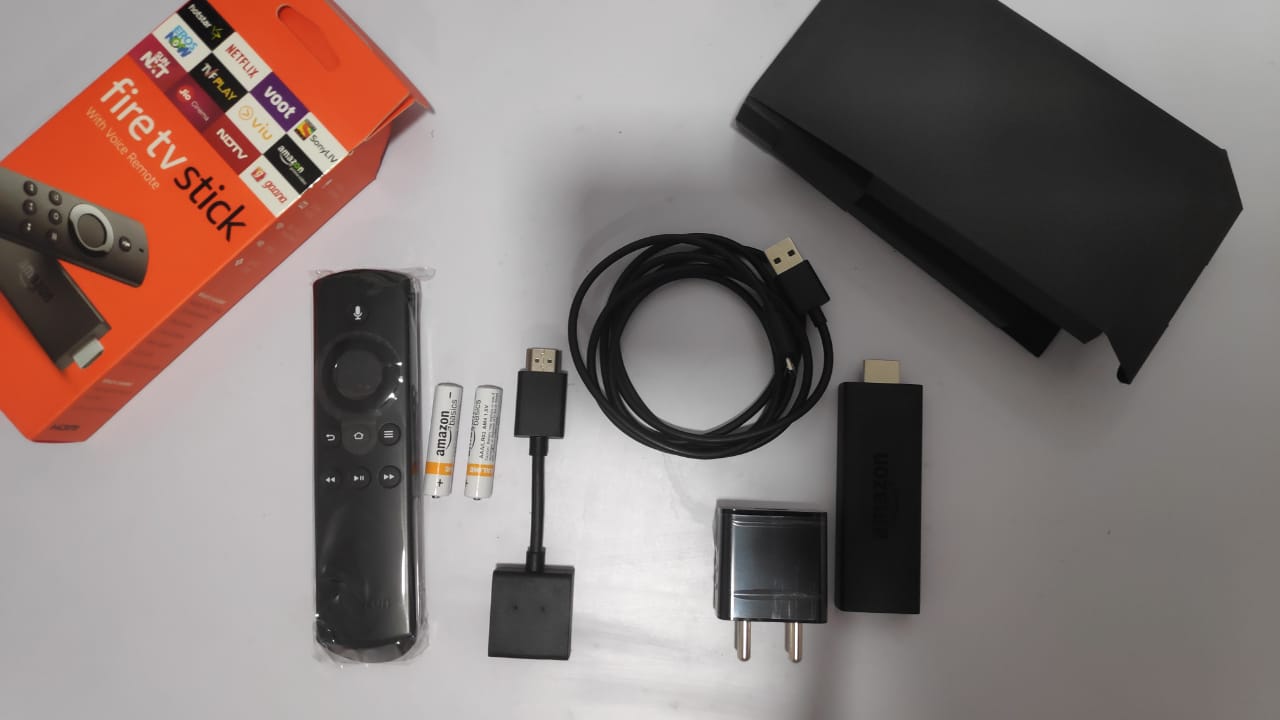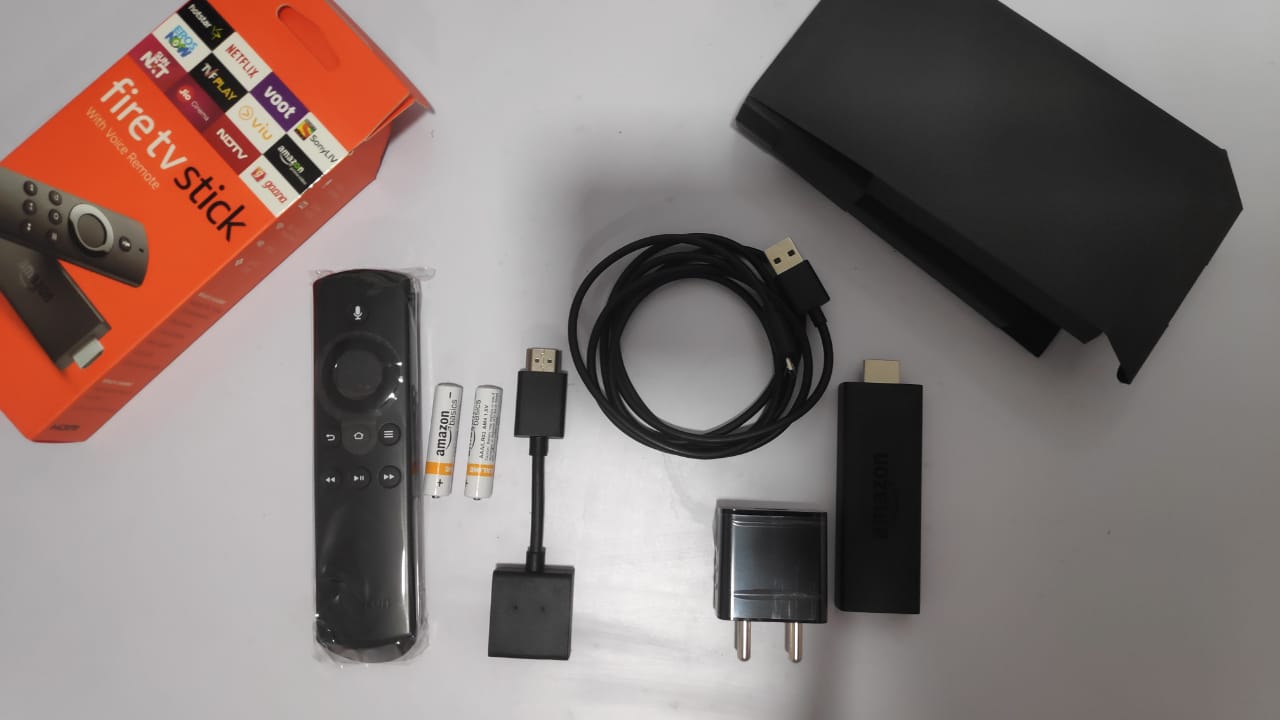 In the box, you get the Amazon Fire Stick, along with a Bluetooth remote, that is pretty much the size of a 5.5-inch smartphone, there is a micro USB cable, a wall adaptor that powers the Amazon Fire Stick.
There is also an HDMI extension cable, which is pretty helpful if you do not have space behind your TV to plug in the Amazon fire stick into the HDMI port of your TV.
There is also some documentation that gives out clear details about how to use a device.
How to Set up Amazon Fire Stick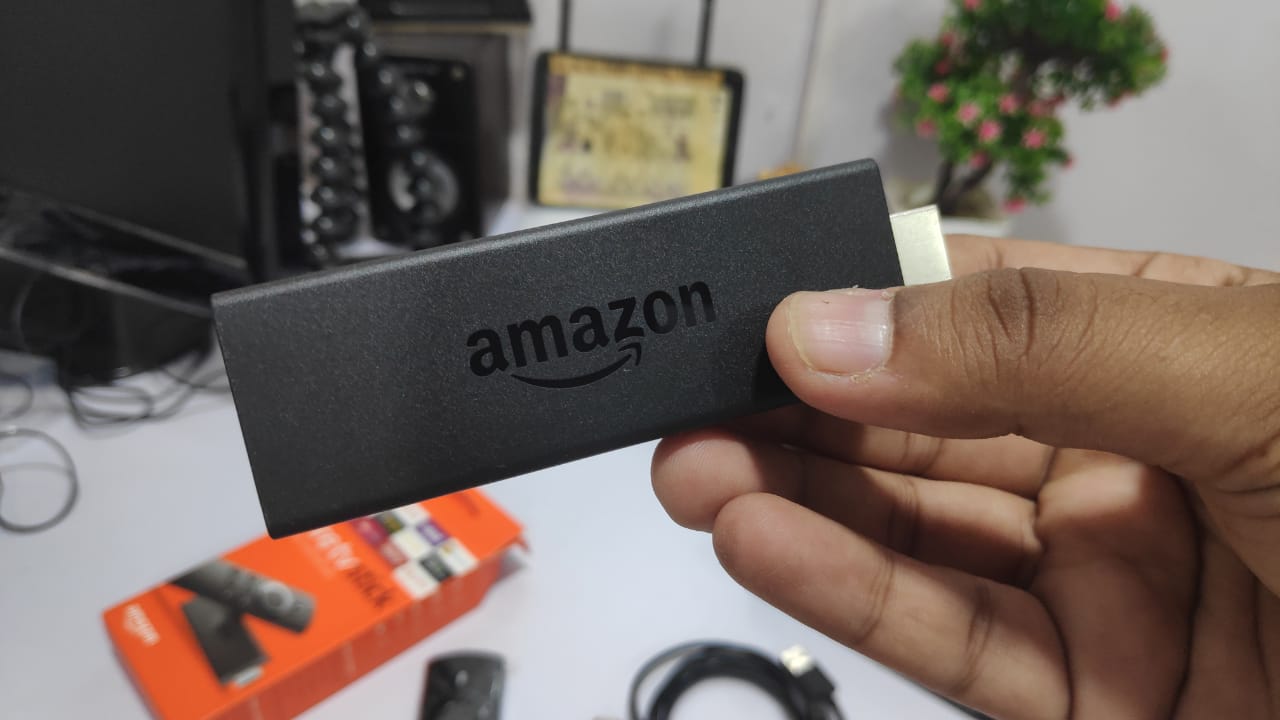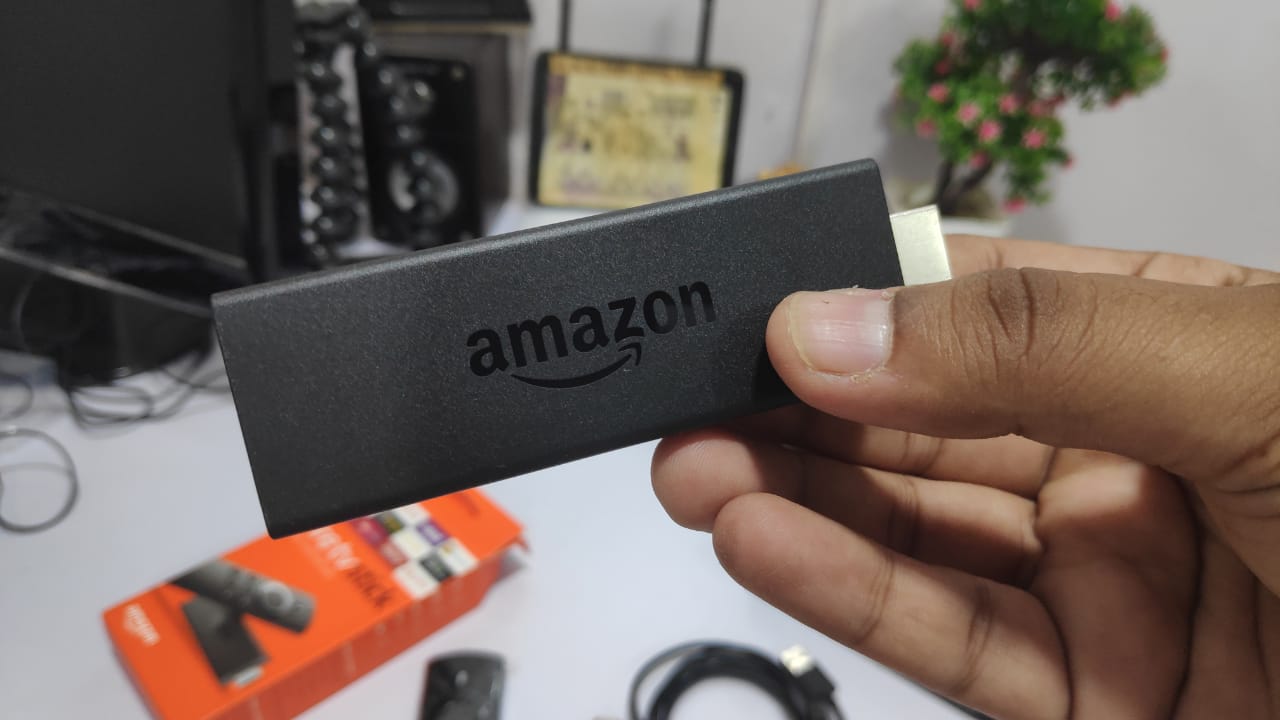 The process of setting it up it is pretty straight forward, simply plug it into the TV using the HDMI port, then connected the micro USB cable and power it using the wall adaptor.
(I tried powering up the Amazon fire stick using the USB slot on the TV itself but it showed that the power is insufficient)
You can turn on the HDMI mode of your TV, some TV remotes will have a 'Source' button.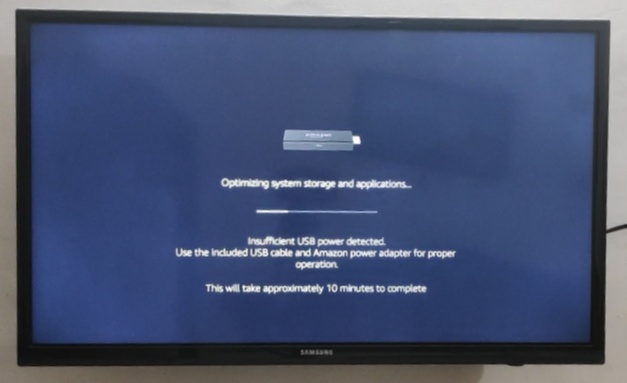 It will take a few minutes for the Amazon fire stick to set up for the first time when the device is set up, you will be able to see the Amazon logo followed by the Amazon fire branding.
You can then use the Bluetooth remote provided to connect the Amazon Fire Stick to your wireless network. Once you have connected it, the next step is to log into your Amazon account, or you will have to create one if you don't have it already.
Once it is set up, you can navigate to the App store using your remote and then install the apps available in the Amazon app store.
About the Remote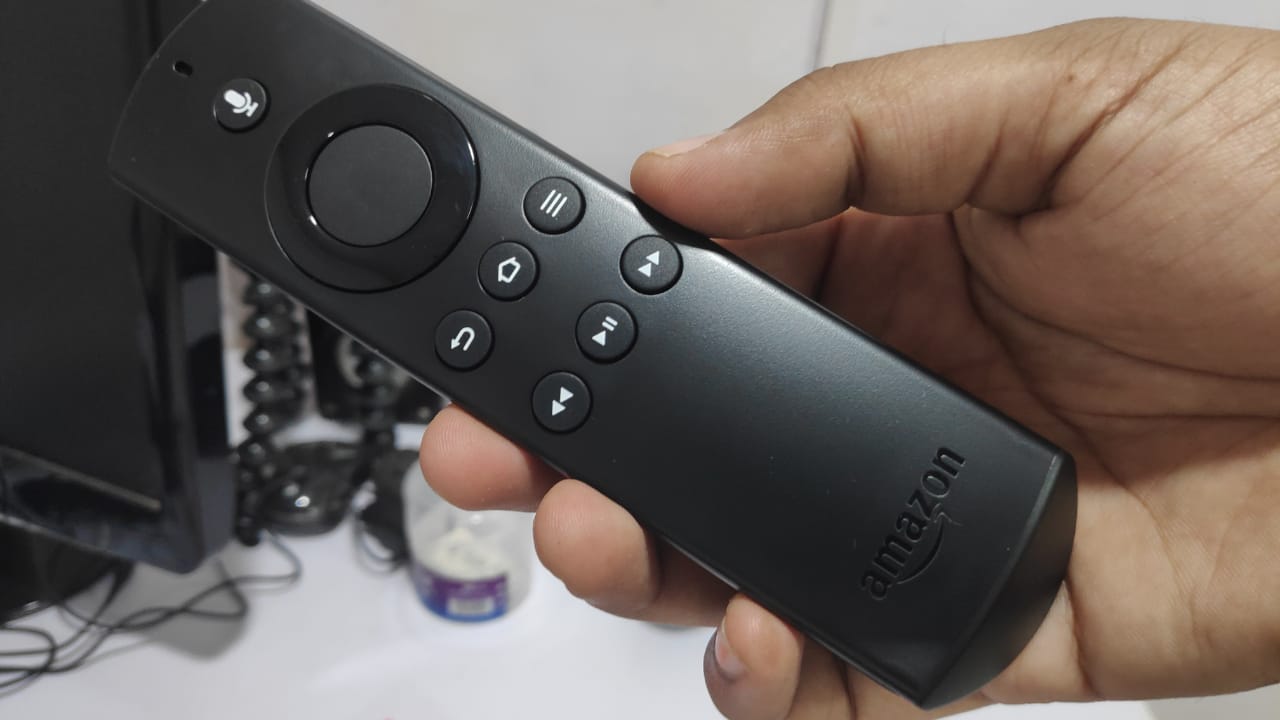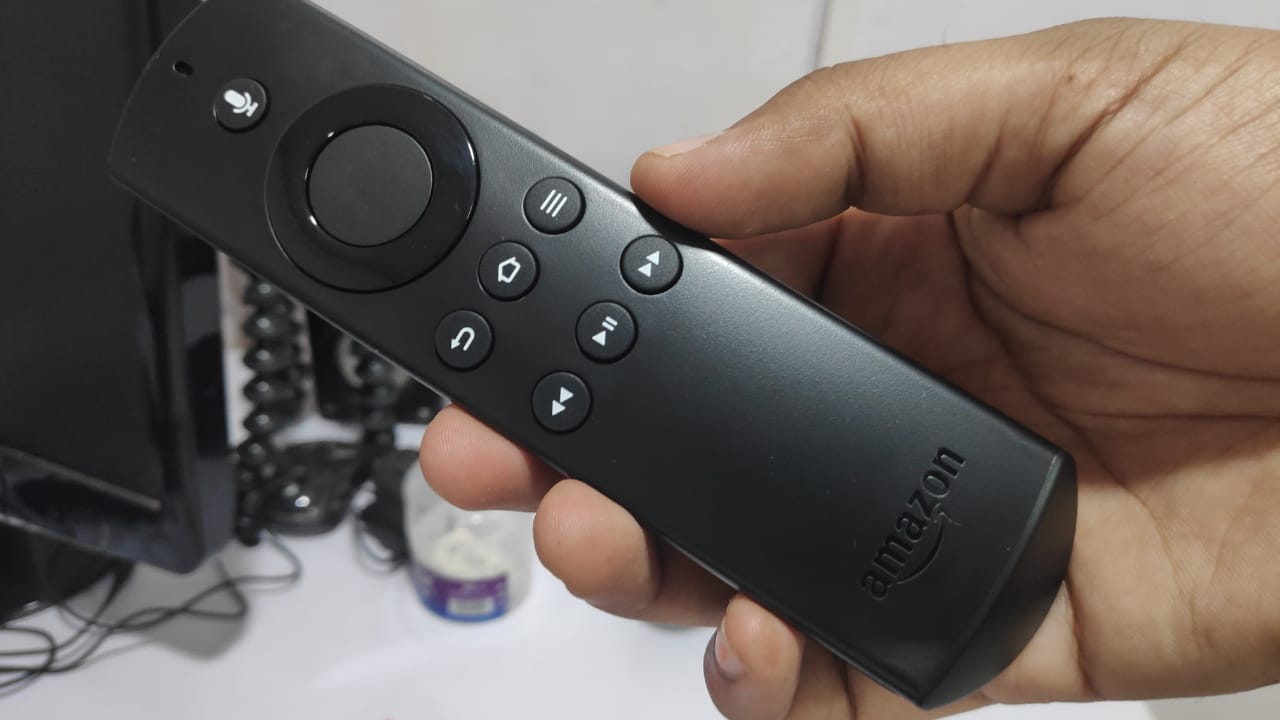 Looking at the remote it is quite a minimalistic, with just a few buttons to navigate through the operating system.
There is a dedicated voice button which you can press and use your voice to search for content, this function only works for the Amazon Prime video, and you will need to have the Amazon Prime video subscription.
In most cases, it comes with the Amazon Fire Stick, if you have bought it from Amazon.com. If you don't have the subscription you can go here to get one.
Apart from the remote, there is also an iOS and Android app available, that you can install on your smartphone and use your smartphone as a remote
You can install the Amazon fire stick app on your smartphone,
log in to your Amazon account, and then,
authenticate the device by putting in the pin number that flashes on the TV.
You will find the smartphone remote much useful since you will be able to use the keyboard for making searches, which is quite a tedious task when you are doing it with the remote.
Using other video streaming apps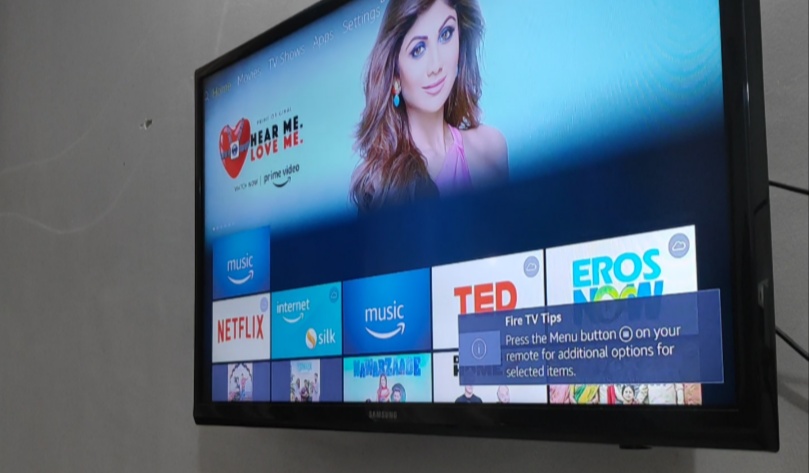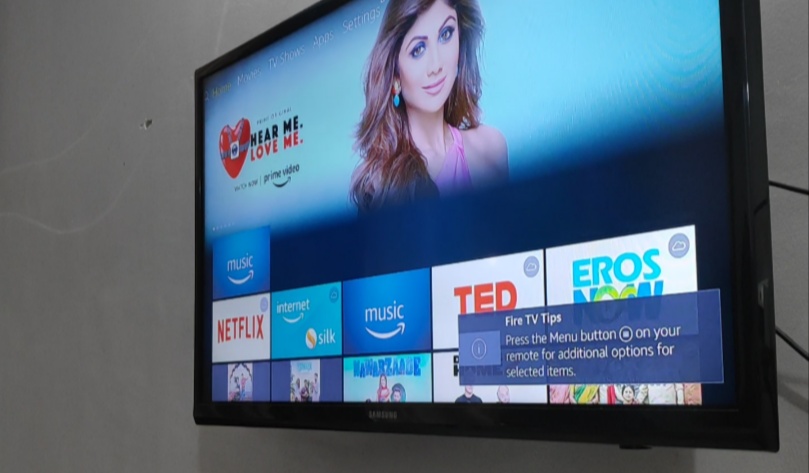 There are also some other streaming apps available, some would require a monthly subscription, such as Netflix requires you to have a subscription. Then there are some other apps that are Ad-supported.
You will have to log into your accounts for these streaming services separately.
And because Amazon and Google had some kind of cold war the YouTube app is not available in the Amazon app store, but there is a workaround to install it.
Installing YouTube app on Amazon firestick
First, you will need to go to the settings of your device, then go to the 'Developer Options' and check 'Install from unknown source'. This will allow you to sideload the YouTube app on Amazon fire stick.
Note: I would recommend you to use your smartphone as a remote since you will be able to copy paste the link to download the app easily.
Now, there are quite a handful of methods to download the APK file. You can either use the Firefox browser which can be installed easily from the Amazon app store, or you can use the Silk Browser from Amazon.
You can also install ES explorer from the Amazon app store, and this is the method that I have used.
After the ES Explorer is installed,
Go to tools, then go to network,
Add New, and paste this link to the link field,
and write, 'YouTube' in the name field.
Press download to download the file, when the file is downloaded you will be able to install it and run it on your Amazon fire stick.
You can follow the instructions on your TV if you want to login to your YouTube account using your credentials.
Watch the Video Review
Connecting Bluetooth speakers to Amazon fire stick
Amazon Fire Stick has Bluetooth enabled since the remote itself is Bluetooth based.
So you can add headphones or speakers to Amazon fire stick by going to the setting of Amazon fire stick.
Turn on your Bluetooth speaker, and click on 'Add a new device' using the remote.
You will be able to see your Bluetooth speaker on TV, you will have to click on it to pair it, once it is paired, the sound will be coming from the speakers.
If you want a better setup, you can turn any of your speakers into Bluetooth Speakers using a simple dongle.
I have been using it from last few weeks, haven't used much because I don't get much time but that time I have used it works flawlessly.
Buy Amazon Fire Stick from Amazon India
Buy Amazon Fire Stick from Amazon USA
There are many things that I am yet to explore in the Amazon fire stick and I will be writing about them on the blog itself.
So I can like the Facebook page or turn on the notifications to read more tech related articles.