If you are someone who is working from home, has to do do a lot of video conferencing, I am sure you will appreciate this article.
Let's see how you can use an Android smartphone as a web camera for your PC.
Maybe you have got an old Android smartphone that you want to repurpose, one of the creative uses would be to turn it into a web camera that will be better than the built-in camera on your laptop.
Turn your Android smartphone into web camera
We will find a lot of apps in the Play Store claiming to turn your Android mobile phone into a web camera for your laptop. I have tested all of them, but the one that seems to be working with no issues is droid cam Wireless Webcam.
The best part of the Earth is that it lets you turn your Android smartphone into a web camera without USB cable.
If both your Android phone and your computer is connected to the same network, you can utilise it returned your Android phone into a wireless web camera. You can also use a USB data cable.
The free version is ad-supported and has some limitations such as a low-resolution video, and a fixed frame rate for the video.
But it also has got a paid app which is ads-free and gives High-resolution video up to 720 p and also has an option of FPS boost.
Follow the steps mentioned below to use your Android smartphone as a web camera
Download and install the DroidCam Wireless Webcam app on your Android mobile from Play Store

Download and install the DroidCam client app on your Windows PC.

Once you are done downloading and installing both the apps on Android mobile and Windows PC respectively, you need to open the DroidCam Wireless Webcam App on your Android mobile.
You will find the Wi-fi IP address and DroidCam Port, which you need to input in the DroidCam client that you installed on your Windows PC.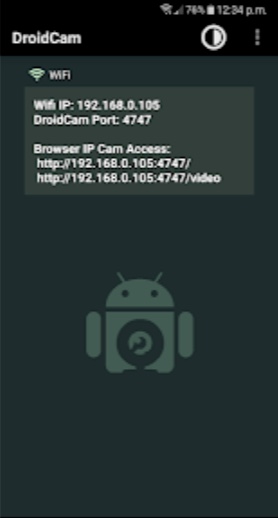 Once you input, the values make sure you check the video and audio boxes before clicking on the start button.
You have more control over how the picture would appear at the bottom of the DroidCam client window.
Click on the start button the video feed starts appearing on your computer. You can then go to your favourite application where you want to use the web camera such as a Skype, Facebook and other live streaming of video conferencing apps.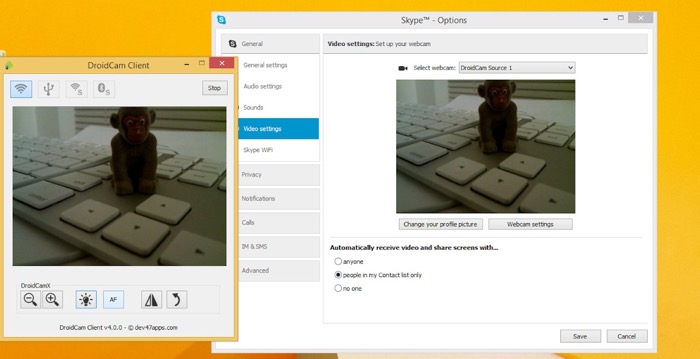 If you are someone who has to use it just once or twice now and then then you can stick with the free version, but if you are someone who uses it regularly I would highly recommend you go for the paid version, which will remove the ads and off for small functions.
Features offered in the pro version are
No Ads!
High-res video support (up to 720p in HD Mode).
Experimental 'FPS Boost' option for up to 2x the framerates.
Pro features on the Windows client including video mirror, rotate, contrast, sharpness and more controls.
Try it yourself
If you have got a DSLR, how you can use it as a web camera