If you are an Aspiring Youtube, This article is going to be useful for you. Because in this post, we will list out some of the best video editing software that is also free to use.
Knowing about free software is crucial when you're getting started on YouTube as you don't have a budget for buying a paid video editing software.
For Windows Only
1. VSDC Free Video Editor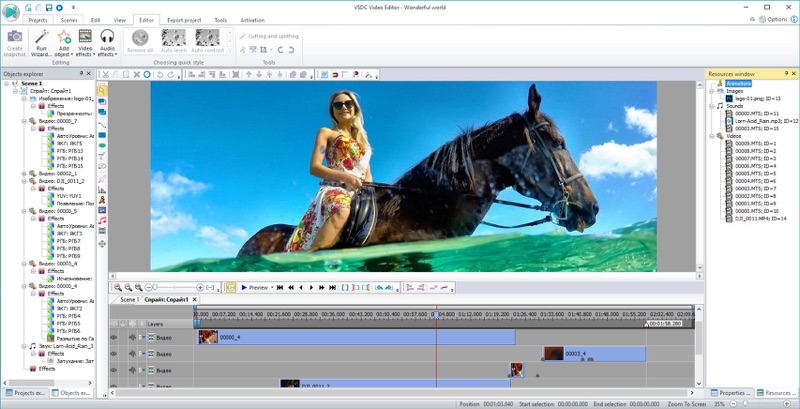 VSDC is a lightweight and straightforward (44.1Mb) software for Video Editing.
And since the installation package is not heavy, don't expect the UI to be pleasing to the eye. However, it is meant to get the job done, which it will.
Thankfully the Free software doesn't put any watermark on the export file.
There is a Pro version of the software, which offers features like Video Stabilization and Hardware Acceleration.
2. Windows Movie Maker
Windows users might be aware of the Classic video editor, which was available to download for free.
We all have used it in the early 2000s; it offered decent features to make good home movies.
Support has ended for Windows Movie Maker as it has been discontinued, but you can still download from non-Microsoft websites and install it on your PC.
If this looks too complicated for you to use on your Windows computer, check out these iMove alternatives for Windows.
Mac Only
1. iMovie
This one comes free for Mac users. But the word free does not make it an essential software.
It is capable of producing excellent videos. Moreover, it has been built so beautifully that it is better than many paid video editing software out there.
Either you are looking for creating videos for friends and family, or you are looking to start a YouTube channel, iMovie is a fantastic piece of software for video editing.
It can be installed on Mac Computers from the App Store.
For Windows & Mac
HitFilm Video Editor
The Hitfilm express is free and will cost you just a social media share click on this link to download HitFilm Express for free.
Blender Video Editor
Blender is more than just a video editor. It's an Open Source 3D creation tool, and video editing is a part of it.
This software offers to edit more complex projects by allowing users to add up to 32 different slots for adding video, images, audio, scenes, masks, and effects.
Download Blender Video Editor for Free
OpenShot
The OpenShot video editor is quite impressive. The best thing is, it's cross-platform, available for Windows, Mac as well as Linux.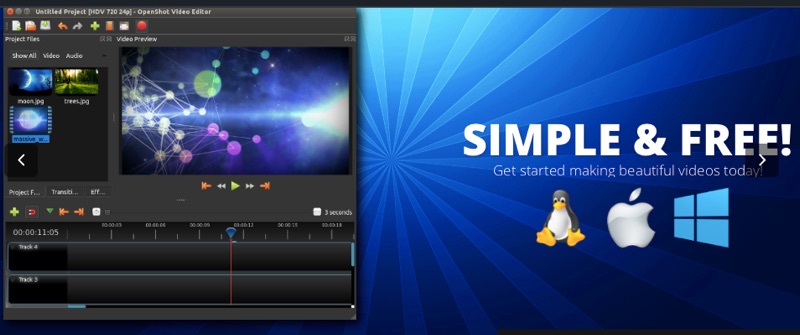 The UI looks friendly and is easier to use. I saw a few video tutorials for the OpenShot video editor, and it seems a complete package for anyone looking for a free video editor to create decent enough videos.
If you are a YouTube and just getting started, this might be a valuable piece of software for you.
Download OpenShot Video Editor
VideoPad Video Editor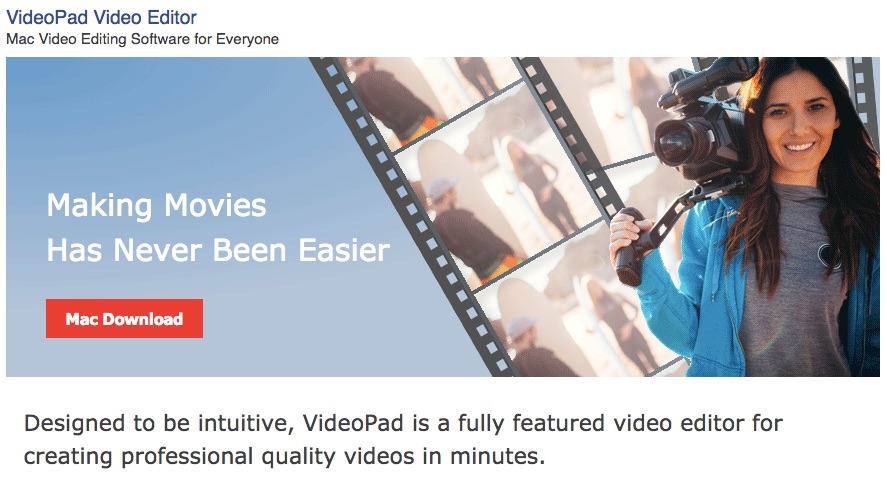 VideoPad is another excellent cross-platform Video Editing Software. It's cool and offers many features.
Its product page talks about a bunch of use cases for the Video Editing Software.
Filmora Video Editor
Filmora is freeware, it gives you all the features to use, and the interface is also relatively user-friendly.
The free version will put a Filmora Watermark at the end of the video, which can be removed by upgrading to the pro version ($59.99 for a Lifetime)
The good thing is it only ads the watermark at the end of the video. So you can use another tool to slice the end part and still have a decent video.
Shotcut
Shotcut is another excellent software free of cost and yet offers features that are only available in paid ones.
The only downside of this video editor (as is the case with other excellent free video editors) is its UI, which is pretty basic.
The software comes with a bit of a learning curve, but if you are looking for software that can do more than just add a few clips and put music in the background to make a video, then Shotcut could be your choice.
The Tutorial page talks about how to use its different features, such as stabilizing a video clip, putting transitions, adding filters to the clips, etc.
Mobile-based video editors
Now let's talk about the computers that are always here in our pockets. Of course, I am talking about our smartphones. These days our smartphones are powerful enough to be used as a primary machine to edit our videos on.
I have used two software that is mobile-based and can produce great quality videos.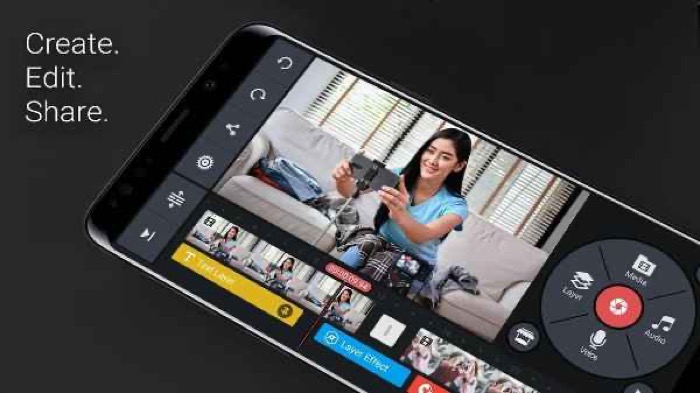 Kind master is available for both iOS and Android, and it is open to use for free. In addition, the app supports multilayers, making it easy to create stunning videos out of a bunch of raw footage.
There are so many transitions available that you can add to your videos. You can also add background music. (Kinemaster).
The free version will have a watermark on the bottom right-hand side of the videos, you can buy the premium version on a subscription basis which is at around $5 a month.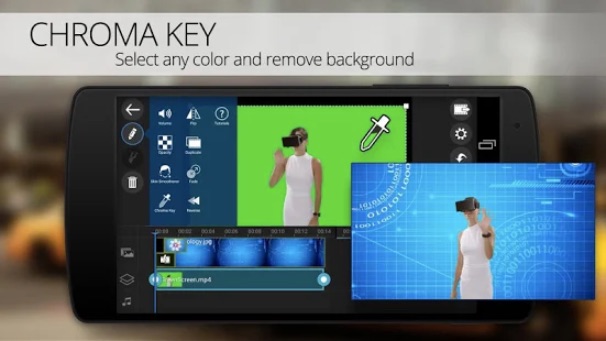 Power Director is a stunning video editor app for Android phones that is available in the Play Store. Unfortunately, it is not as diverse as the Kinemaster app. Still, one benefit of the power director app is that it also supports 9:16 aspect ratio videos to create Instagram story videos.
Again the accessible version of the power director app will put a watermark of its logo on the bottom right-hand side of the video, and you can buy the premium version for a one-time payment of $8.
Both the Kine Master and the Power Director app now support Green Screen (Chroma Key) feature, which allows you to change the background in the videos.
If you need more help regarding the video editing guides and tutorials, you can check out Make a Video Hub. The website has got tons of tips and tutorials to get better at video editing.
Web-based Video Editors
Using a web-based video editor would mean it would only work on files uploaded to the cloud, which might not be easy for every type of project.
It is pointless to talk about such an option to create videos out of 2GB raw footage.
But if you are looking to create videos for your Social Media channels, that viral kind of videos where there are only a few images and short clops, and there is a lot of text moving on the screen.
Piktostory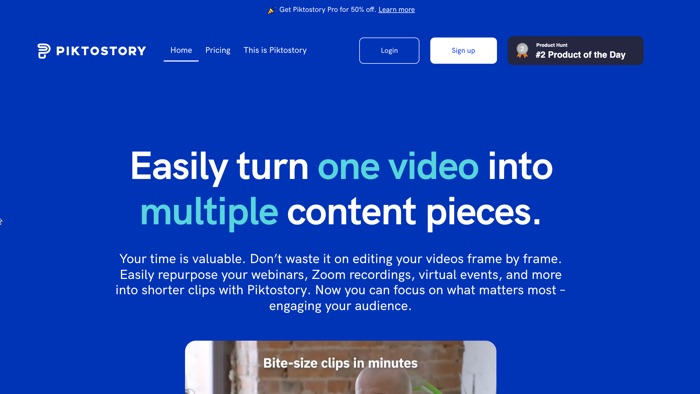 I recently came across this nice website that's been a blessing in editing longer videos, especially recorded zoom calls. You can import videos directly from Zoom, Google Drive or upload from Computer.
I love that it automatically transcribes my videos, so it's super easy to add subtitles to the videos.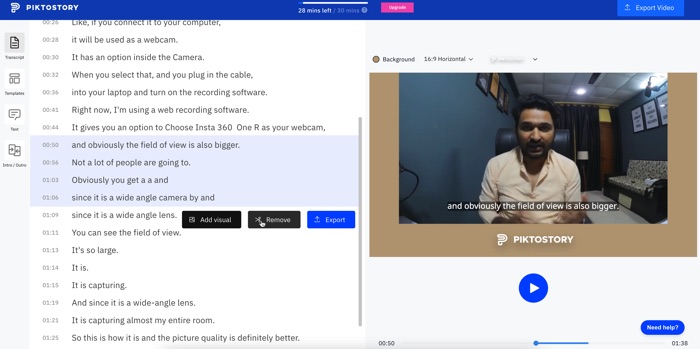 Another great feature I love about Piktostory is, it lets you remove parts of the video you don't want to use, by simply highlighting the transcribed part, which is really useful for longer videos as it becomes frustrating to go through a long video to edit something out.
Piktostory is free to use with some limitations so you can try it for yourself.
FlexClip
I recently came across this web-based video editor. What I loved about it, it has a timeline mode. Which is great for making longer videos, such as explainer videos or the videos that supplement your articles on the website. You can learn more about the Timeline mode here. Or try FlexClip yourself.
Lumen5
We've written about Lumen5, and it's a kickass web-based video editor. You can edit or upload your images and clips to create nice-looking videos for your Social Media Campaigns.
Adobe Spark
Adobe Sparks is similar to Lumen5, offers an easy user interface but is a little restricted when it comes to providing a bank of images and footage to use.