Just a few years ago, it was a professional photo editor's job to do manipulations like removing the background in a photograph and only keeping the subject, so that something else can be used in place of the original background.
But, we are in 2020, and there are some pretty quick and easy options available that anyone can easily remove background from an image.
Watch the Video
In this article, I am going to list out some of the easiest ways you can use.
Adobe Photoshop
Now, do not get me wrong when I say Adobe Photoshop. There are many people who fear this heavy software because it comes with a bit of a learning curve.
But, if you have not used Adobe Photoshop for a long time, I want to tell you that it has made a lot of improvements and with a bit of AI (Artificial Intelligence) you really don't have to do a lot for simple tasks like removing the background from an image.
The latest version of Adobe Photoshop offers a one-click solution to remove background from an image.
Check out this video
removebg
Although Photoshop does the job pretty amazingly, not everyone has got this expensive software. Especially the people who are not into tech.
Fortunately, there are simple solutions for removing the background from an image that does not require Photoshop.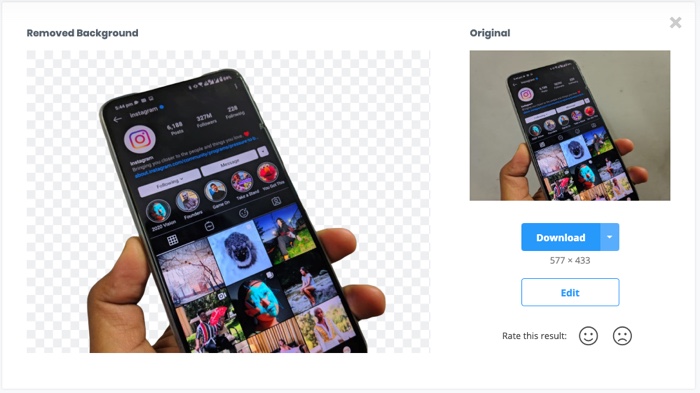 removebg is a web app that does the job pretty amazingly. I am going to show you an example here, where I remove the background from one of my photos and I am not even using a photo of a person.
It is a photo of a mobile phone, which I am holding in my hand. I just uploaded the image to removebg and it automatically removed the background, keeping my hand and the phone in it.
The best part of removebg is that it is a web app, which means it will work on any platform bit Windows, macOS, iOS, or Android.
You just need a browser where you can open this web app and upload the photo from your device.
Fotor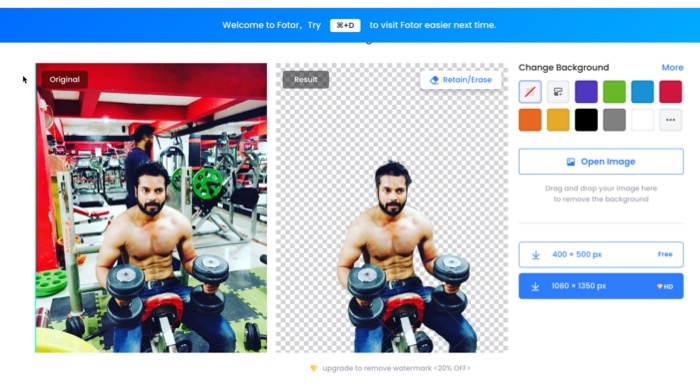 Fotor offers an online tool for removing image backgrounds.
Simply visit the Fotor background remover page, upload your photos, and the AI system will assist you in removing the background from the photo in a matter of seconds.
The components that you want to delete or keep can be erased or retained manually after AI delete.
Clipping Magic
Clicking magic is a similar web app that gets the job done. You have to upload the photo to the web app and it will show you side-by-side results.
If you are not happy with the results you can make changes in one window and the result appear in the second window.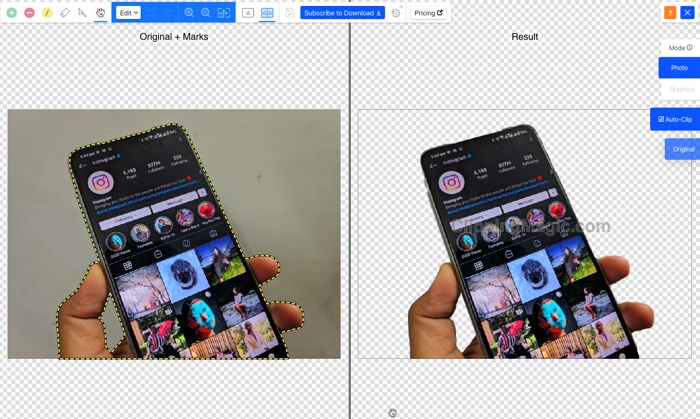 Although, for me, I did not have to do anything to the photo of the mobile phone that I used here as an example.
In my experience, I have found that it works perfectly when the background is plain and it is in a single color.
You might have to do some effort in making it perfect when the background is a bit messy.
Canva Pro
Another web app that can let you remove background from an image.
We have talked about Canvas a lot in our previous articles on the blog, and it is an amazing photo editor that lets you create amazing graphics of different sizes, which you can use on Facebook, Instagram, and other social networks.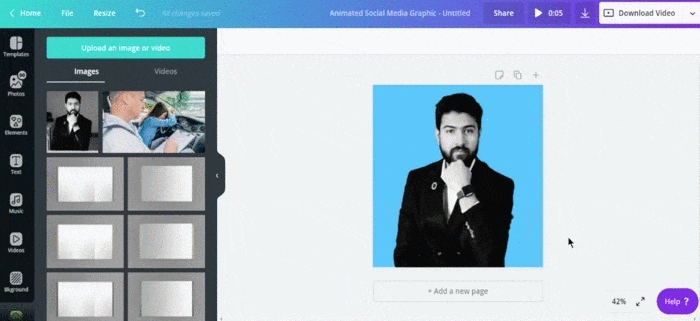 However, Canva offers more features when you subscribe to Canva Pro.
Canva Pro is a paid service, where you have to pay monthly subscription fees, and one of the Pro features is, to remove background from an image and it works flawlessly.
So, if you are already using canva, there is a pro feature that you should be aware of, and even if you are not using, I would recommend that you look into it it's really great app.