Ever felt the need of having the APK file of an app you have installed on your phone?
Maybe, you want to share it with someone, maybe you want to keep it as a backup, there could be many scenarios why you would want to have the APK file.
Surely, you can install the app again from the Play Store, or download the APK from other sources such as APKMirror, doing that will again cost you data, which might not be available to you at that time.
It is ok for doing that for a single app, but, what if you want to get the APK file of multiple apps? that would be in 100MB+ in size collectively
With the APK file of an app installed on your phone
This is where apps like APK Extractor comes in handy. As the name suggests, it lets you extract the APK file of the app that is installed on your phone.
Even though if you install apps on your phone using a Google Play Store, Android device requires the apps to be in APK package to be installed.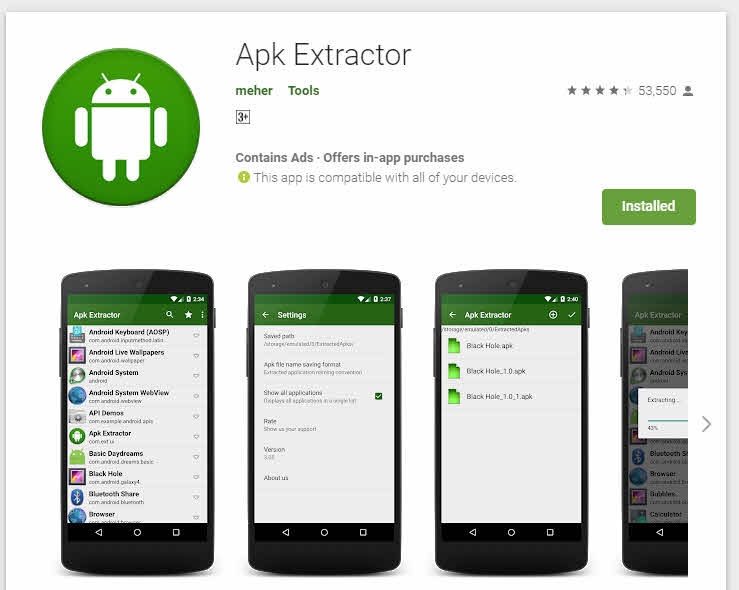 This means that whenever you install an app on your phone, there is an APK file available, and APK Extractor app allows you to find it easily and list it out in a simple interface.
The app is available for free, though it is Ad supported. You can get rid of Ads by paying for the paid version that cost around $1.99
Install APK Extractor from Play Store
Get APK files of installed apps using ES Explorer
ES Explorer is an amazing utility app for Android mobile phones that lets you access files on your phone.
One of its features is to get the APK file of the installed apps on your phone. To get the APK file, head over to the App section of the app AP which is found in the left sidebar, under Library.
Tapping on the app shows you the list of apps installed on your phone. Long press on the app you want to get the APK file of (you can also multi-select apps).
After that tap on the three vertical dots on the top right-hand side, which will give you the option to Share it.
You can then choose from the option whether you want to send it via WhatsApp or any other App.
You can also save it on your phone so that you can decide what you want to do with it, maybe move it to a flash drive by connecting it to your phone using an OTG cable, maybe you just want to keep it on your phone as a backup, your choice.
Apk extractor and ES Explorer are not the only apps that will let you get the APK file of an app, there are many other apps available in the Play Store as well.
But I have tried these two do any work as advertised. All the sins ES Explorer has many more features to offer I would suggest you use ES Explorer to get the APK files.