Smartphones are perfect, especially the ones made by apple. But even perfection has some flaws from time to time. There could be several reasons you want to reset your iPhone hard.
Maybe your iPhone is not working right, or you want to start over, and you can hard reset it.
This is when you can access your iPhone, it has not frozen, and you can access the settings area.
1. Open the Settings App on your iPhone.
2. Tap General.
3. Tap Reset and then tap Reset All Settings. 4. Wait for your iPhone to finish rebooting.
5. Open the App Store and download any apps you want to keep or restore any purchases you made in the past (if you have a paid subscription).
This is a method if your iPhone has frozen and stopped working and you want to reset it hard.
This is a method for new iPhones that do not have a home button and has only the Volume up, Volume Down, and Power Button.
Quickly press the Volume up button and release it.
Quickly press the Volume down button and remove it
(make sure you do this fast)
Then press and hold the power button on the right-hand side of your iPhone until the Apple logo appears on the screen.
Are you experiencing some bug?
Like I said, even perfection has some flaws from time to time significantly if you have recently updated your iPhone. The new versions of ios always affect a particular group of people who experience some bugs while using their iPhones.
If you feel the bug occurring is because you updated your iphone recently, you should wait for another update which is probably, but you fix your issue.
Is your iphone getting freezed more frequently?
The chances are high that your iphone will be fixed once you have hard reset it. But if for some reason it doesn't get fixed, and it is under warranty, you should claim it and get it fixed from the Apple service center.
If you haven't purchased the extended guarantee, you get one year off contract by default which you can check ok in the about section of your iPhone under General in the Settings App.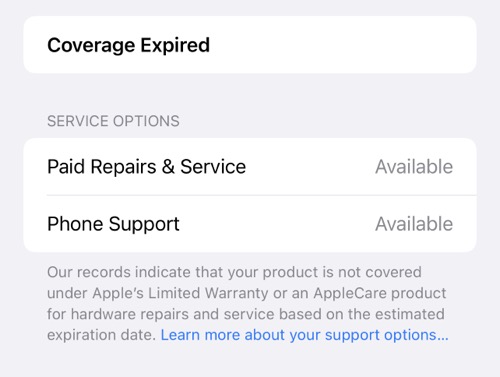 As you can see, my coverage has expired; however, I can still apply for a paid service. The exact page will give you the options of service centers available near the area, and you can also book an appointment from there.