If you're wondering whether or if your company needs a backup internet connection, the answer is certainly yes. Cloud-based software as a service (SaaS), file storage, phone service, and video conferencing are becoming more popular than ever before.
The cloud is a simple and efficient way to run your business. That being said, any network downtime has become more crucial to many businesses nationwide.
If you're looking to boost productivity in your business, the cloud is a great option. Your team will be more productive if they have access to the information they need. Unfortunately, many tasks, including phone calls and conferences, will be unavailable in the case of an internet outage.
In the long run, downtime might have a negative influence on your company's profitability. So, in the event of a service outage, an internet backup for business can help keep you stay on track no matter what.
In this article, you will learn the importance of backup internet for your business. 
What is a Backup Internet?
A backup internet is an internet connection that activates whenever your primary connection goes down.
Even if you have stable, high-speed internet for your business, you will still likely experience network outages now and then. In fact, North American companies lose up to $700 billion every year due to network downtime. 
Fortunately, there is a way to avoid these disruptions from occurring in the first place. Before you suffer any downtime, you can easily set up a second internet connection as a safety net.
Unless the primary connection goes down, your business will never have to use the backup service. When there is an outage, you'll be able to limit the damage and downtime if you have it readily available. Internet redundancy is another name for backups.
So, why is backup internet for businesses important?
Network Downtime is Inevitable
Internet outages happen daily. No matter how big or small your company is, you will certainly experience a network downtime. You can even track the outages that are happening in your area with the free tools available online.
Nonetheless, there are various factors that cause network downtime. And unfortunately, some of it is beyond your control. Here are some causes of an internet outage:
Acts of God
Strong winds and storms usually cause network outages, especially if you have DSL and cable internet. Without stable cables, these internet types cannot deliver reliable connections to your business.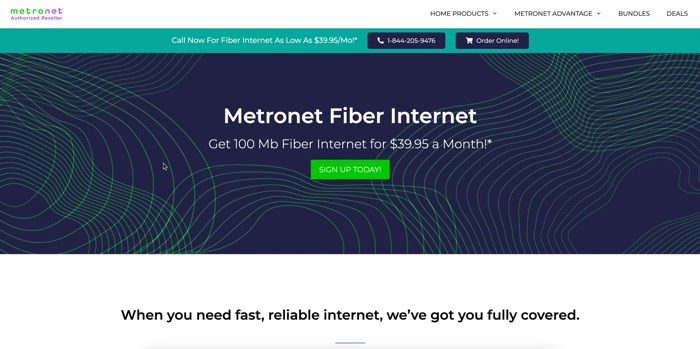 On the other hand, fiber optic internet is known to sustain environmental hazards better, including fires and strong winds. However, it's not impossible to experience network outages with fiber internet. So, it's always safe to have backup internet for your business just in case.
Service Provider Error
Technical problems usually arise more commonly than what you might have expected, especially system misconfiguration.
It could also be infrastructure damage near your area that might be causing the downtime.
Network Congestion
With the increasing number of internet users that share the same lines, network congestion can frequently happen. Especially if your network runs through an older cable, you might experience frequent downtimes that can negatively impact your business.
Equipment Failure
Eventually, every piece of equipment will break down. But, an internet service agreement can help you get back online in a day or two. Another option would be upgrading your internet equipment, especially if it has been with you for many years. 
Choosing the Right Backup Internet Provider Matters
Every business is different and has its own set of priorities. Make sure your secondary internet connection is the best alternative for your business before making a decision.
It's critical to take into account all of your options, from the cost to how well it works for your personnel. When you choose the right backup internet for your business, it will make a significant difference in your business's stability, productivity, and profitability.
Enjoy Interrupted Business Operations with Backup Internet 
Whether you want to protect and secure your business from internet outages or simply want to stay on top of the latest tech trends, investing in a backup internet for your business is always a good idea. Just make sure to choose a reliable backup internet provider.