So just after writing a few days after this article, Elon musk, the owner of Twitter has changed its name. It's called X now. and every feature that had the reference name of Twitter is replaced.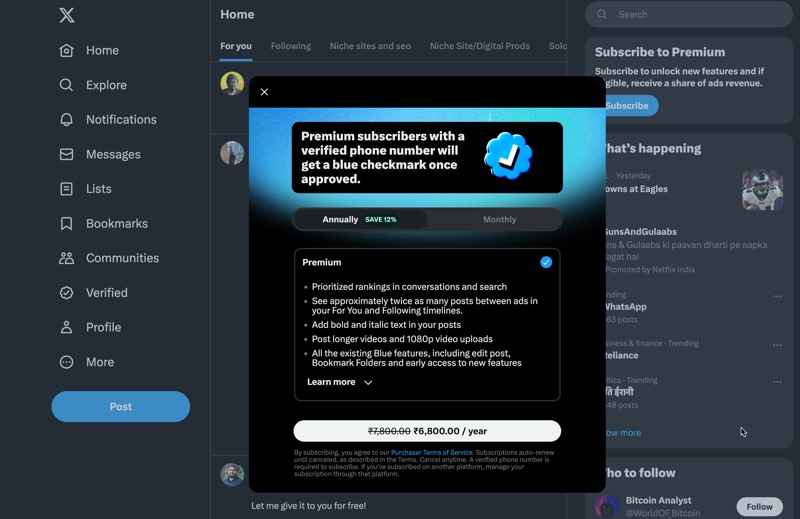 For example, Tweets are now Posts, Retweets are now Reposts, Twitter Blue was Blue for a few days and now it's called Premium. X uses the term Verified on the left side bar, and also gives a notification on the right side bar to let people subscribe to Premium. Tweetdeck is also rebranded as XPro and some Pro features have been added to it. More info about XPro here.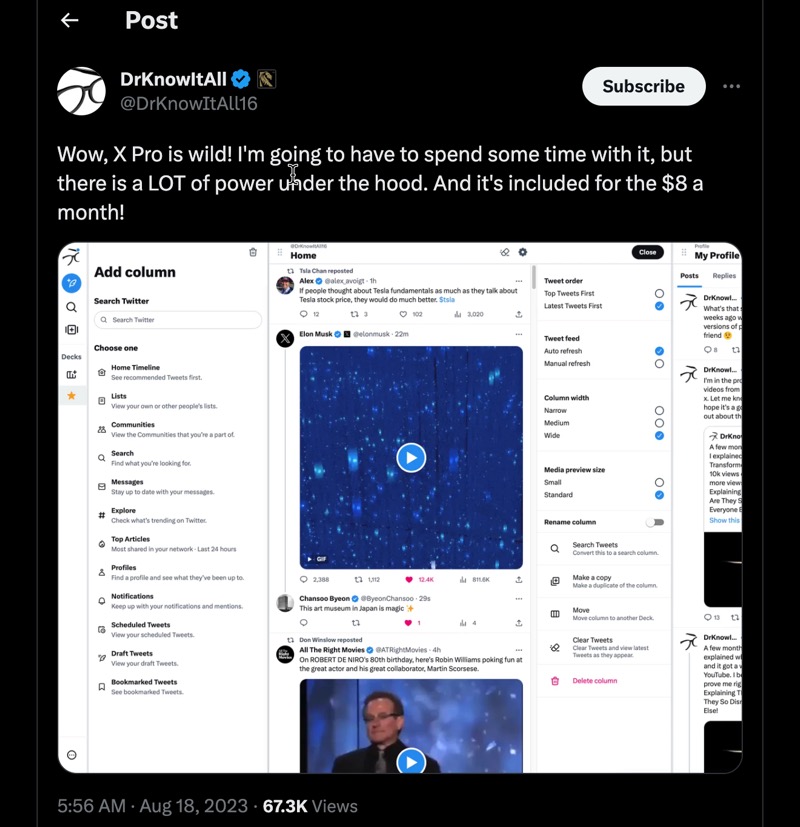 Twitter has made an announcement regarding their decision to restrict access to TweetDeck by introducing a paid subscription model under the name XPro.
This change is part of a series of recent modifications implemented by Twitter with the aim of increasing their number of subscribers and overall revenue.
However, it remains uncertain whether this strategy of limiting access to the tweet tracking tool will successfully encourage more users to pay or if it will instead lead to frustration among them.
More reasons to subscribe to XPro
Want to subscribe to Twitter Blue and save up to 30%? The verification badge, or BlueTick, now comes with this subscription. In addition to the badge, Twitter Blue offers other features too.
Key features offered under Twitter blue subscription
Edit Tweet: This feature allows you to edit Tweets for up to an hour after they have been published.
Half ads: This feature reduces the number of ads you see in your For You and Following timelines by 50%.
Bookmark folders: This feature allows you to organize your bookmarked Tweets into folders.
Reader Mode: This feature turns long Tweets into a more readable format.
NFT profile picture: This feature allows you to set an NFT as your profile picture.
Custom app icon: This feature allows you to customize the app icon on your device.
Custom app color theme: This feature allows you to customize the color theme of the Twitter app.
Early access to features: Twitter Blue subscribers get early access to new features before they are released to the general public.
In addition to these features, Twitter Blue also offers a few other benefits, such as:
Support from a dedicated team of Twitter experts.
The ability to give feedback on new features and products.
How to save 30% on your Twitter Blue Subscription?
Twitter blue would be cheaper if you subscribe through the website not from the app store or play store. It would be up to 30% cheaper.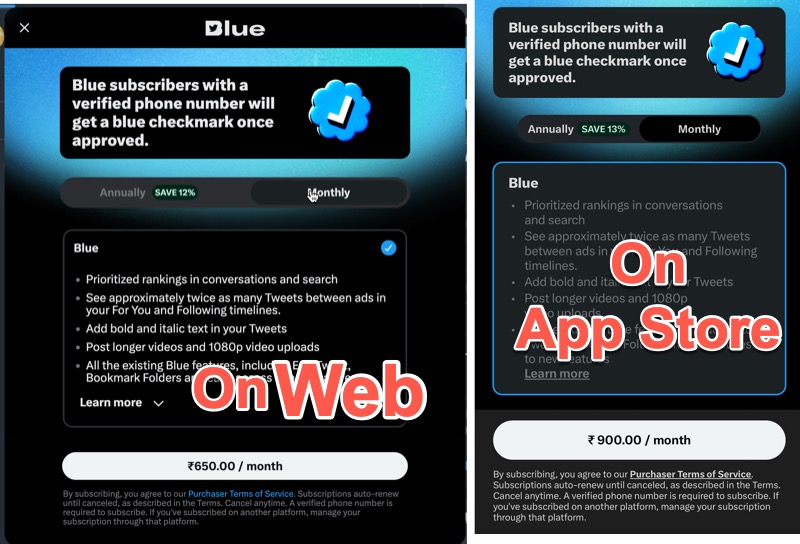 Currently twitter allows users to subscribe to twitter blue we are app store or play store but the thing is it includes the platform fee as well which is 30% that's why it is hulk expensive if you subscribe via the app store or the play store.
Best option is to go to the website if you don't have a desktop computer you can open twitter in your browser on your mobile phone you will get the 30% cheaper subscription rate.
Save 20% More with the Annual Subscription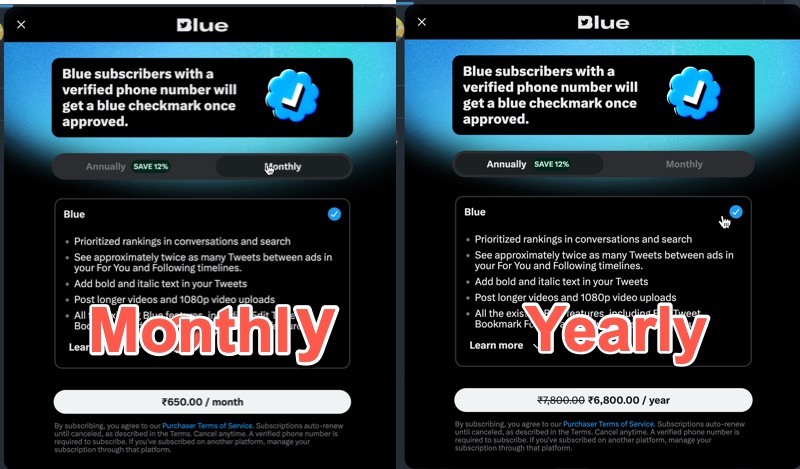 If you are looking to try what's the fuss about Twitter Blue, you can go for the monthly subscription, but if you are certain that these features will be helpful to you, you can go for the annual plan which will save some more money.
Go for the annual plan which will get you more savings in comparison to the monthly plans.
Save even more by becoming a creator
Elon Musk has tweeted that Twitter will be sharing revenue with the creators.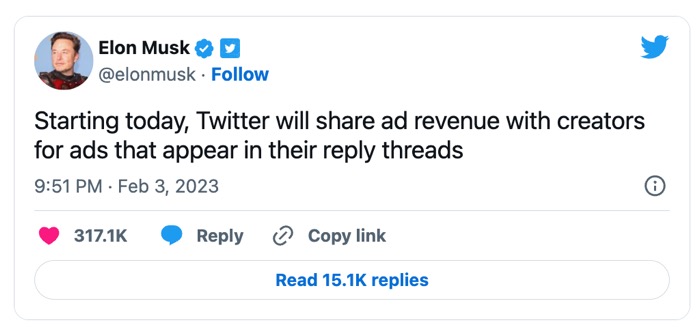 Twitter has been testing out ads placements and now the ads are visible between the tweets of the users.
Also, in a recent tweet in reply to YouTuber MrBeast, Elon said that they will be trying to match the per view ad rate of YouTube on Twitter and asked him to upload his videos on Twitter as well.
So while twitter is not ready as a video sharing platform, but with increased video limit under twitter blue subscription, it opens a lot of possibilities for creators.
So, if the Twitter user is browsing your tweets and they come across the ads, the revenue from the ads generated will be shared with you.
So it means that you will be indirectly earning back your twitter blue subscription money.