I have been using the Lenovo Chromebook Duet for the last few months. I used it in many scenarios, traveled with it as my only computer, took it in parks, read books on it, and even watched a lot of content on YouTube Netflix, and Amazon Prime
I think I am qualified enough to talk about his issues. Some of the issues and mention our personal opinion. So if you disagree with my points you can let me know in the comments section.
The processor is too weak
Start with the processor, the Lenovo Chromebook Duet is powered by MediaTek Helio P60T, which is from 2018 and has been used in smartphones ranging between $200 to $250.
I understand the Chromebooks do not require a lot of processing power, and I also understand the device like Lenovo Chromebook Duet which is priced pretty competitively and needs to do cost-cutting, but if you are offering a device that is capable of doing multiple things then you should not make a compromise on the processing power.
A little better chipset would have been better and I have greatly improved the performance of this Chromebook.
When you doing casual work, the tablet runs smooth as intended but when you have a few tabs open in the Google Chrome browser it starts acting up.
And I'm not talking about Android apps because that's for the next section
Android isn't perfect
Lenovo Chromebook Duet supports Play Store, you can enable it from the settings area. This means you can also use Android apps on this tablet Chromebook, and use this device like an Android tablet.
But, the Android OS runs on Chromebook in a virtual environment, so it is not the native experience. Chromebooks with higher processing power can manage to do it efficiently, but the Lenovo Chromebook Duet struggles.
Since we have already talked about the processing power of the Chromebook.
I have written about it as well, apps like YouTube, Gmail, Google Photos, stop showing new content, after using it 2-3 times. My good guess is there is something wrong with the virtual environment.
Because the same services run perfectly fine in the Google Chrome browser. And thank God it is a Chromebook, and that part works fine, I am able to access YouTube Gmail, Google Photos, everything inside the Google Chrome browser.
So, now I don't use any Android app on the device. I still haven't turned it off because, sometimes, I have to check out and I wish with every update that this would have been fixed. Sadly it hasn't in the last eight months, so there is no hope.
The Speakers not Loud
I understand this is an inexpensive device, intended for people who want a portable device that can carry with them and still be able to work, but if you are promising Android apps on this device, you are also allowing others to use it as a media consumption device.
It would have been better if the speakers could have been a little louder. There is no bass in the speakers and you can't enjoy a movie even alone, you will have to use some external speakers or earphones. Thankfully they have provided a type C to 3.5 mm audio adaptor
The Keyboard is too cramped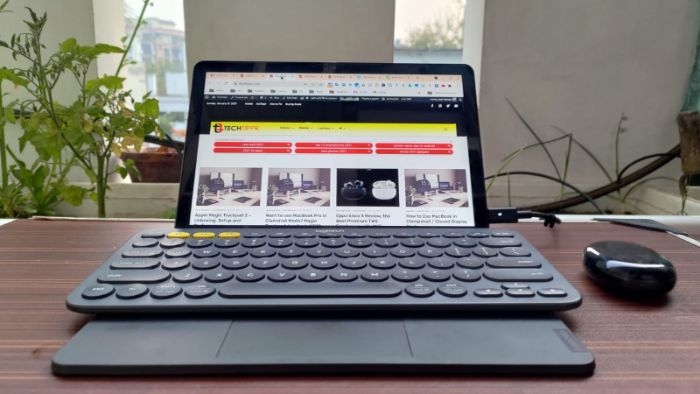 Lenovo Chromebook Duet has got a detachable keyboard provided in the box, also a magnetic back cover. And thank you Lenovo for doing that.
But a physical keyboard is meant to be used for longer writing, which this keyboard certainly cannot be. And for small writing sessions, like, emails, replying to messages, voice typing, and typing on the virtual keyboard is sufficient.
I find myself using this Chromebook with the detachable keyboard much less. I prefer to use voice typing or typing on the virtual keyboard because stripping the back cover and the keyboard makes the Lenovo Chromebook Duet much lighter and easy to hold in one hand.
My point is, Lenovo could have made it a little better, the weight wouldn't have mattered if it was still detachable.
Is my workaround to address this issue is to use my Logitech k380 Keyboard which is a full-size keyboard that I use with my MacBook in closed-display mode.
16:9 Aspect Ratio is not great.
It is generally a personal choice, and pretty much every Android device out there, or even Chromebooks have this aspect ratio.
My point is if you have not put good speakers on it, and the screen is not great either, I am not using it for media consumption much. The 16:9 aspect ratio doesn't offer anything else.
In fact, it feels bad when browsing websites, especially when browsing in portrait mode because then it looks like a giant mobile phone. 4:3 aspect ratio would have been better which would make the document files look like A4 size paper.
16:9 aspect ratio is good for content consumption because whatever will you watch the black borders on the top and the bottom would not be too wide.
Conclusion
I made a video comparing it with the iPad Air 4 and got one comment on the video that sums it up nicely.
The Lenovo Chromebook Duet is the jack of all trades but it is the master of none.
Despite that, it's a great Chromebook. It shouldn't be the first choice for anything else. But one thing it is better than any other tablet is allowing you to use if full desktop-grade Google Chrome browser with thousands of extensions support on a small tablet form factor.
I have multiple devices to do different things and the Lenovo Chromebook Duet is still my preferable portable device to do my work, which is mostly finding the Google Chrome browser.
Despite all these issues, the Lenovo Chromebook Duet did succeed in 2020, I hope Lenovo comes up with the second generation of this device and addresses the issues mentioned above.
Do you own a Lenovo Chromebook Duet? Or, are planning to get one, you should check out this FAQ page to see if this fits your use case.