When I bought the MacBook Pro 13 in 2019, it was a much-needed upgrade from my five-year-old MacBook Air. I was hoping to use this one also for another five years before I buy a new one. 
But Apple surprised everyone by taking a giant leap by launching MacBooks with their silicon chipsets.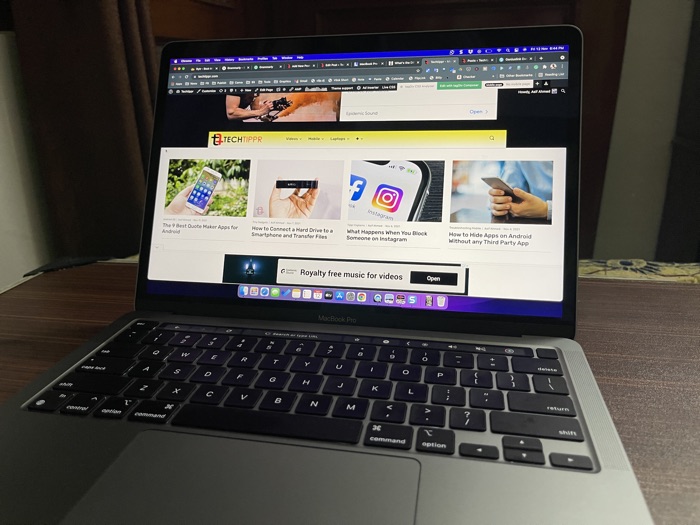 M1 chipsets destroyed the performance scores. It was too good to be true. I was sad it happened only six months after I bought my MacBook. 
I controlled my emotions and was convinced to skip this generation and maybe buy another M1 chipset to be launched in 2021. 
Fast forward to October 2021, The new MacBooks are out, and there is not one but two new chipsets. M1 Pro and M1 Max. 
The performance of MacBooks launched in 2021 is on a different level, but it is also more expensive. Apple has decided to bring back the HDMI Slot, SD Card Reader Slot, and the MagSafe Charger.
This was the laptop I had waited for one year, but it was way out of my budget. So I finally settled in with last year's MacBook, with the M1 chipset. 
And I couldn't be happier partly because I've saved a lot of money. But mainly because it exceeded my expectations. Here's my review of using the M1-based MacBook Pro 2021. 
What's in the Box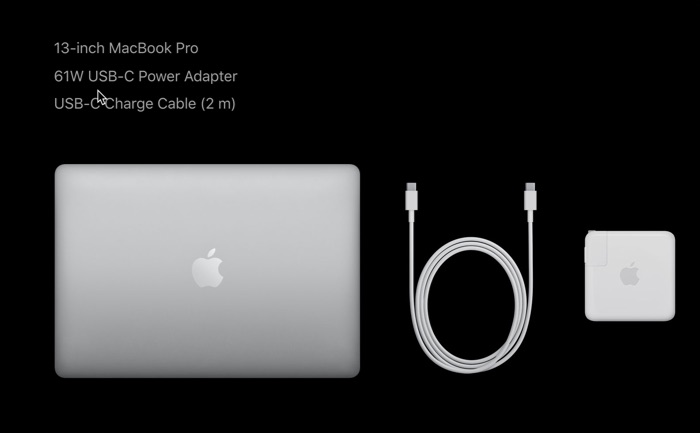 The unboxing experience has been quite usual for all the Macbook coming out lately, nothing much inside apart from the MacBook,a 61-Watt PowerBrick, and a 2m type C to type C cable, some booklets, and that is it. 
What's New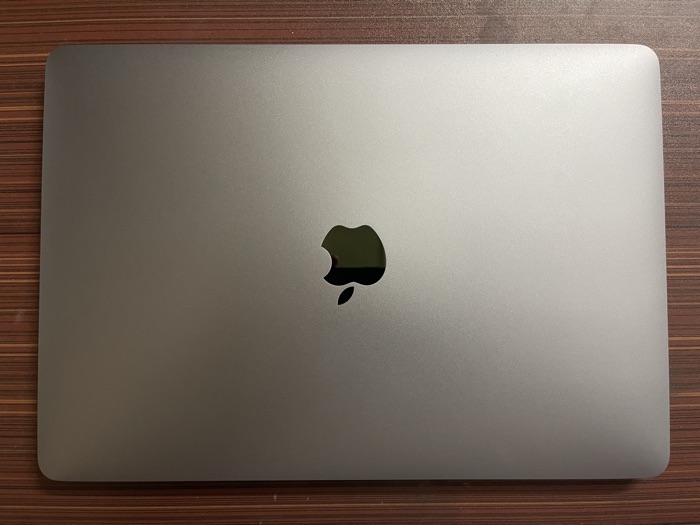 Before buying, I compared both the 2019 MacBook Pro and the M1 MacBook Pro. Everything on the spec sheet was the same, from the shape, size, weight of the laptop to the ports available and screen resolution. 
What's changed is, it has Thunderbolt 4 instead of Thunderbolt 3, which means support for two 4K Monitors instead of one.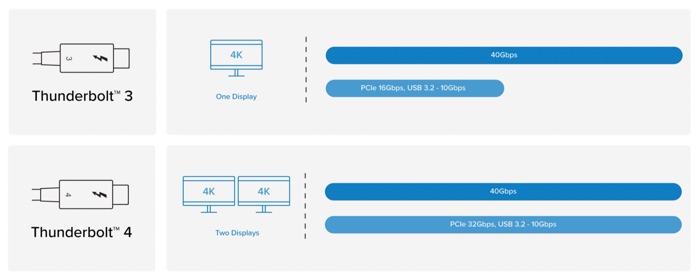 Then there's an improvement in the Mic, which is said to be more studio quality. But not my Blue Yeti replacement type Studio quality. 
The Keyboards have also changed, Apple ditches their  scissor mechanism keys. More on that in the Keyboard section of this article. 
The Build Quality and First Impressions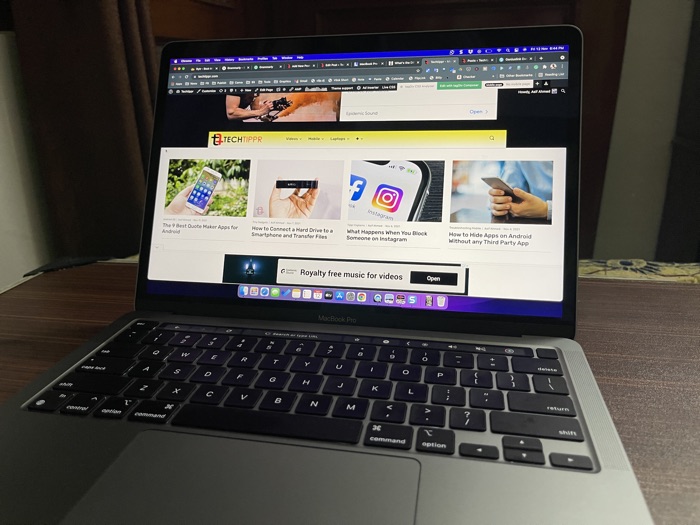 On the outside, it looks just like my two-year-old MacBook Pro that I bought in 2019. But on the inside, it's a different ballgame. 
When I took it out of the box for the first time, It was low on battery. So, I had to connect it to my type Cchub on the desk. The 61-Watt charger takes 2.5 hours to charge fully, and it's the usual time taken on the Intel Core i5 model MacBook as well. 
But it's the battery backup where the M1 chipset makes all the difference. More on that in the Battery and Performance section. 
It's the same story for this M1-based MacBook Pro. When it comes to port, it's the base variant, having 2 Thunderbolt 4.
Storage for the Base variant has also been increase from 128GB to 256GB.
The Performance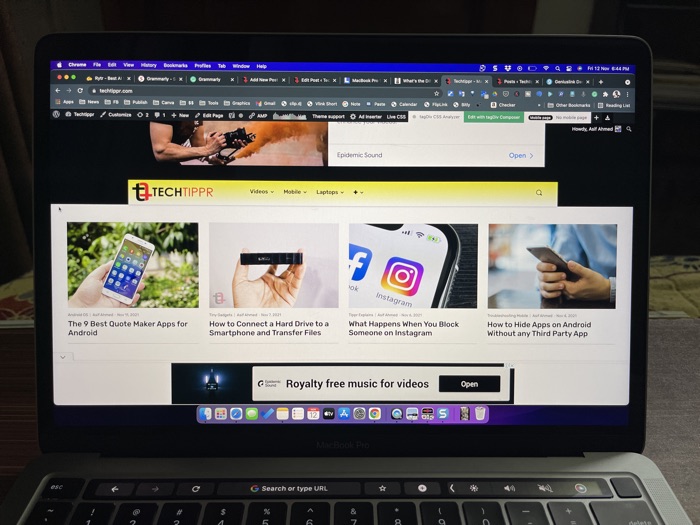 This was the number one reason for me to look for an upgrade. I have a 4K Smart TV that I use as a Monitor. And I started to appreciate this MacBook within a few minutes of using it. 
Because if it were my Intel-based MacBook Pro, its fans would have already started spinning crazy. But, the M1-based was quiet. Super quiet.
Setting up a MacBook is also a resource-intensive task, with a few downloads happening, multiple windows opened, apps being installed back to back, and my MacBook also had to manage a UHD display as well. But no fan spins at all. 
A couple of hours later, my MacBook is now fully charged, a few downloads still pending, a 4K display still connected, and no fan sound at all.
Apple has already mentioned how optimized the M1 chipset is, especially for Apple apps. The Final Cut Pro can play multiple layers of 4K footage. Something my older MacBook struggled with two layers. 
It was still great for 4K Video editing, but when used along with my 4K Monitor, it was a little too much for my older machine. I edited and rendered an 11-minute video on the M1 MacBook, and it took less than a minute to export it. 
The Battery Life 
The battery is the same as my older MacBook, but it's the optimization of the M1 chipset which doubles the battery life on this Mac. 
Apple claimed 10-hour battery life on the 2019 MacBook Pro 13 when watching Videos on it. And it claims 20 hours of battery life for the same activity on M1-based MacBook Pro 13. 
But it's much more than that. Ideally, my older MacBook gave me 3 to 4 hours of battery life because it's not just for content consumption but also content creation. 
The battery life is reduced even further when using Final Cut Pro as the external SSD is also connected. This M1-based MacBook has a different story altogether. 
I took it off the charging and disconnected the 4K display at 9:35 PM. I noticed that the laptop didn't blink at all, which my previous one did. 
I took my laptop to the bed and worked there for an hour or two, which turned out into three hours. I usually don't work from the bed or take my laptop to the bedroom, but I made an exception. 
I shut it down and turned it on the next morning at 11. Worked for a few hours, which included installing a few apps, writing articles, and editing two videos. 
It was pleasant to hear no fan spins. However, I tried to hear the fans on my MacBook by getting closed to the back of it. I felt hot air blowing, which means, Fans were spinning to some extent, but not loud enough to be heard. 
And this slow-spinning might have happened when I put the Stabilization effect on an 11 Minute of Full HD Footage in Final Cut Pro. The effect has to analyze the entire video to figure out a way to stabilize it, so it is a resource-intensive task. 
Here are some timestamps I noted for the battery percentage.  
80% at 11:00 AM – 3 Hours in the night- Shutdown-1 hour in the morning. 
50% at 6:30 PM – 10% while editing an 11 Minute long video in FCP and 20% battery for some casual work, browsing, and typing for 3 hours. 
20% at 5 PM – Had put the laptop in sleep mode in the night, the battery was 35%, started the morning at 34% at 10:30 AM, and battery reached 20% at around 5 PM. After four and a half hours of typing and browsing. 
0% at 9AM– It finally went from 100 to 0 after almost two days of full usage, which is super impressive, especially when compared to my 2019 MacBook, which gave me 4 hours at the max, and fans spun like crazy. 
The iOS Apps on the New Macs?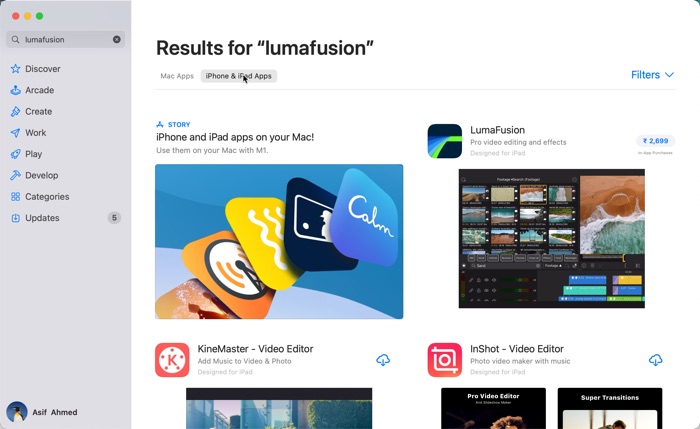 I did not find it too useful, At least right now. Instagram is missing, Netflix is not there, the Facebook app is also not there. 
I was hoping to finally post Instagram Reels from my Computer and not Airdrop it to my iPhone to post it. It would have been great to do it. 
But Apple has already stated it won't allow Sideload of iOS apps on Macs, and you can only install the ones available in the App Store. 
Some of the apps that I use on iOS and iPadOS can be installed on this Mac. Like the Lumafusion app, InShot App. But when FCP is available and very optimized, I am not sure it would be helpful to have these apps on the Mac either. 
The Keyboard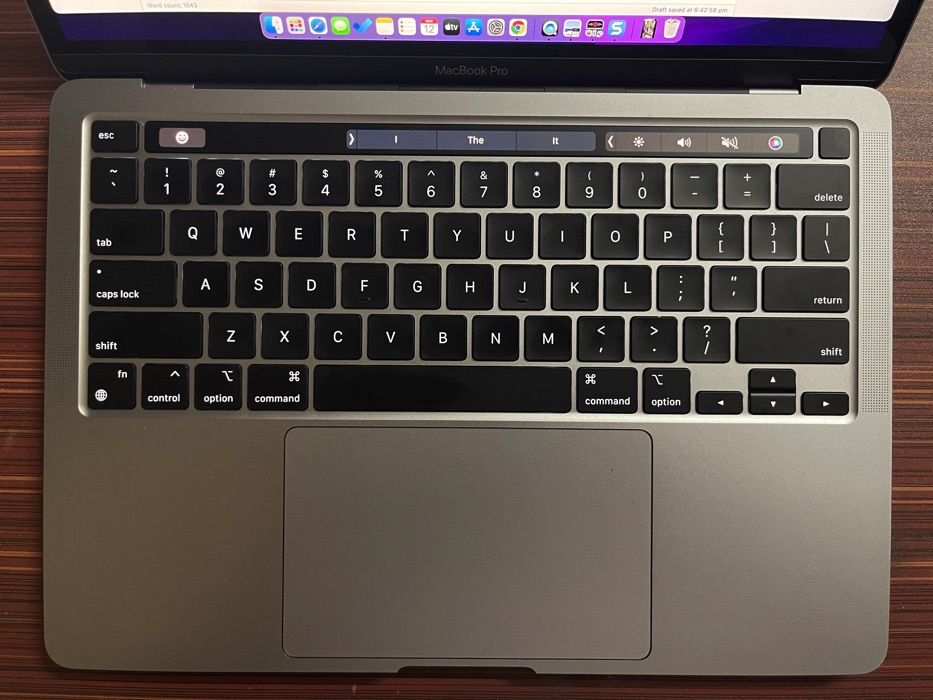 BTW, did I mention how much I love typing on this new keyboard? I mean, the Keyboards on my previous MacBook Pro was controversial, but I am not a nitpicker, so I never really had any complaints, but this one feels great. 
I am typing with fewer errors here. Using the previous MacBook, It was tough for me to use any other keyboard, but this one feels different yet comfortable. After two days, I feel like I am using it more.
The Escape key and Touch ID key is now physical, and it was part of the Touch Bar on the 2019 MacBook. Again, I am not a nitpicker, but this is great, I get some feedback when pressing the key. 
This, or the newer Macs 
The newer Macs are incredible, and I should have gone for those if the price was not too high. 
I waited for a year for the newer chipsets to be released, but Apple has strategically created a new category with new Macs, which is why they have named their chipsets accordingly. 
The M1, M1 Pro, and M1 Max, just like their lineup of iPhones. 
And to justify the price, they put back the HDMI, SD Card Reader, Fast Charging with MagSafe to the laptop and gave it a high MRP. We already have dongles from third-party manufacturers. I've got two of them myself. They are cheaper than having to buy the MacBook 14 just for that. 
The M1 MacBook Pro 13 is a big upgrade for me. It is multiple times faster than my previous Mac and does everything in my workflow smoothly. It is more than enough for most people, a laptop that is finally worth its price.