Instagram has a TikTok Feature available on the platform. It's called 'Reels' it is as effective as Tik Tok videos. Short 30 second videos of people Dancing, LipSyncing, and other crazy moves are pretty addictive.
But it is also a platform where people are sharing informative content. Summer repurposing their videos from other platforms into small 30 second videos and post them on Reels.
But, since Instagram has always been a Mobile-First platform, they don't offer native ways to upload content on Instagram. Indeed you can access content on instagram.com when you open it on your computer, but you won't find any option to upload content apart from IGTV.
Maybe your objective is not to repurpose your existing long-form content; perhaps you want to use your computer video editor to do crisp editing and then share it on reels.
Your current workflow might be making the video and transferring it to Mobile to publish it on Instagram Reels; in this video, we will figure out ways to publish Posts on Instagram from Computer.
Creator Sutdio
Want to publish post on Instagram Feed, you can use creator Studio offered by Facebook. It can be accessed from here. If you are using a brand account on Instagram, he will have to link it to the Facebook page to appear in the creator studio.
If you have got a personal profile, you can turn it into a business profile on the set theory of Instagram and then link to your Facebook account.
Once you are done with it, you will switch to the Instagram tab in creator studio and post content on Instagram feed and igtv.
The Good thing about creator Studio is, it is mainly focused on providing you insights
Use This Chrome Extension
Use this Chrome Extension called Inssist. It's a Web Client for Instagram, let's you open your account in mobile style.
It even shows Instagram inside a Mobile screen to get an idea of how your video would look on a mobile phone. It looks like a mobile emulator but lives as an extension in the Google Chrome browser.
Check out the video embedded below to see it in action
The free version of this Chrome extension lets you post Instagram Posts, IGTV videos, Stories. Unfortunately, it doesn't let you post Reels in the free version.
The paid version starts from $8/month, but it offers many other features such as posts scheduling and uploading a CSV file for bulk posting, which can be a big-time save for many people.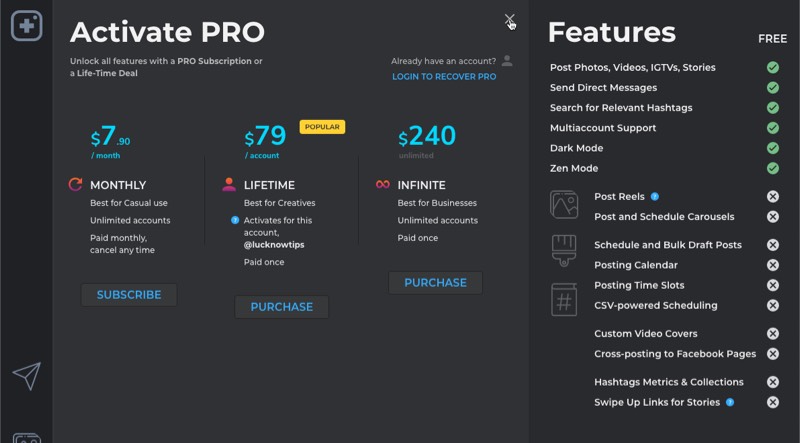 Android Emulator
Not everyone will pay money to post Instagram Reels from their COmputers now and then, so here is a free solution that is pretty much close to what the Inssist Chrome Extension offers.
The best one right now is Bluestacks. But it's not a pleasant experience. I've tried it on my MacBook Pro, which can easily edit 4K videos in Final Cut Pro, but I struggles to keep running the Bluestacks app smoothly.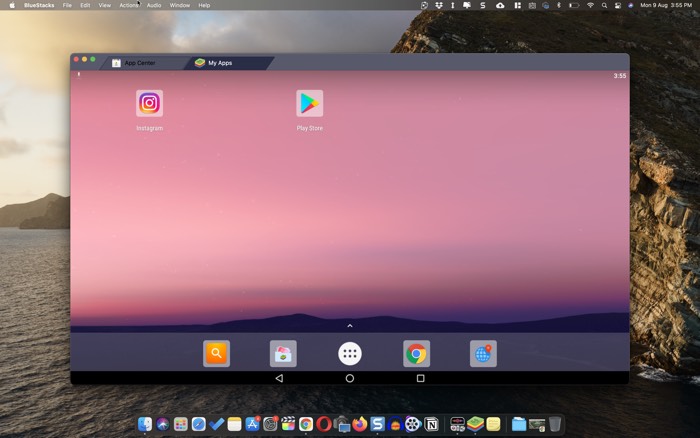 It has a requirement is a minimum of 8 GB of storage on your disk, as it creates a virtual environment for Android OS.
And then, you need to log in to the Android OS using your Google account to access Google Play Store, from where you will be able to install the Instagram app.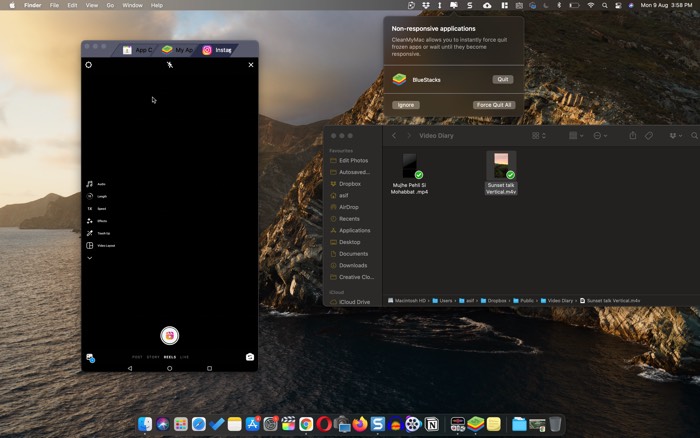 Part of the reason is so sluggish because it uses an older version of Android, in the emulator itself is based on an old smartphone from five years ago. When I logged in to Instagram, it recognised the device as Oneplus 3T (launched in 2016).
I would only advise you to pursue this method if another method mentioned in the article does not work for you.
Buy A M1 MacBooks or Windows 11 Laptop
Here is an exciting thing, in just a year or two, all the above methods would be obsolete because you would easily install mobile apps on your laptops.
Right now, the M1 based Mac computers (MacBook Air, MacBook Pro, iMac) can install iOS apps. And since it is a native solution, it works seamlessly.
Microsoft has also introduced Windows 11, which will be officially released soon. The new law of tops will be equipped with Windows 11, allowing users to install Android apps.
We are yet to see how the integration of Android apps on Windows computers as both come from different companies. However, it would be still a better solution than the current solutions available right now.
So keep in mind, if you want to use the feature of posting content on Instagram (aur any other mobile-first platform) from the computer, you can do it from computers also.
You can also use Dropbox or Google Drive
This city was shared on some other blog, so I am sharing it with you since it is pretty good.
If you have to post Videos on Instagram Feed or Reels, the limit is 1 minute. So even if you export a 1-minute video on your computer with the highest quality, e it would be less than 100mb-150MB.
You e can directly export the files in Google Drive or Dropbox folder on your computer, which automatically gets synced across various devices.
To access it on your mobile, you need the Dropbox or Google Drive app, browse the folder, find the video you want to share, and click on the share button. Choose Instagram or save it on your device. Both work well.
Easy Solution to Send Videos from Computer to Mobile
If you are in the Apple ecosystem, you can use AirDrop on your Mac to share the file on your iPhone.
The best third party solution, that also works cross platform, is AirDroid. More information in a separate article.