If you own a smart TV, you might already be enjoying your favorite movies on various streaming services.
I'm not much of a movie freak, but I recently watched the Academy Awards, and I came across some fantastic movies that I haven't watched.
I tried finding them on streaming services like Netflix, Amazon Prime, Google Play Movies, but could onåly find 20% two of the list I made.
So I had to go to other ways to find them. Fortunately, I did. They are on my phone, but I want to watch it on TV.
Now, there are two ways to watch these movies on a smart TV.
One way is, is to To mirror your smartphone on TV and then play the film.
Here is what you need to do, make sure your TV and your smartphone both are on the same Wi-Fi network.
If you have an Android smartphone even swipe down to view the quick settings area, you will find the casting option. When you tap on it, it will show you a list of display devices connected to the same Wi-Fi network.
Recognize the device, your smart TV in this case, and connect to it.
It will mirror your smartphone, and then you can play the movie on your smartphone, which plays the film on the TV,  without having to send the file.
But the downside is, the mirroring isn't reliable since it is over a Wi-Fi network, which can keep fluctuating, resulting in freezing the video.
In my experience, I had to Disconnect and reconnect the mirroring a couple of times during one and half hour of movie watch time. So I wouldn't recommend this option if you are looking to watch movies.
Now let's come to the second method of watching your offline movie files on TV.
Which I was looking for a way to send movie files and other video files from Android smartphone to the smart TV and I came across this app.
*For this to work, you need to have a smart TV powered by Android so that you can easily install the app from Google Play Store.
The name of the app is 'Send files to TV'. Install it on your Android mobile. And then install the same app on your smart TV by going to the Play Store on your TV.
If you are trying to do it on, Amazon fire TV stick, you may have to sideload the app by downloading the apk file from the internet and following this tutorial,
Once you have installed the app on your Android mobile as well as on your TV, tab sends on your mobile and select a receive on your Smart TV.
You can navigate on your mobile phone to select the file and then send it to the TV, which would be recognized in the list of devices if it is on the same network.
You will notice the transfer displaying on your TV, and once it is done, you will be able to navigate to the file using a video player app on your Smart TV.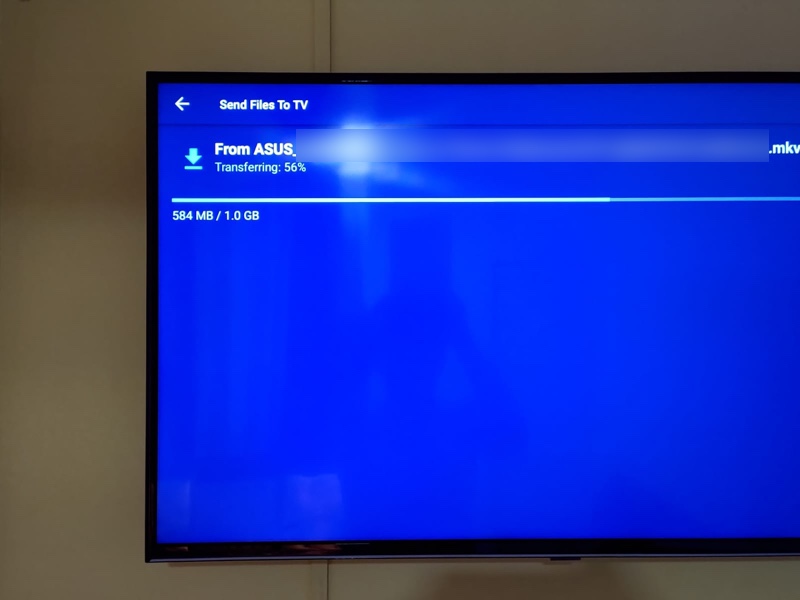 If you currently do not have a movie player app on yout TV, I suggest you installed Nova video player.