If you own a smartphone, you are awesome. Because you can literally install an app for almost everything you do or want to do. It's your alarm clock, your diary, access to any person who is on Facebook, Twitter or Google plus, and yes, it's your phone also, which you rarely use.
If your smartphone happens to be an Android, it opens a whole new world of possibilities. Today, we are going to talk about just one possibility that you make you phone even smarter, cool and attractive, you can say a 2.0 version of your current smartphone. Yes. Read on.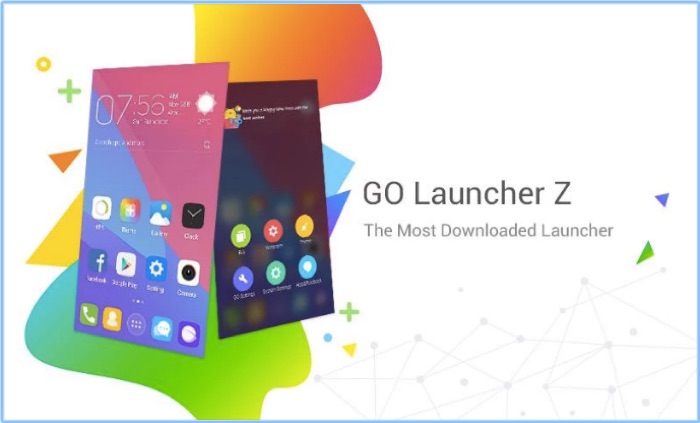 We are talking about GoLauncher, it's an app that adds extra functionality to an Android using the technologies existing in your smartphone. One you install it, you can get the following things.
Refreshing look and Clean Interface
Android is all the on all the devices yet all the Android phones from various companies are different because they put an extra layer on top of it to make it look different and usable.
But you may not like it what is there on all other phones, GoLauncher enables you to create a unique look by letting you choose different settings for the look of your phone. (the inside of it obviously)
You can change the fonts, icons size, label colors, grid sizes etc to give it a completely different look. You can also install the Themes available in the Go Launcher store, you may require some credits to enable the theme.
Personally, I did not find any theme useful as it's just some changes you can make it yourself from the settings area. The default look of GoLauncher looks beautiful anyway. What we want is extra functionality which we will talk about in the rest of this article.
Make it look and feel fast with transitions
One of the options, you will find in the settings is the Transitions, it's the way you want your phone's software to move into different sections. Like, going to the app drawer from the home screen, moving to the next screen etc.
It gives the software a feeling that you can see the software behaving on your taps. It looks nice and the phone feels fast. You can set it anything you like or copy mine.
Smart Gestures to Launch Your Favourite Apps
Smart gestures are one of my favorite features of Go Launcher, you can ask your phone to complete an action for a particular gesture, for example, I have two finger swipe up for WhatsApp and two-finger swipe down for Trell, both apps that I use a lot. you can set any app/shortcut you want.
Search any app with just a Swipe
This feature, in continuation with Gestures, is helpful in finding any app you want with a single swipe down. Keep the search bar configured to one of the gestures to access it fast. By default, it's swipe down. Which works well for me.
Lock Edits to Keep Kids from Messing Your Apps up
If you have a kid at home who takes your phone for something and then you have to spend few minutes to rearranging the icons on the home screen, you will love this feature, It locks the edits, meaning, the App icons on the home screen or App drawer will not move, unless you unlock the lock from the Go Launcher settings.
To Use Go Launcher so that Kids won't mess things up, read this guide.
Double Tap to Lock & Turn Off the screen
People with bigger phones, (5.2inch or more) know the struggle of locking their phone as the lock button is beyond the reach of their hands unless they are Big Show or some other WWE wrestler.
How about double tap to lock your phone and turn the screen off? Yes, it's a feature I use and love it. You have to install the lock screen app additionally which is like some 500kb in size.
Hide Apps from App Drawer
Okay, do you have some apps install that you don't want anyone to see? Well, I am talking about the bloatware your phone carrier or the manufacturer has installed that, for some reasons, can not be uninstalled. Well, Hide them. It's easy.
Examples: You can hide the Lock screen app icon, settings, random widgets that come along with Go Launcher and other apps to make keep your app drawer organized.
Set a Locker on your Private Stuff
Now, if you have something really private, like the WhatsApp or the photo Gallery. Random guys maybe asking your phones to play games or stuff, and you are not comfortable giving them, any reason be it x,y,z you have an option to lock particular apps with a pattern based locker.
Note: If you forget your lock pattern, you can request the password to your email. you will get something like 2459 which is the serial number of dots horizontally.
So, these are too many cool features in a single app and they will definitely make your life better.