A good screen recorder is very much essential nowadays, especially in the current situation when most everything is remote first. Screen recorders are a need and necessity for different age groups across a diverse range of use cases. Employee's in an organization use a screen recorder for recording meetings, sharing feedback, and reviewing team member's work. Similarly, independent YouTubers use it to record their Youtube videos, Gamers record their gameplay, students record their classes, teachers record course material and the list goes on. 
There are a lot of screen recorders in the market for different use-cases offering a variety of features. But most of them sadly restrict the number of videos that you can record and also the duration you can record videos for which is bad because in most cases you'll never know how long you want the recording will go on when you begin recording.
So is there a screen recorder that allows unlimited free recording?
Yes, Vmaker Screen Recorder, the latest screen recording solution from the makers of Animaker Inc, allows users to record unlimited videos without any time restrictions. The best part about Vmaker is that there aren't any pesky watermarks added to the screen recording files.
Why do you have to try or switch to Vmaker Screen Recorder?
Vmaker screen recorder not just offers free screen recording without any restrictions but also comes with a host of features making it one of the best screen recorders that are available on the internet.
Vmaker features and benefits
Functions on multiple devices 
Vmaker is available as a Mac app and as a chrome extension. Users can download the Mac version or add the chrome plugin to their chrome browsers and start recording videos. Vmaker doesn't restrict themselves to two versions.
The team has confirmed that the Windows version, the Ios app, and Android apps will also be released soon. The videos recorded in any version of Vmaker will be available in a unified cloud dashboard securely. 
Unlimited recording without time limits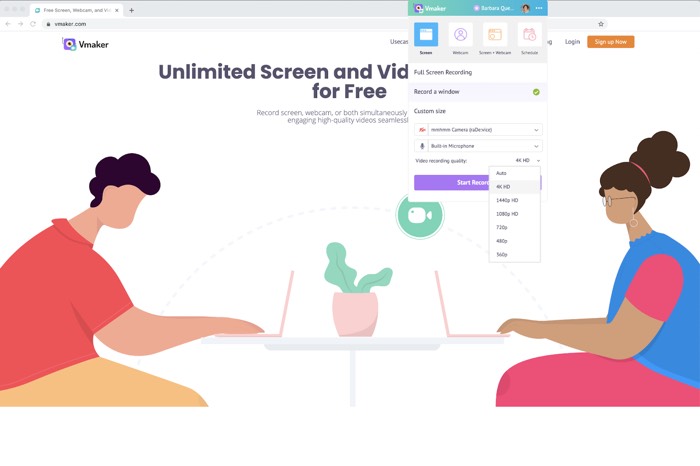 As mentioned before the best part of Vmaker is you can record videos without any restrictions on the recording time limit. Users can record meetings, streams, games which generally go on for hours together.
The application also supports both microphone and system audio recordings with noise control.

Vmaker also supports 4K HD recording when you upgrade. The 4K HD recording is the best in class that we have worked with and highly recommended if you want to record training, tutorial, or youtube videos.
Multiple recording modes 
Vmaker supports multiple recording modes which allow you to record screen or webcam independently or also both screen and webcam together.
Users can add frames, filters, and custom backgrounds to make their screen recording engaging. The filters and frames feature is particularly unique and is not found in most of the other screen recorders.
Users can also choose between full screen, tab, and custom recording dimensions.
There's a fourth additional recording option which is the recording scheduler. Users can manually set a time period for screen recording and the recording will happen automatically during the period.
Users can also add Vmaker's virtual recording assistant, Max to their meeting attendees list and it will do the recording for you. Don't worry Max is completely virtual!
Screen Annotations and Mouse Emphasis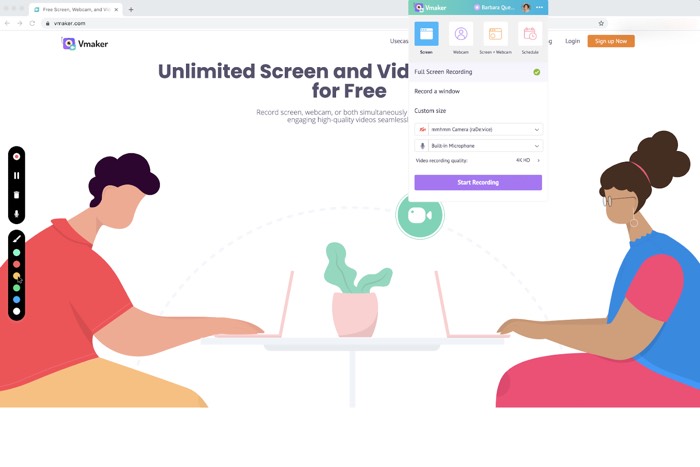 The videos created need to be engaging for it to get more views and also catch the interest of your audience. Vmaker has built-in screen annotations and mouse emphasis features that allow you to record engaging videos. 
Unlimited storage and bandwidth 
Vmaker offers unlimited storage and bandwidth which means you can record as many videos as you want and also share them freely with anyone without any bandwidth restrictions. 
Easy social sharing of your screen recordings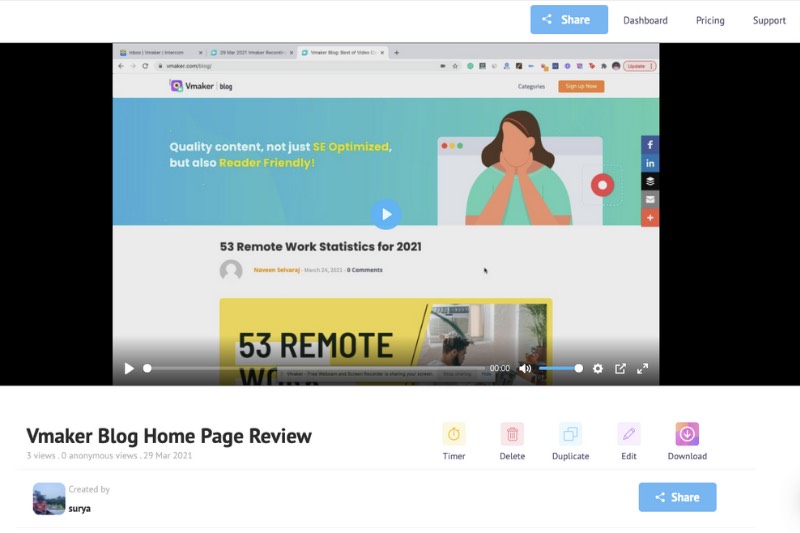 Once you finish recording the videos are uploaded on the cloud and made available on a sharable unique URL.
You can copy, paste the link and share it with anyone or click on the social sharing option which allows you to share your video to Twitter, Facebook, Linkedin, and Gmail. One more amazing feature is that you can also directly upload your recording onto YouTube.
Additionally, users can also set an auto expiry timer for the videos to automatically expire the video for anyone else accessing it keeping the private information on your video secured. 
Video Editor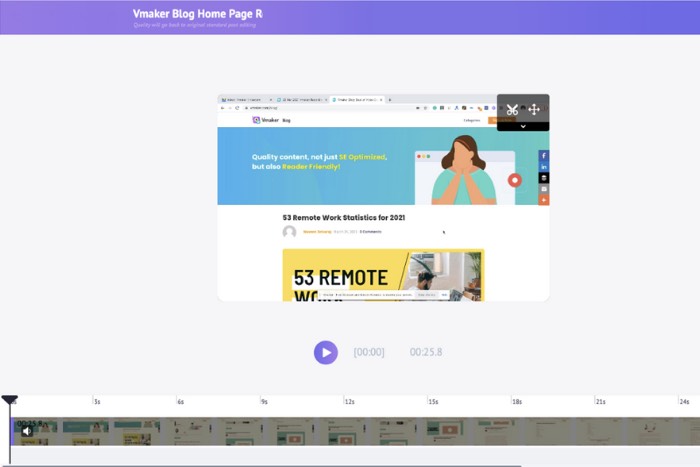 The Vmaker application also has a built-in video editor which allows you to edit your screen recording videos.
The editor allows you to trim, crop, merge, rotate, flip and do a lot more editing work to fine-tune your videos.
The Vmaker team has also confirmed that there is a brand new editor in the work which will enable you to edit scene by scene, upload video, add text, and much more. 
Real-time collaboration and categorization 
As you start recording videos your Vmaker videos will be filled with multiple recordings. The web dashboard of Vmaker allows you to categorize videos into folders.
You can also share the individual videos or the folders with your team members who are part of the workspace with a view and editing access. 
How to screen record videos on Vmaker?
The Vmaker application is quite easy to install and get started. Here's a complete guide on How to screen record videos using Vmaker on both the versions, Mac app, and the chrome extension. 
To conclude, the Vmaker screen recorder is one of the best modern screen recorders available and if you're looking to get started with screen recordings then we would recommend starting using Vmaker.
The free plan is very handy and offers a lot of features and if you would like to do more then an upgrade to a paid plan is also quite pocket-friendly and unlocks a whole new set of features.