The Incognito mode or the private browsing mode enables users to browse content without having it appear in the browsing history.
When Google Chrome was launched A decade ago it came with Incognito mode, which made those midnight..ahem…casual browsing sessions out from the browsing history.
Now, a decade later, when most of the conception is done inside the native apps, there is a need for Incognito mode in the apps where the content is consumed.
And since YouTube is one such app that gets the highest share of the content consumption, it is really useful to have an Incognito mode right inside the YouTube app.
Thankfully, Google has brought this feature to the YouTube app as well. Which means you don't really have to worry about getting it appear in your history.
The Incognito mode isn't only helpful in those midnight browsing sessions but also for other purposes as well.
If you have used YouTube, you might be aware of its algorithm and how it starts recommending videos based on the videos you have watched.
And sometimes it happens with all offers that wait and to search for something weird, either because it is trending, or it is a topic of discussion. Then we suddenly start seeing a similar type of videos appearing in the recommendations.
While the algorithm is useful in showing us the videos we might genuinely be interested, it could be embarrassing to see weird videos getting recommended to us.
So the Incognito mode will make sure that our temporary curiosity does not Trigger the YouTube algorithm to hijack our YouTube homepage.
And since Google also records all the searches that are being done inside the YouTube app, the Incognito mode will make sure no search term would be recorded if we do not want it to.
So how to get the Incognito mode on YouTube?
To get the Incognito more you need to have the latest version of the app installed on your phone, you can go to the Play Store or the iOS app store to find if you have the latest app installed.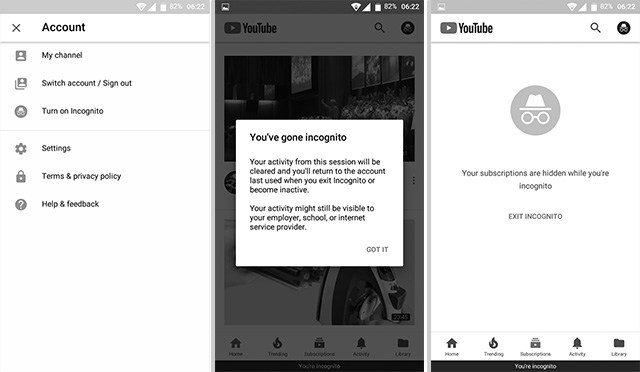 Once you are done with it, tap on the account Avatar on the top right-hand side. The Incognito mode will appear between the 'Switch account' and 'Sign out'.
Once you tap on the Incognito mode, you can search for the videos and start watching them.
This feature is being rolled out slowly so it might take a few days, so sit tight, it is probably on its way.
Meanwhile, you can read more articles related to YouTube