You may have come across the term temporary email addresses for disposable email accounts while having some tech-related conversations or overhearing them somewhere.
If it has made you curious enough to look for it, we will be doing just that in this article.
So, what are temporary / disposable email accounts actually?
As the name suggests, these are temporary email accounts you create for temporary usage. It is also called disposable email accounts because they can easily be disposed of after using them for a particular purpose.
If you have been using the internet for a while, you may be aware that you require any email address if you have to create an account anywhere on the web.
Ever since the internet came into existence, emails have been the requirement to create an account on any website, be it Social media, dating, e-commerce, you name it.
Although some online services have also started offering mobile phones to create an account email address is majorly used.
The number one reason is, it is inexpensive to let users create an account using an email address.
Because sending a confirmation email to confirm one's account doesn't cost, while sending a one-time password (OTP) costs money, and if thousands of people are creating accounts, companies with millions of dollars to spare can afford.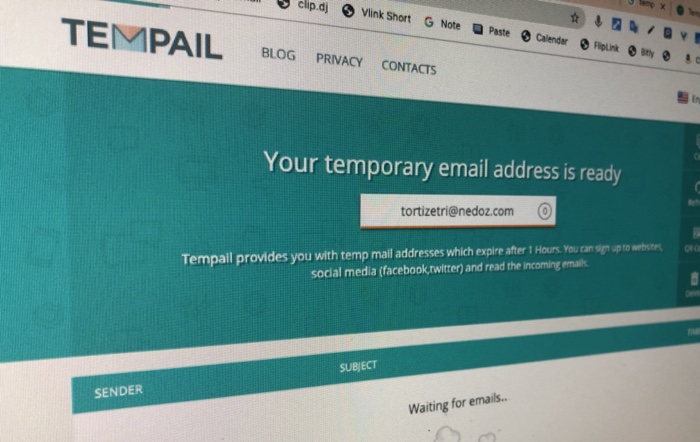 Anyway, going back to our original topic of temporary emails, let's talk about the need for it when you can create n number of email accounts for free.
One of the reasons why a company asks for an email address from you to create an account is to communicate with you. Some companies respect your privacy and communicate only when required, and some are shameless and start sending promotional offers.
And if you have signed up with a bunch of such websites, then your mailbox can fill up pretty quickly, making it a difficult task to go through the list of emails to find the one that requires your attention.
So this is where the temporary email or disposable email account comes handy. If you want to try web service and are not comfortable sharing your primary email, you can sign up with a secondary or a different email. And a lot of people do that.
You can indeed create as many email accounts as you like on the internet. It is quite a tedious process that requires time. Disposable or temporary email addresses are pretty quick to create.
You land on a website, and you get a random email address that you can copy and paste into to the website where you are looking to create an account. This temporary email address also has an inbox to get a confirmation email and confirm it to create your account.
Once the account is created, you can check out the website's service without worrying about getting bombarded with promotional emails. And this is purely one good enough reason for services offering temporary or disposable email addresses.
But like every other service, is this one also gets abused, or maybe we can say a lot of folks have found creative uses of it. From being able to get trial accounts of paid subscriptions multiple times, to get huge discounts meant for new users, a lot of people use temporary or disposable email addresses for a lot of things.
Like we shared about people getting Netflix accounts for cheap. There are people on social media, web forums, messaging apps, selling Netflix, and other cheap accounts. They create free trial accounts using disposable email addresses and virtual credit cards and then sell them.
So whatever tries, they are selling it for their pure profit because it doesn't require any investment.
Some companies have to struggle with these dummy accounts created using disposable email addresses, and it's stunt battle to find and Blacklist Sach services that offer disposable email accounts.
But strangely, some companies turn a blind eye to it. The reason told is that every account created on their service adds to their targets getting a new user to their service, which looks quite impressive on sheets to show the investors about how the company is growing.
But since we are not a business website and just a tech blog, we will not be exploring more about it and stick to the technical explanations of things like disposable email accounts.
I hope you now have a clear idea of why. You can read more tech-related articles on the website and make you take life easy. Please like us on Facebook or follow us on Twitter, or maybe come back later directly on the website, your choice.