If you are one of those billion people who use WhatsApp daily, you may have noticed that it reduces the quality of photos and videos you share with your friends and family through the messaging app.
This is not all that bad because the photos and videos we capture using our smartphones are too big.
A regular photo out of a smartphone can range anywhere between 3 MB to 5 MB. With smartphones with a 64-megapixel camera and even higher megapixel cameras, the photos' size is even larger, sometimes even 20MB.
So if you have to send these images through the WhatsApp message, it will take time to upload it from your end and then reach the recipients' message box. Multiply the time by the number of photos you want to send.
Watch the Video Tutorial
This can be tricky if you are on a mobile data connection because some places where the mobile data plans are quite expensive. So, by compressing photos and videos, WhatsApp makes sure that you are not using much data to send a simple image that will be watched on a five or 6-inch mobile phone screen.
Even if you are using a Wi-Fi connection, it will still take time for the user to download if the videos and photos are not compressed, and also it will be a lot more expensive for WhatsApp to do its operations well.
WhatsApp already pays fees in millions of dollars for hosting. So, sending photos without compressing at their hosting costs will be three or four times more than what they pay right now.
By compressing the photos you send on WhatsApp, the app quickly makes it quick for you to communicate with friends and family and saves millions of dollars on their hosting bills.
Anyway, if you still want to send high-quality photos and videos to friends, there is a workaround.
Instead of typing on the gallery, you can tap on documents and then go to the path where the photo is saved because WhatsApp compression does not work on papers, but WhatsApp also allows you to send different format files.
How to put up high-quality photos and videos in WhatsApp status?
Sadly the workaround of sending high-quality photos and videos to friends and family does not work when it comes to putting up a status on WhatsApp. It only gives you the option to select a video, photo, or GIF to upload as WhatsApp status.
But here is a workaround my friend told me the other day. So, read the instructions mentioned below.
The compression might be working on the WhatsApp apps for iOS and Android, but their web version the WhatsApp web can be opened in a browser and does not compress photos and videos.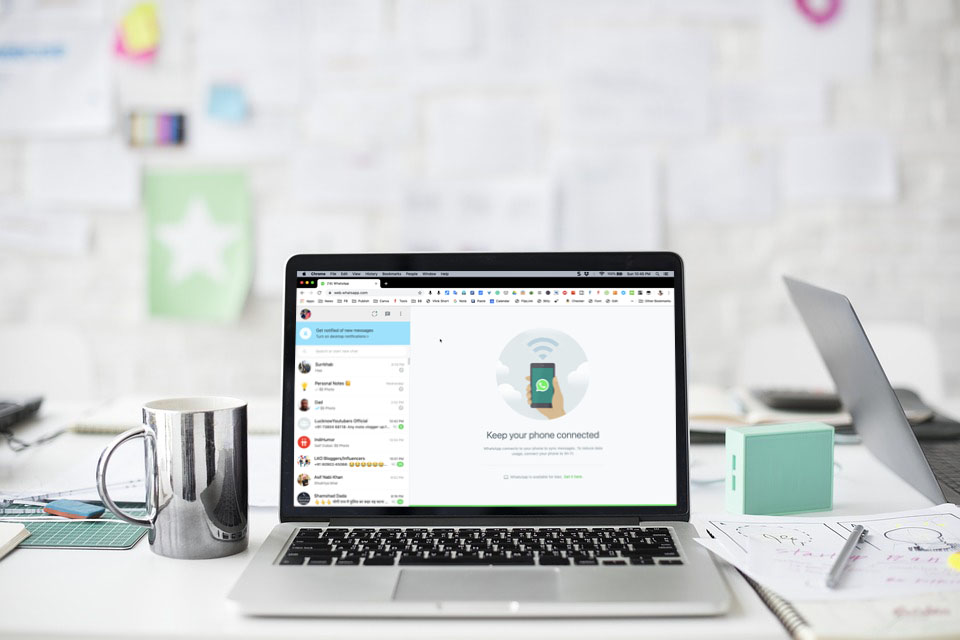 This means, if the video is within the Max limit of 64MB, you will be able to send it via WhatsApp web. The same goes for photos as well.
When writing this article, there is no option available on the WhatsApp web to put UPS WhatsApp status. It is only possible from the WhatsApp app available for Android and iOS.
So the workaround is to send a photo or a video you want to put up on WhatsApp status to yourself from someone else's number opened in WhatsApp web.
For example, if A has to put up a high-quality WhatsApp status photo, B has to send that photo to A from the WhatsApp web. When A receives the picture, he can directly forward it to WhatsApp Status.
If A goes to the gallery and picks the photo from there, WhatsApp will run its compression, making the photo or video lose its quality. But if A forwards the image directly to WhatsApp Status he received from B, it will be of high quality.
Want to do it all by yourself? you can try this
I understand you might not want to involve someone as in this an important task. Fortunately, there is a way you can do it all by yourself.
Create a dummy WhatsApp group, which will only include you (creating a group requires two people, but you can remove the other person after the group is made).
Now you can open your WhatsApp on the WhatsApp web and then send that photo to that dummy group, and then go to your mobile phone and forward the photo or video to the WhatsApp status.
Comparing the difference
So I put up the same photo as a WhatsApp status using both methods. The original size of the image was around 600kb.
I hate this photo on both my computer and my mobile phone, thanks to AirDrop, which does not compressors the quality.
I sent it to my phone via the dummy WhatsApp group and then forwarded it to WhatsApp status.
The Other WhatsApp status I put off the same photo by selecting it from the gallery.
Then I shared both the WhatsApp status photos with my laptop using AirDrop, and here is the size of both the images.

The photo is compressed in both cases, but the workaround did not compress the picture aggressively. I can see the compressed image gets pixelated when pinch zoomed in compared to the photo I shared using the workaround.
You will be able to differentiate more appropriately if there is a lot of text on the image. So if you will share a poster or any quote, written in small fonts, or even some graphics, the workaround will help you post a more clear version of the photo on your WhatsApp status.
If you're looking to learn about how you can post longer WhatsApp status videos, you can check out this article to discuss different workarounds.