I have been facing this weird issue since last few months and it's pretty annoying.
Whenever I try to shut down my computer, this Snagit app on Windows 10 would prevent it from shutting down.
It gives you the popup and you can forcefully close the Snagit application to continue shutting down your Windows 10 PC.
But, sometimes I used to forget and leave my home office right after clicking on the shutdown button, only to come back and find that the PC has not shut down.
This has happened several times that I have lost count. But at the same time, I was too lazy to search for a solution.
And over the last few months, I was kind of Grown to accept this issue and sit down in front of my PC for a few more seconds before actually leaving the room, just to force shutdown the SnagIt application.
Surprisingly, when I started looking for ways to fix this issue, it turned out a lot of people are facing it, which means it is something not related to Windows 10.
It is quite a common problem, so, TechSmith, the developers behind the Snagit app may have addressed this issue.
Even though it is quite easy to fix this problem I thought I will sure my experience and tell you how you can solve it.
The support page of Tech Smith website gives this solution for different versions.
My version is Snagit 12, so, this is how you can fix this issue for Snagit 12 for earlier versions.
Turns out that there is a feature called OneClick in Snagit which prevents this SnagIt app from automatically closing. So you need to disable this feature.
Disable OneClick in Snagit 13 and Snagit 12
To disable this feature in Snagit 12 earlier versions you need to hover your mouse over to the floating button, which might be on either corner or sides of your monitor screen.
Hovering over your mouse will make it pop out so that you can see the gear icon, which you need to click to find preferences.

And when you click on preferences, another box will open where you have to select 'Enable Notification Area Icon', earlier it might be ' Enable Capture Window and Notification Area Icon'.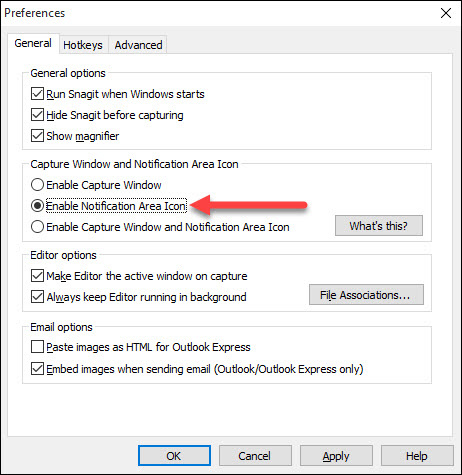 Once you are done, you can apply and then click on 'Ok', the Capture Window would disappear, and you will now be able to you shut down Windows normally.
Turning the OneClick feature in Snagit 13 is a little different.
You need to open the Snagit capture app and then go to the View to Show or Hide the One Click Feature.
In this case, you would have to hide it (showing it might be the cause Windows not shutting down).