If you are from India, you might already know about this recent news.
On the eve of June 29, 2020, India's government decided to ban 59 Chinese Apps that were collecting a high amount of users Private data.
Although the apps collected data for a long time, this move from the government came after a tiff between India and China. And the step is more of a strategy to let the people know that the government is doing something about this Indo China cold war.
Out of the 59 apps, the number one, TikTok, which was the most popular app in India, had 120 million monthly active users. Serious concerns regarding privacy on the TikTok app have been raised for very long.
Now, whether or not this ban was required, I leave that to you to decide, but ban or No ban, you should avoid these data-mining apps that are unethically collecting your information.
Now that these Chinese apps have been banned and can no longer be found in the Play Store, here is some alternative to it, which you can install and use.
It might not be permanent, meaning the ban might get lifted in the future, but you should be aware of the alternatives so that these Chinese apps don't grow monopoly.
Alternatives to the band Chinese Apps
Someone shared this infographic with me on WhatsApp, do I do not know the source of it, these are surely decent alternative apps for the ones that were banned.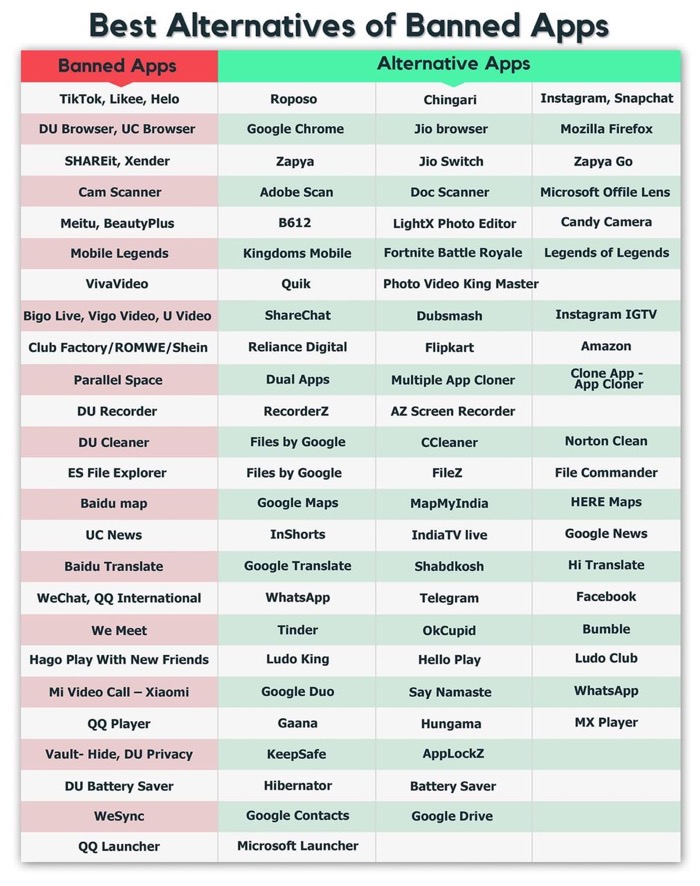 These are the Apps I have replaced
TikTok – Instagram Stories
Although I was not using Tiktok, I know a lot of people who use Tik Tok as a video editor for putting music on their videos are photos.
You can do the same with Instagram stories. The only e limitation is that when you save the stories offline, for sharing it further on WhatsApp, the music is not saved with it.
So you can use a third-party web app which will be available for all the platform including Windows, Android, iOS. You can go to StorySaver.Com, put in your username, and download the story from Instagram if you do not want it there.
We have to talk about this in detail in this article.
UC Browser – Google Chrome / Opera Mobile Browser
I stopped using UC Browser a long time ago. I never install UC Browser on my smartphone myself; it was always pre-installed.
Many people want to use a secondary Browser on their smartphone, along with the primary ones like Google Chrome. Many browsers can be used as a secondary browser, such as Opera Mobile.
It is tough to replace the Shareit app because of its popularity. Almost everyone you want to share something with has got ShareIt on their mobile phones.
And since it is a two-way thing, which means both the receiver and the sender need to have the app on their smartphones, it will be a little tough to replace ShareIt, but there are some excellent alternatives available already.
Files go from Google is an app that cleans up your smartphone as well as gives your functionality of sharing something with other people, just like you do with ShareIt
Notbloc is an amazing replacement for CamScanner. The good thing about this app is that it is not as bulky as the Camscanner app, with just 13 MB in size.
And it gets the job done. I have been recommending this alternative to CamScanner from a really long time.
VivaVideo – InShot
If you are using any quick video editing app from China, you can opt for InShot.
InShot is a high-quality Quik video editor with a lot of effects and copyright free music, which you can add to your videos. If you want to get rid of the watermark, you can get the pro version by paying a small amount.
Many people are confused by thinking that InShot is a Chinese app, but I did some research about the developers, and it seems that it is from New York in the US.
Du Recorder – A-Z Recorder
The AC recorder is a non-Chinese app as well as it has got more features.
Du Cleaner – Files Go by Google
Files go by Google is better than Du Cleaner
ES Explorer – Files Go by Google
Android Smartphones these days have got their File Explorer which means you don't need a third-party app now, but if you want to organise things in a better way, the Files Go by Google app has got this feature.
QQ Launcher – Microsoft Launcher / Pixel Launcher / Nova Launcher
There are many third-party launchers for Android available in the Playstore Microsoft launcher pixel launcher Nova Launcher is my favorite pics.