Chromebooks are the new portable computers that are designed to give you a fast, secure and always up-to-date experience. The laptops are based on Google Chrome OS, an operating system that's easy to use and helps keep you safe from viruses.
However, not everyone is convinced that Chromebooks are worth investing in. One of the most popular arguments against them is that they only have access to the Chrome Web Store, unlike their Windows competitors, which can download software from any other store. But this misconception is quickly being dispelled as there are now over two million Android apps available for Chromebooks.
If you have bought a Chromebook lately, it surely does support Android Apps, but if it's a fairly old one, maybe from 2015, then it's implausible that the support for Android is there.
Like, my HP Chromebook 14, bought in 2014, doesn't have Android support. But my Samsung Chromebook Plus, bought in 2018, had it.
So does my Lenovo Chromebook Duet (bought in 2020).
How to Install Android Apps on Your Chromebook
If you are looking to install android app on Chromebook, it firstly needs to have the Android support. If it does, this is how to install an android app on a Chromebook.
Go to the settings area of Chromebook, you can do this by clicking on the Gear icon, on the bottom right of the screen.
Once you are in the settings, find the option to enable Play Store. Once Play Store is enabled, you can install apps available in the Play Store.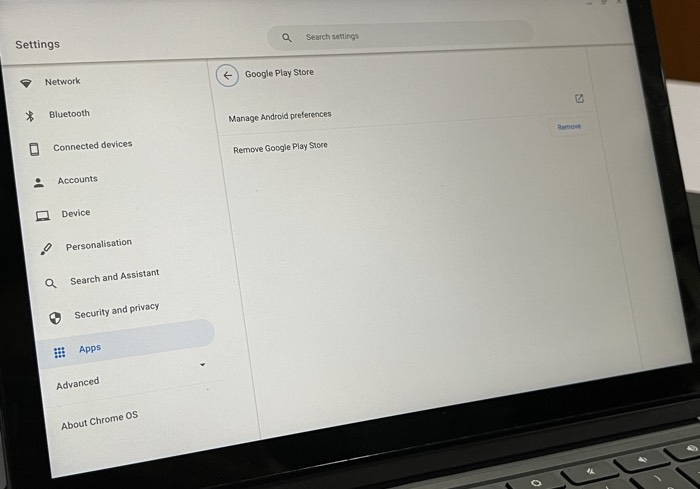 However, for security reason, you cannot sideload apps, which is installing APK files of Android.
Sideloading APKs on Chromebook is only enabled in developer mode, which is qaite a technical process to follow.
How to Access Your Files on Your Chromebook When You Have an External Storage Device Connected
Most of the Chromebooks you will come across have got USB Type C support, so you cannot directly connect external storage devices, like, a Flash Drive, or an SSD, unless they are also Type C.
In most of the cases you will have to buy a Type C dongle, which will extend ports of your Chromebook, giving you USB Type A, HDMI, SD Card Reader etc.
Good thing is, Type C dongles are Universal, so the ones that work with Macbook for windows computers will also work with Chromebooks. Check out the best USB Type C dongle for your Chromebook.
If you connect any storage device to your Chromebook either directly using the Type-C or by using the Type-C dongle, ChromeOS easily lets you do it using the files app.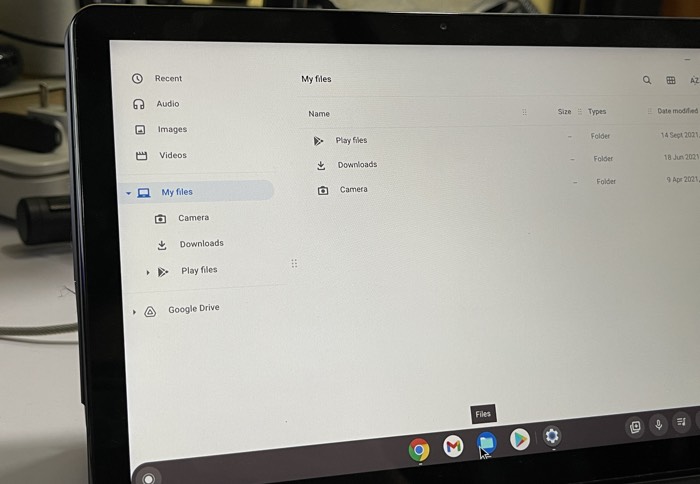 The file app opens a sidebar on the left hand side which gives you a list of all the drives available.
What Are The Best Android Apps For A Chromebook?
Android support on Chromebook gives you access to hundreds of thousands of apps available for the Android platform.
So, it would be suitable to run all your best Android apps that you use on your mobile phone. But not all Android apps are optimised for a bigger screen.
The apps would open on the Chromebook, but they won't be able to utilise the bigger screen of your Chromebook, which means it's a wasted opportunity, and there isn't any difference between using the Android app on your mobile phone and using the same Android app on your Chromebook.
There are only a few apps that have been optimised for bigger screens, and such Apps will be pretty useful on the bigger screen of your Chromebook.
The best examples of best Android apps for Chromebook would-be apps from Google set as Google docs, Google sheets, as they can utilise the screen real estate available.
But since Chromebook also has a full Desktop Google Chrome browser, you can do pretty much anything inside the browser that you do on your full-fledged laptop or desktop. The same services are available in an app for your mobile phone because the web version is difficult to use on a smaller screen.
But for some tasks, the installed apps are much better for a workflow than using an online version. Such as a photo editing app or a video editing app.
You will have to upload photos and video footage in the cloud to use the web-based video editor aur photo editor, while the Android app makes it possible to edit videos and photos natively on your Chromebook.