In this article, we will be talking about how you can compress a 4K video without actually losing its quality.
First, let's understand that kind of video is called a 4K video.
In terms of resolution, 4K refers to two high definition resolutions, one is 3840 x 2160 and other is 4096 x 2160.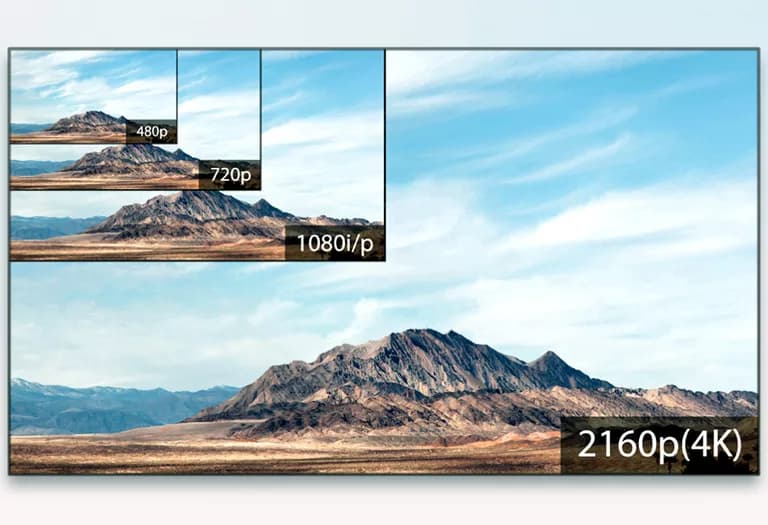 A 4K resolution video contains 4 times the pixel resolution of an HD video (720p) or two times the pixel resolution of a Full HD Video (1080p).
In general, it is twice the size of a full HD video, giving you more details and sharpness which also results in an increased file size.
Currently, only high-end TVs offer 4K support, all the low and mid-range TVs still offer only Full HD resolution.
If you don't have a 4K Monitor / TV
If you have got a TV that only supports Full HD, that is 1920×1080, a 4K video doesn't really mean anything.
Which means you can compress it to Full HD and bring down the video file size by half.
Compression of a 4K video for such TVs without actually compromising on quality becomes really straightforward.
There are a handful of tools available that will perform this operation. One such tool is Video Converter Pro
If you have got a 4K Monitor / TV
If you have got a high-end Monitor or TV that supports 4K, you can't downsize it as it will drastically decrease its quality.
You will have to apply different methods that we are sharing below.
Trimming and Cutting the Video
FI the video is coming out straight from a smartphone capable of recording a 4K video, there might be a scope of trimming or cutting certain portions of the tile that is unnecessary.
Trimming out even a few seconds of video can drastically reduce the size of the tile.
Removing Audio
Though Audio is important for a video to enjoy it, not every Audio is necessary, and removing the audio from the video can also reduce the size.
HEVC/H.265 Compression
The newer compression standard helps in reducing the bit rate of the video without actually reducing the size of the v4K video.
There are apps available that use this newer HEVC/H.265 instead of ACV/H.264.
Reducing the Frame Rate of the Video
Every video consists of certain frames per second, which is the number of still images per second to make a video, 30fps is standard, however, the more the frame rate the smoother the video will be.
But after a certain frame rate, it will not be differentiable by a human eye, hence, if we reduce a video with higher frame rate to a standard 30fps, the file size can be drastically reduced without actually reducing the quality.
The software we mentioned in the section above is also capable of doing a few things we just discussed. You cna download the Video Converter Pro from the link below.