Video is everywhere. You can enjoy a video in the form of a song, a comedy video, a podcast, or just a motivational video. However, these videos are just a single click away. But when you rewatch the same video all over, it's a good idea to keep an offline version handy. You'll consider it the most when you are 30000ft above the ground flying in an airplane and have nothing to kill time.
This tutorial is for you if you're wondering how to download videos on your iPhone or iPad without any app. Many people think they need an app to download videos, but that's different. You can download videos without an app by following a few simple steps.
So why download videos without an app?
There are a few reasons. First, it's much more straightforward and requires no extra steps. Second, you don't have to worry about using up storage space on your device since the video is saved directly to your camera roll. And third, you can watch the video even if you're offline. So next time you want to watch a video but need an internet connection, remember that you can always download it first and watch it later!
How to download a video to your iPhone using Shortcuts
Although many video downloader apps for iPhone are available in the App store, almost every one of them is filled with ads. So much so that it's annoying even to open the app. And then some don't even work.
This is why I love using web apps that can be used inside the Safari browser. Here is an even easier way that is the best way to download videos directly to iPhone.
Shortcuts app is a great automation tool on iPhone. It is made by apple and is ready to use out of the box. There is already a prebuilt shortcut available in the app, and you can create your own. Shortcuts app is available for ios as well as Mac os.
If you have been reading our blog, we have shared a short get that you can use on your mac to send files via Airdrop to your iPhone in a single click.
In the shortcut app, you can create automation tasks combining actions ranging from opening an app, copying or pasting something, and even running a script. Some third-party websites have created shortcuts you can easily add to your shortcuts app and run to perform an action.
There's a website called ShareShortcuts, which has some Shortcuts to perform different tasks. You can open the site in the safari browser of your iPhone and tap on the Shortcut you want to add to your iPhone.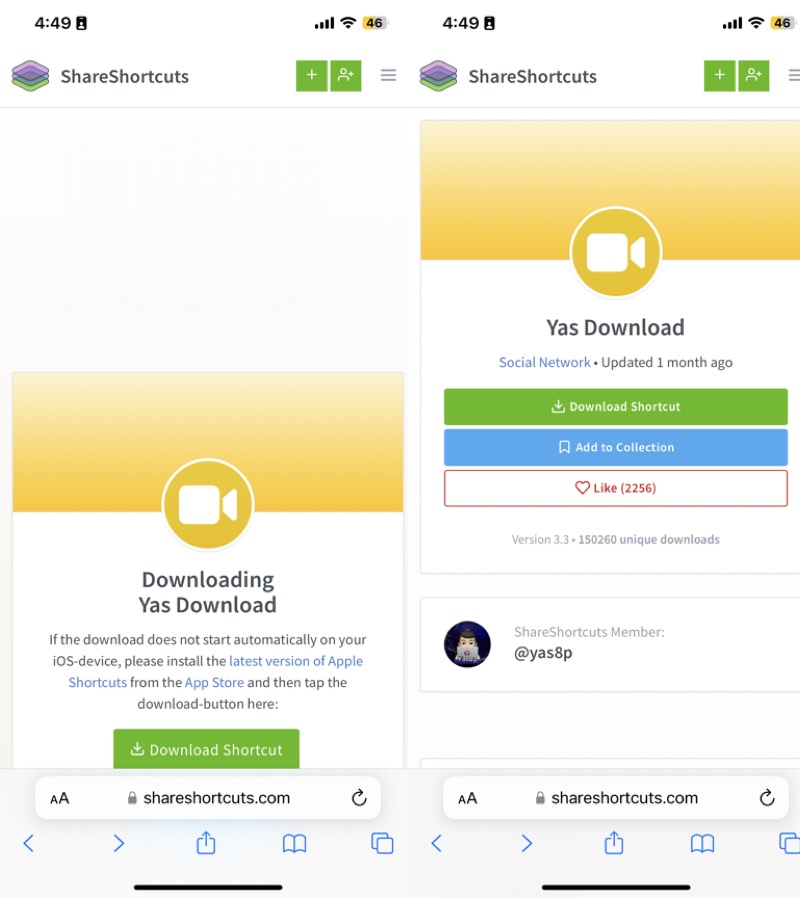 To download videos on iPhone, you can use the 'Yas Download' Shortcut. Tap on it, and the Shortcut page will allow you to download it.
Once added to the Shortcuts app, the next time you find a video interesting that you want to download, you will get the 'Yas Download' option on the Share page.
Tip 1: you can also rename 'Yas Download' to anything like 'Download Video' by doing a long press on the Shortcut in the Shortcuts app.
Tip 2: You can add this Shortcut to quick actions by taping on 'Edit' at the bottom of the Share page so that it would appear first.
How to download a Facebook video to your iPhone
When you come across a video on your Facebook feed, look for the 'Share' option. Most probably, the native Share page of iPhone will pop up when you tap on 'More' in the Facebook app.
When you get the Share pop-up on your iPhone, scroll down to find 'Yas Download' and tap on it. It will ask you for a bunch of permissions required for downloading the video.
The permissions include access to the browser page, on the app page, where the video is playing, access to copy and paste the video link, and consent to access the Photos app to save the video.
Once you have given the required permissions, you have to wait for a few seconds for the video to be downloaded and saved in your Camera roll. You can then open the video like you usually open from the Photos app.
How to save videos from Instagram using Shortcuts
The same goes for saving videos from Instagram. Whether it is a real or a longer video posted on Instagram, find the share button, and when the native Share option on iPhone appears, find 'Yas Download' and follow the same process we mentioned in the above section.
This shortcut tool, unfortunately, does not let you download Instagram stories because there is no way to get the share option to trigger it. Still, you can read this article to save Instagram stories on your iPhone.
The Shortcut also allows you to download the video in different quality and even extract just the audio from the video (although it takes a little longer for this).
This is extremely useful for content creators who want to download a training Instagram audio for using it on their videos.
How to save videos on iPhone from anywhere on the Internet
After testing several download shortcuts available on the Internet, I found this to work on all the platforms I have tested. So you can save videos on an iPhone from any platform all over the Internet
How can I download videos from the Internet to my iPhone and iPad Camera Roll?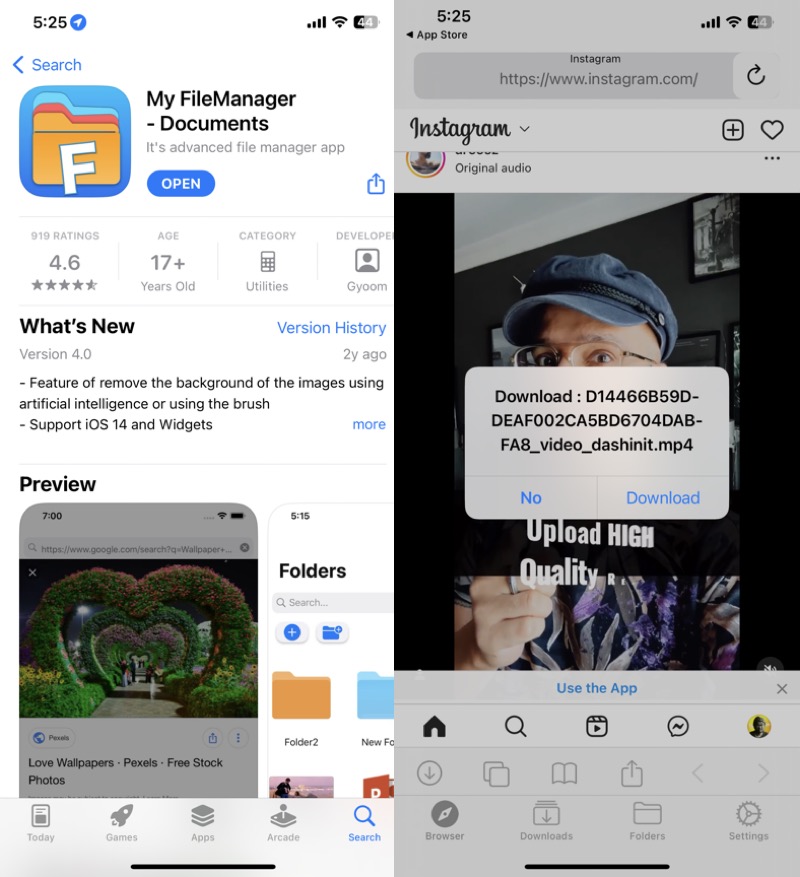 You can download videos from the Internet to your iPhone camera roll in several ways. In a previous article about downloading videos to your iPhone, I listed out one of the best tools I use to download videos. However, the tools are dedicated to a single platform, meaning you have to use different tools or apps to download videos from different platforms.
But the Shortcut I mentioned in this article works on almost every platform at the time of writing. And it is also the fastest way to download a video. But if for some reason, this doesn't work, my suggestion would be to install the My FileManager – Documents app from the App store. It has an inbuilt browser where you can copy-paste the video link and tap on play. Once the video starts playing, you will be prompted with an option to download the video.