If you want to unhide an app from your iPhone or iPad, In this article, you will learn how to find hidden apps on an iPhone.
If you have hidden an app on your iPhone and need to remember where it is, or it has automatically disappeared from your home screen, here's how you can find the apps.
With iOS 15, apple broad the app library feature to iPhone, which means the app installed on your iPhone, will not add to home screen. It will allow you to organize your home screen using selective apps and have less clutter.
But long-time iPhone users struggle to figure out this new user interface (UI). Sometimes they have removed the app from their home screen and cannot locate it. So in this article, we will find out how you can find the hidden shortcuts on your iPhone.
How to Find Hidden Apps on the Home Screen Using the App Library?
You can find the app library by swiping left. The number of swipes depends on the number of app pages you have on your iPhone, usually one or two.
So you shall get to the app library in three swipes. The app library page has the iPhone apps categorized in different folders, like 'Suggestions' 'Recently Added' 'Photos & Videos', 'Productivity' 'Social' 'Entertainment' etc.
The folders show up to 7 app icons, but it can contain more than that. So, if you know what category your app belongs to, you can tap on it to find your app.
Alternatively, you can get a list of all the apps installed on your iPhone app library while swiping down. You can then either browse the list or use the search box to search for that particular app. If you can still find the app by searching, the chances are it is uninstalled/deleted from my iPhone.
How to Open Hidden Apps on iPhone from App Store
So the final solution would be to open the app from the app store. Go to the app store on your iPhone and then search for the app. It is the only place from where the apps can be installed on your iPhone.
And if that particular app allows you to install the app, it means it was deleted from your iPhone. And if it gives you the option to open it, it means it is still installed. But you will still be able to open your app from the app store.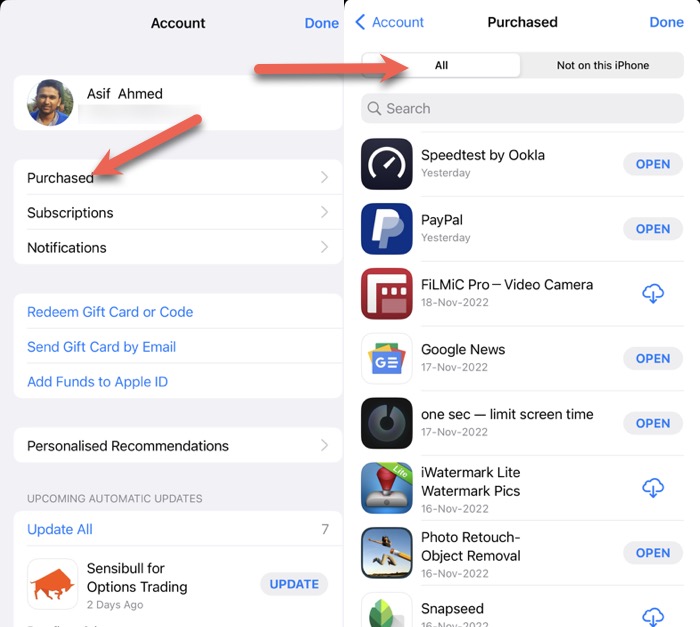 Bonus Tip: App Store has a list of all the apps you have installed ever on your iPhones, categorized as 'All' and 'Not on this iPhone. The installed apps will have the option to open them, and the apps not installed will have the opportunity to download them. This also lets you quickly find the app you are looking for on your iPhone.
How to Open Hidden Apps Using Siri?
You can also use Siri to find the hidden app. Siri is an excellent digital assistant available for mac os and ios. One of the common commands is using Siri to launch apps. It doesn't matter whether the app is on the home screen or not if it is installed on your iPhone you will be able to launch it by asking Siri.
Just say, 'Hey Siri' and ask 'Open WhatsApp' once it is activated, and you will be able to open WhatsApp.
Can You Hide All Apps on an iPhone?
If you want to know how to hide apps on your iPhone, here's a dedicated article that mentions all the possible ways to hide apps on your iPhone. Check it out.
How to Hide Apps, So They Don't Show Up in Search?
Although iPhone only has the option of hiding apps from the home screen. But if the app is still installed on your iPhone, it can appear in search. This is what we have mentioned in the section above.
But there is an alternate method to hide an app that doesn't even appear in search results. It's called offloading.
This option will remove the app from the iPhone but keep the data so that if you install the app again, all your app data will be restored so that you can use the app normally.
Go to the Settings app of your iPhone. You will find 'iPhone Storage' in 'General'
iPhone storage gives you information about the storage space occupied by different apps and media files on your iPhone
Scroll down and find the app you want to hide. Tap on it.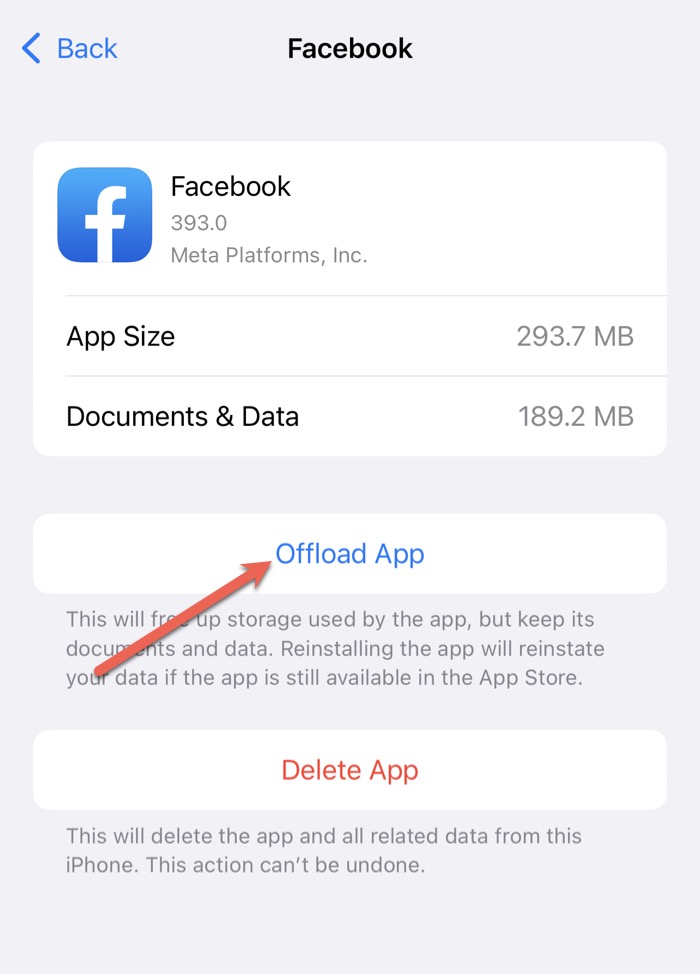 It will give you two options one would be 'Offload app,' and the other would be 'Delete app'.
Offload app' will free up the storage used by the app, but we will still keep your documents and app data so whenever you install it again from the App Store, it will have everything you had in the app previously.
How to Hide a Whole Page of Apps on Your Home Screen?
If, instead of hiding an app, you want to hide the entire page where there are multiple ads, you can do it easily by doing a long press on the home screen. This will allow you to enter in edit mode, where each app will have a minus (-) icon on them, and three dots will appear at the bottom of the screen. Tapping on it will give you an overview of the pages on your home screen. You can check the page you want to hide from the home screen.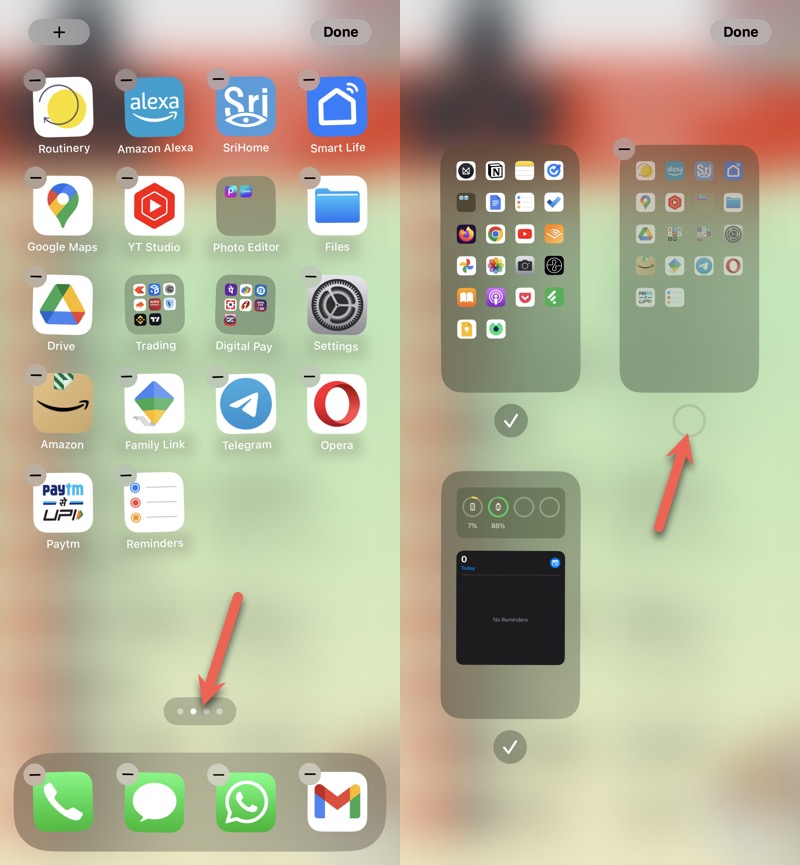 Similarly, if you are missing an entire page from the home screen of your iPhone, you may have accidentally hidden the home screen page. Follow the step to find all the pages and then check the page you want to re-appear on the home screen.
Use focus modes to hide or show apps and pages on the iPhone's home screen.
16 wings focus modes which allow you to take control of your smartphone to the next level. Focus mode allows you to set different conditions on your iPhone. By default, there are three modes: ' Do Not Disturb, 'Personal', 'Work', and 'Sleep'.
One of the conditions you can set in each focus mode is the apps you want to restrict or the pages you want to hide.
For example
You can Schedule the 'Work' focus during your office time, where you can restrict calls from unknown numbers, notifications from apps (you can filter apps to block or receive notifications), and you can hide the app pages.
So if you have one page on your iPhone home screen containing social media apps and content streaming apps, you can hide that page when the word focus is activated.
Similarly, you can set conditions for the sleep focus to avoid distractions in notifications on your iPhone.