Social media addiction or high usage of social platforms is a concern for many people around the world, especially teenagers.
This is because unknowingly and even knowingly users mindlessly scroll through their feed because of the habit that has been developed throughout the years, which ultimately creates an addiction.
One such addiction people have fallen for is Instagram addiction. The sooner one realizes he/she should control themselves and get off of Instagram, the better. Oh! and with the introduction of Reels, a short portrait-video feature, one can spend hours scrolling through those videos without realizing the time gone by.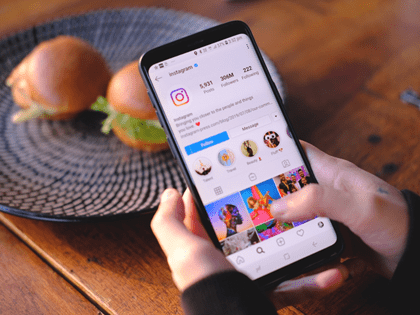 InsAt the end of the day, it is just impossible (at least for the majority) to completely discard social media apps in this digital day and age as a major part of communication happens through these apps.
Therefore, minimizing the usage of social media platforms like Instagram is the way to go and ultimately curing the addiction. But how exactly can that be done? Let's check out some ways to do so.
Cure Instagram Addiction by these Methods
1. Remove the Instagram app from home screen right away
We often prefer to keep our apps on the main first or two pages of the home screen but since you want to break your year-long friendship with Instagram, that app has to be removed from the home screen right away.
The next time you'll unlock your phone to reach out for the Instagram app, it won't be in its place and thus you'll need to go hunt it in the app drawer. This way, you'll have to follow the lengthy process each & every time and eventually don't even bother to reach out for Instagram.
2. Turn off Instagram app's notification
Turning off Instagram app notifications can go in a long way to cure addiction. The concept here is simple, you'll never get like, comment, and recommendation notifications which will let you focus on priorities and at the same time make you less worried about the happenings on Instagram.
Similarly, DM notifications are a great source of distraction, but with notifications turned off, say goodbye to unnecessary chatting.
3. Limit Instagram activity by a reminder
With Instagram addiction on a rise, Instagram itself has introduced a feature to limit your daily usage in order to focus on more priority tasks. The feature known as "Set Daily Reminder" can be found under the hamburger menu on the top-right of your profile page under the "Your Activity" option.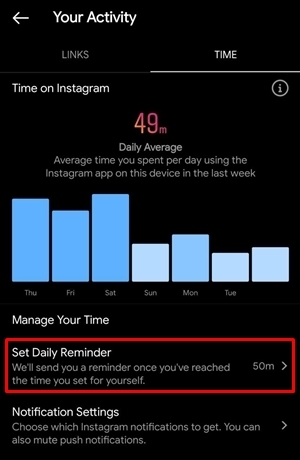 As the name suggests, this allows the user to set a certain daily limit on the usage of Instagram. Once you use Instagram over the specified time, a popup will prompt to remind you about the same that daily limit has been reached. This way, one won't (if has self-control) scroll further in the app and close the app there and then.
4. Set app screen time limits for iOS and Android
Both Apple and Google have taken into account the rising concerns of users of social media addiction but more importantly phone addiction as a whole. Therefore, both on Android and iOS there's a feature inbuilt to limit per-app usage. Check out this brief guide on how to enable the same on iOS devices.
As for Android, this can be found inside Digital Wellbeing which blacks out the apps once you reach the specified limit and won't let you use the app until it is force resumed. We've covered all aspects of Digital Wellbeing in a post where you may find all the details on the same.
5. Modded Instagram
Probably you wouldn't have heard of it, Instagram Gold is a modded version of Instagram which instead of more features, lets you remove several major elements from Instagram such as Reels, hide stories etc.
As stated above, if you're the one who enjoys scrolling through Reels without considering the time and later feel guilty, this one's perfect for you.
Disclaimer: Install modded APKs at your own risk. In case of any data loss or account malfunction, we are not responsible for the same.
With that being some methods and steps to get rid of Instagram addiction if you've gained full control over your Instagram addiction, the best way to get completely rid of it is to uninstall it.
But as mentioned above, it may be impossible to do so for many people if want to hang out for just a couple of minutes on Instagram in a day like chatting with friends & peers.
Nonetheless, the methods will definitely aid in curing the problematic Instagram addiction.