Google has decided to stop its free unlimited storage offer for photos and videos in Google Photos on June 1st, 2021. Users will have to utilize their 15 GB of free storage smartly if they do not intend to go for the paid subscriptions from Google One.
Although the subscription plans are pretty affordable, I am not in favor of subscribing to paid plans.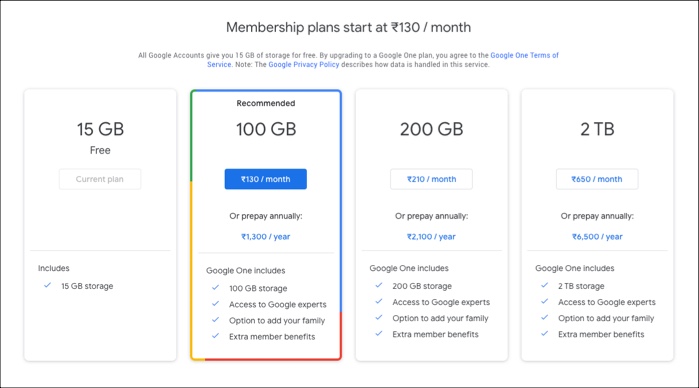 Find How is your 15GB Free Storage Being Used
Google has mentioned that the users will still be able to use the unconsumed storage from their 15 GB of free storage on their Google account. But this 15 GB free storage is accounted for the files you save in Google drive the email attachments you get in Gmail along with the photos you will store on Google photos.
How you are utilising your 15GB storage on your Google account can be viewed by clicking on this link. And if you are using a lot of Google Drive or Gmail space, you can move your files to make space for photos and videos. We will be talking about it in detail for the read this article.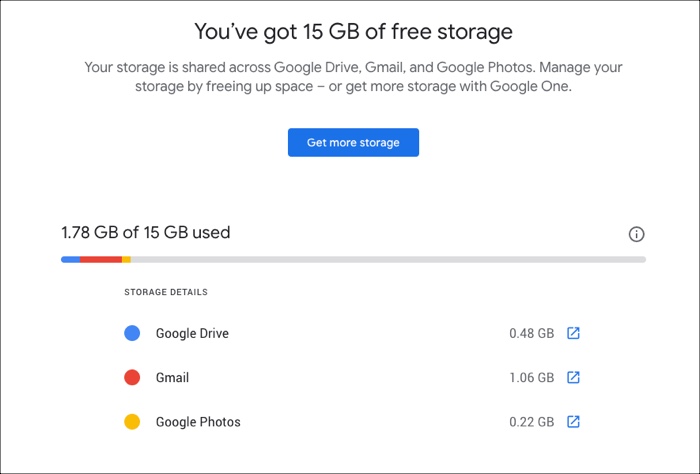 I have my Google account with me for the last 15 years, and I have used 1.7 GB out of 15 GB, where files on Google Drive use 0.48 GB, and Gmail uses 1.06 GB. And only 0.22GB is being used in Google Photos (as Photos in Original Size were still counted in the 15GB Free storage)
Fifteen years is a lot of time, but I keep things clean by deleting unwanted emails and only uploading essential documents to Google drive.
Move Google Drive Files to Different Cloud Accounts
But, if you have filled up your Google Drive account with a lot of files, you can always distribute your files among different free cloud storage services such as Dropbox, One Drive, Box.Net.
Each of these services offers a certain amount of free storage, and then you can use services like MultiCloud to manage your multiple cloud accounts in one place.
MultiCloud offers additional services that may or may not be useful to you as it depends on your different use cases, but the free plan lets you manage other cloud accounts in one place.
Move Email Attachments to Different Google Account
If it's your Gmail email attachments that are taking a massive chunk of your 15GB free storage on your Google account, you can move those emails with heavy file attachments to a different Google account.
Nobody is stopping you from creating multiple email accounts as long as you are not abusing it. For example, you can create a secondary email account with a Similar name with a prefix or suffix and then use it to move your file attachment emails by forwarding those emails.
Even if you have got thousands of emails in your Gmail inbox, it's pretty easy to find emails with file attachments using Gmail search.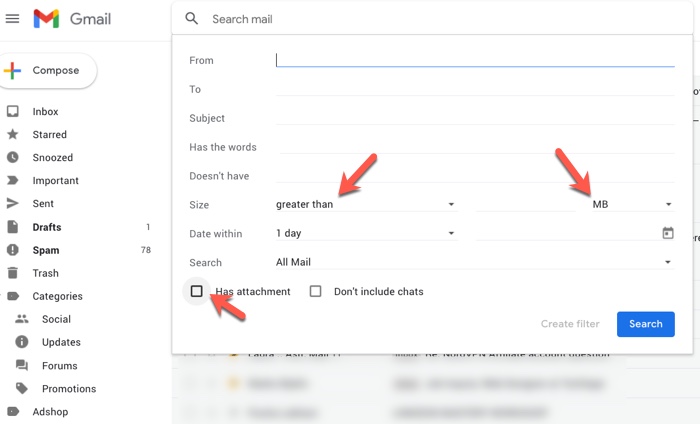 When you open Gmail in Google Chrome on the desktop, the search bar will have a downwards arrow on the right-hand side. You can click it, and it will give you a few options which will let you search for emails with different conditions.
We can refer to the image above for a combination of conditions to look for email attachments. You can then directly search for all the extensions or create a filter for future photos as well.
Once you have got All the emails, you can forward them to your secondary Gmail account all at once.
Your current space usage of Google Photos will not be taken away
It is still a couple of months before Google stops offering free unlimited storage for your photos and videos on Google photos. And the amount of space you have used so far for saving your pictures will not be taken away.
So you don't need to go back and delete all those photos. But it is advisable that you keep up the automatic backup turned off and only back up the images you want.
I know it's quite tricky to have the automatic backup turned off and expect not to lose photos if something happens to your smartphone because it defeats the purpose of why you would want to use a photo backup feature in the first place.
You can make a habit of backing up your photos everyone so twice a week so that you get time to sit down and discard/delete all the pictures and keep up only the best photos you want to be backed up.
And by any chance, you don't want to go that route. You can always up for Google One subscription to pay less than $2 a month and get Android GB storage photos, videos, and other files.