After Apple introduced the AirPods, many Chinese manufacturers started bringing AirPod inspired Earbuds, these are also known as truly Wireless Bluetooth Earphones or Mini Bluetooth Earphones.
For the entire 2017, these Chinese rip-offs were nowhere close to the quality that was offered by Apple, things started to look different in 2018 when a lot of Mini Bluetooth Earphones started making their way.
Long story short, I have written a few articles suggesting to you which earphones you should buy, both Wireless Headphones or Wired Earphones.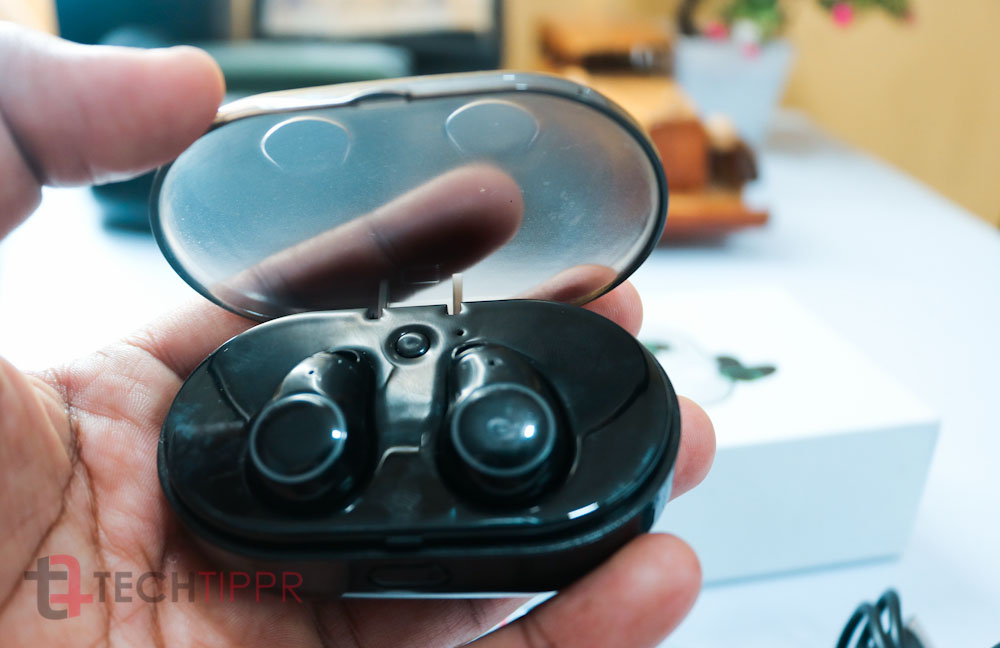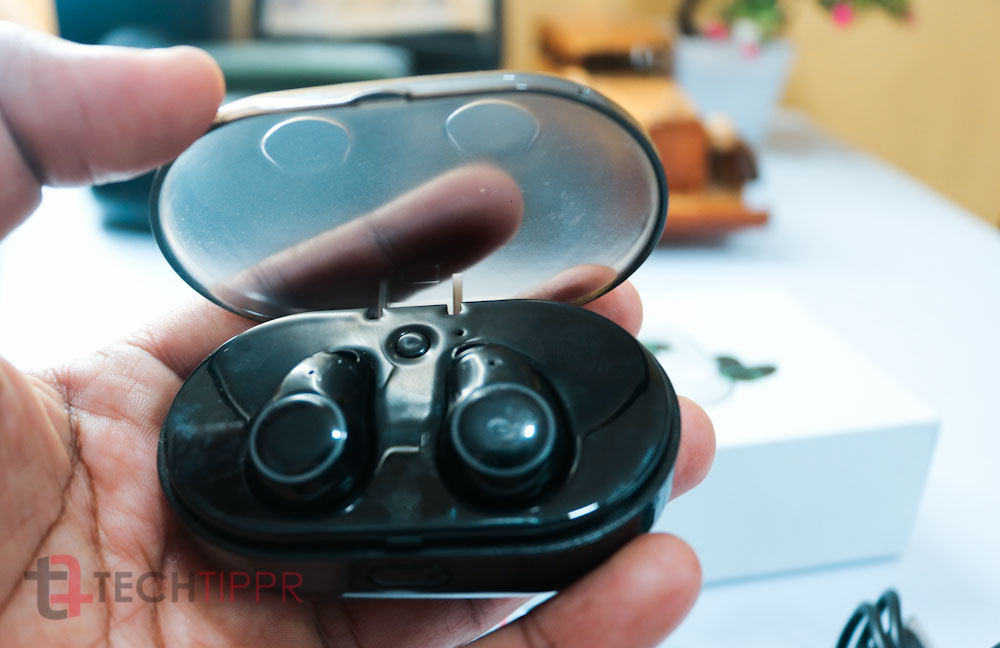 So since we are in 2019, these Mini Bluetooth Earbuds have started to become more affordable and are available on Amazon starting at Rs 2000.
In 2018, you could only get one Earbud (Single Ear), now you can get a pair, which means you can get stereo Mini Bluetooth Earphones/Earbuds.
Watch the Video Review
But before I could recommend these Mini Bluetooth Earphones to you guys I wanted to check it myself, so I bought these TWS Bluetooth Earbuds from Amazon.
It is from a company called MUZILI, but if you make a Google search about the rest of the keywords used in the product, such as TWS i7, you will find plenty of TWS i7 Bluetooth Earphones, which means these are the same earphones that are rebranded by different companies.
Though the one that I have got my hands on, is from MUZILI, so this is how the earphones look.
What's in the box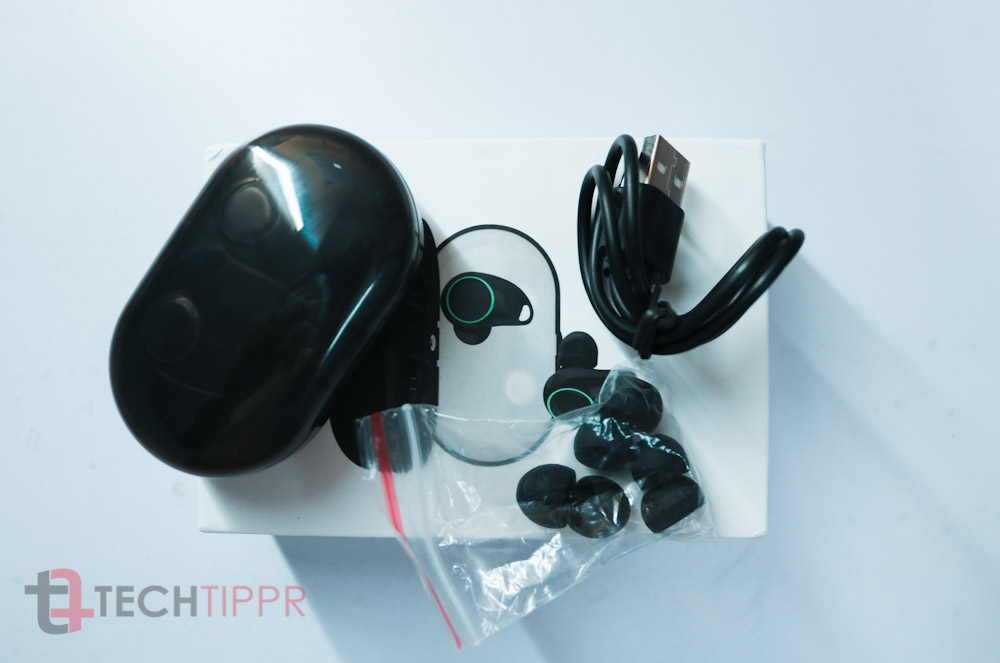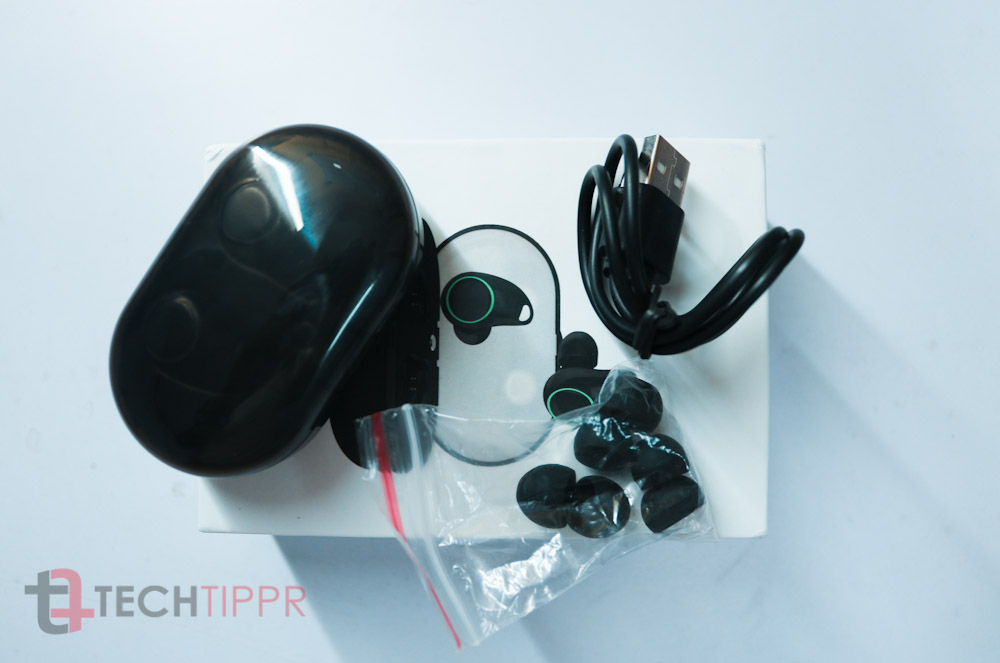 Since I have bought the product I thought I will do a proper review of it, not just a recommendation, so here is a review and the first section is about what is there in the box.
Open the box, you get the manual, which is very important because the earphones are quite tricky to use, since these are touch-based earphones.
So, keep the manual aside and you get the case which contains both the Earbuds. You also get a short charging cable which is the micro USB cable.
The case which houses the Earbuds is also chargeable and holds a battery of 500mAh. When you keep the Earbuds inside the box, you can press a button to get the Earbuds to charge, you can charge the Earbuds three to four times when the charging case is fully charged.
And Every time the Earbuds are charged fully (which takes around 1 hour), they can last for up to 3 hours, if you decide to continuously play music or talk to some on a call. But the good thing is you won't be doing it continuously (or maybe you do) but if you don't do it, it can last for a longer period of time, because when they are simply connected and are not used it uses a very minimum amount of battery power.
I am able to use it for around 6 to 7 hours on and off and then I keep them in the charging case. It is good that you can carry the earbuds in a charging case, which means you potentially carry 15 hours worth of charge with you.
How to connect the Earbuds with Mobile Phone
Even though I would strongly advise you to read the manual, at least the first page, which gives you a fair idea of how that touch controls work on the Earbuds.
For example, you can keep either of the Earbud touched for around 8 seconds to turn it on and then it enters into pairing mode when the LED Ring of the Earbud starts blinking, you can turn on the other Earbud in a similar manner and then enable the Bluetooth on your smartphone, find the i7 device in 'Available Bluetooth Devices' and then pair it.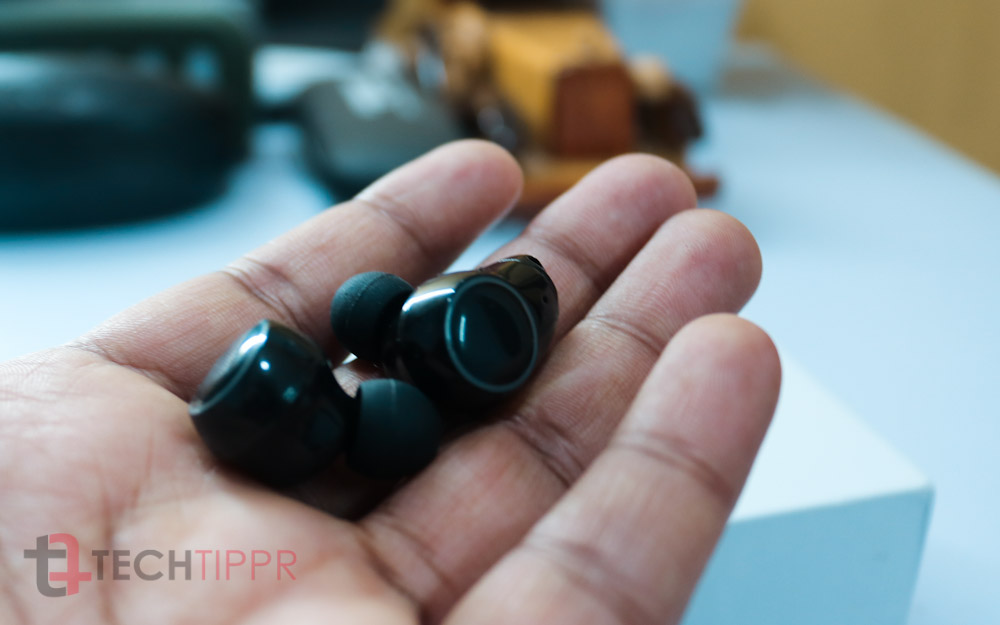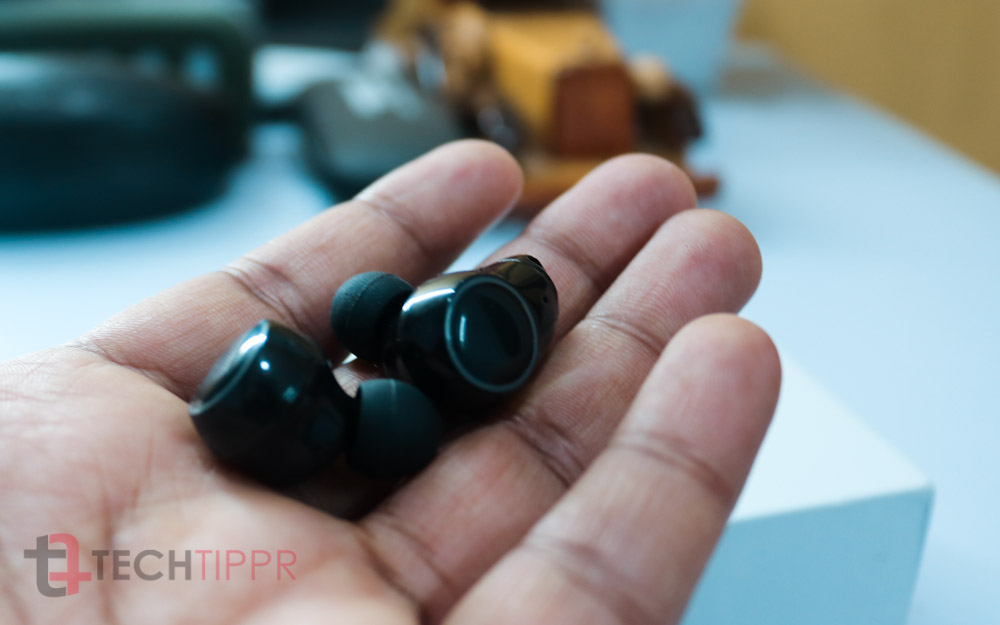 Once it is paired, you will be able to see the battery charge on these Earbuds in the notification area of your smartphone. This is pretty useful since you can see how much charge these two little peanuts have got.
Muzili TWS i7 Earbuds are based on Bluetooth 5.0, which means they are going to take a minimum amount of power from your smartphone, and the connectivity is going to be better.
I did not face any disconnections in my usage but the range is not that great, I would say around 8 to 10 meters maximum, assuming that you will be using these Earbuds when your smartphone would be in your pocket, there isn't going to be any problem with the range and the signal, even though it is advisable in the booklet that you keep your smartphone in your right-hand side pocket since the right Earbud is the one that receives the signal and throws it to the left Earbud.
How is the sound quality
Coming to the main point of why anyone buys the Earphones, the sound quality. I wouldn't say it is the best sounding Earbuds I came across, because, I did not. This is certainly not the alternative to the Apple AirPods, not even close, but for the amount of money you will spend on these Earbuds, it is quite good.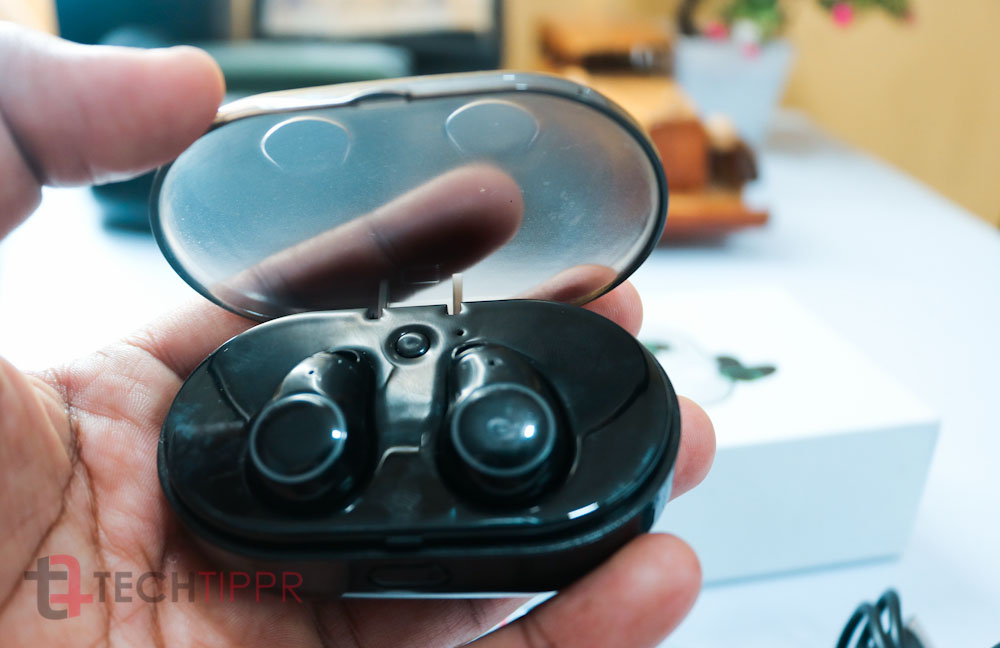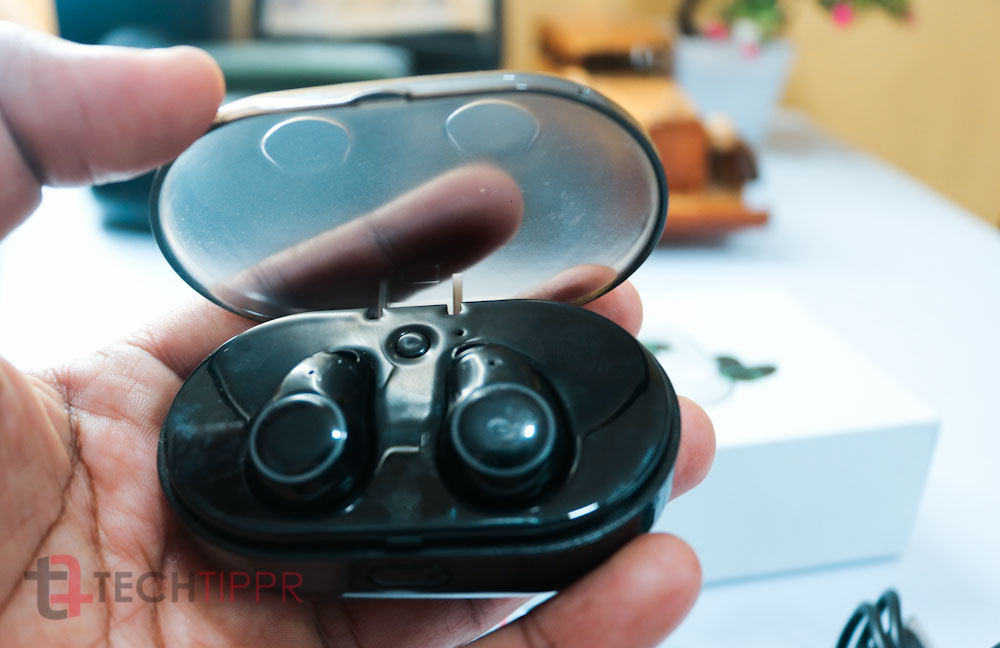 There is a good amount of Bass in the sound, the Mids and Highs are also good, but if you have gotten used to the music on a wired earphone, like the MI earphone, you will be disappointed.
If you are looking to buy an Earphone with great sound quality, then to have this is not the earphone you should buy, but if you are looking for Wireless Bluetooth Earbuds or specifically Mini Bluetooth Earbuds, then this is the best you get at this price, you shouldn't be complaining, seriously it's just Rs 3100.
Even though Bluetooth Earbuds start at Rs 2000 on Amazon.in, I wanted to try something better than the cheapest Bluetooth Earbuds available. And after trying these earphones I can imagine the Rs 2000 Earbuds wouldn't be worth.
Even if you have got a budget of Rs 2,000 and you want to buy Mini Bluetooth Earbuds I would recommend that you increase your budget by another Rs 1000, so that you can buy it instead.
Design and Comfort
If you are not an Audiophile, and you're looking for Earbuds that you want to use while cycling or while working out, or while doing other outdoor activities, the sound quality of these Wireless Earbuds is good enough, so let's talk about the design and comfort of these awards.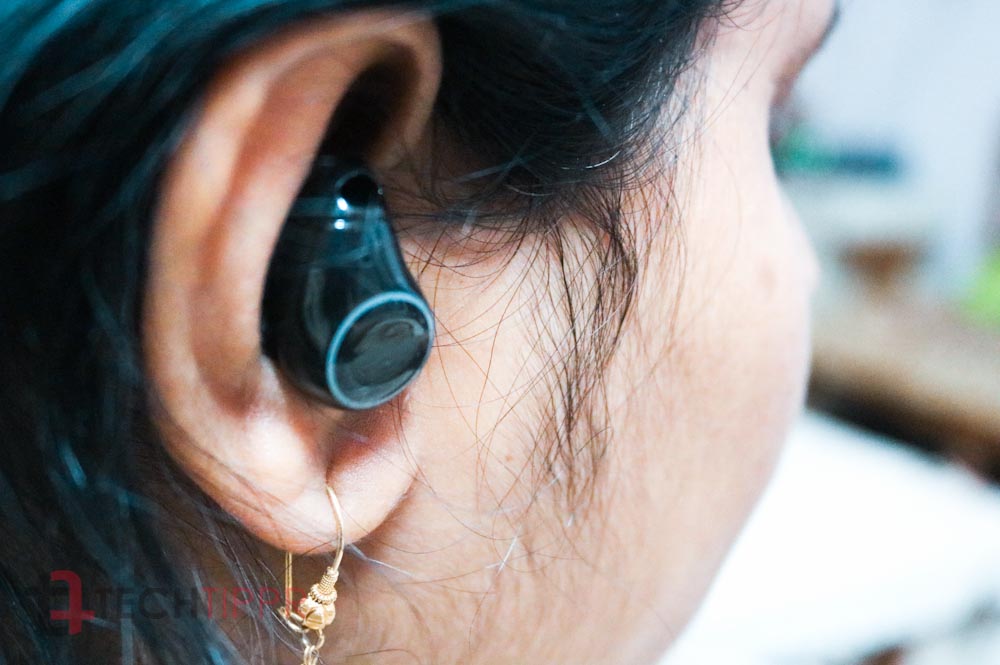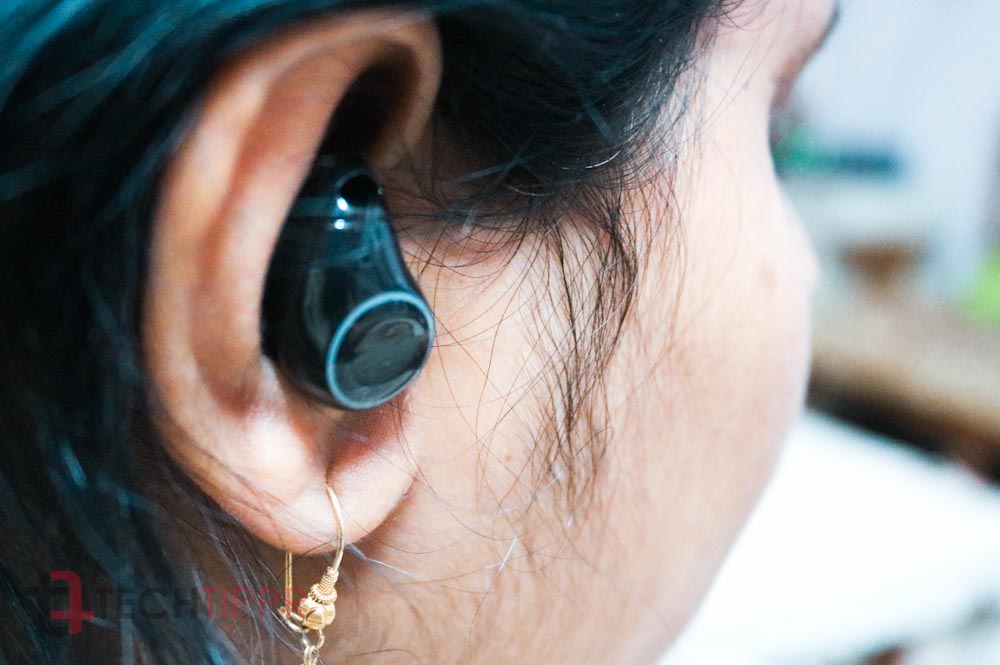 Talking about design, let's first talk about the charging case, which does not look of highest quality but doesn't look cheap either, if you do not drop it several times and you are capable of carrying it safely then it is going to last for a long time, but I am not sure it is going to survive a few falls.
Talking about the Earbuds, they are nicely designed, you get extra Earbud Tips of 4 different sizes, so you can change them according to the size your ears. These Earbuds have touch-sensitive buttons and there is a teal coloured ring that keeps blinking smoothly whenever it is connected to your device, and it looks cool, really cool, people are going to notice it or maybe ask about it is well.
I used them for a few hours, but it did not feel any discomfort in my ears, even when they were playing music continuously when I was testing it.
I even used to them while jogging, I didn't jog exactly, but I tried to jog for a few minutes and earphones did not fall or got loosen. I think they are a good option to use while cycling or doing any type of jogging or walking. I haven't used it in the gym because I I am on a break for a month, but I am sure they wouldn't be a good choice for the Gym if loud music is playing already because it does not have any kind of active or passive noise cancellation.
Neither they are designed in a way that they can block sound from going into your ears, I was at full volume listening to some music, but I was still able to hear my surroundings, so if you're looking for some kind of isolation while listening to music using these earphones you will be disappointed.
Even the basic Mi Earphones to a better job at noise isolation than these Wireless Earbuds.
Despite all the Cons that I have mentioned in this article, I think these Wireless Mini Bluetooth Earbuds are amazing since there is no wire to worry about, mostly the wired Earphones are damaged from the 3.5 mm audio jack plug/pole.
Also, the upcoming smartphones are coming without the 3.5mm audio jack, so it is essential that you invest in a Bluetooth Earphone, perhaps your next smartphone would be without the 3.5mm Audio Jack.
But, if you are specifically not looking for these type of Earbuds, maybe a Neckband style Earphones would be a better choice, something like Samsung U Flex which is priced in the similar range of Rs 3000.
Watch the Video
If you want to go buy the TWS i& Earbuds, the best buy link would be at the bottom of this article, it's an affiliate link, so, if you purchase via this link, you will also be supporting Techtippr for writing articles like this.