In this post, I'll not only write about my experience with the Reliance Jio 4G internet but my overall experience with different alternatives for using the Internet on the go. 
I am one of those people who are blessed to take their work anywhere they go, in fact, the people who would require giving instructions, presentations, analysis, statistics etc to their teams via email or another medium, can take their work anywhere.
The only condition is a stable Internet connection. While the world has advanced to a level where we can find Wi-Fi almost everywhere we go, but when it comes to work, we all find ourselves in a situation where we still need a better Internet option that we can take everywhere we go.
Prior to using Reliance Jio, I have used Airtel 3G, Vodafone 3G and relied on Reliance Wi-Pod because it was cheap and stable wherever I used it.
Reliance Wi-Pod was my Internet companion just a month ago, but unfortunately (or I'd rather say Fortunately) It stopped working one fine morning, the reason? They were closing the CDMA network and moving their subscribers to 4G, which is still not done.
Anyway, this tragedy made me look for a better alternative than my Vodafone, because, one, the 3G rates are hell expensive.
Note: I had been using Vodafone 3G without any problems when I used it just on my phone, but when you connect it to your PC, it sucks up every single byte of your mobile data. 
I got the Reliance Jio SIM under the Jio Preview Offer, which gives Unlimited Data, Calls, SMS and their Premium Content app access (Jio Play, Jio Beats, Jio On Demand & Jio On Mags) for 90 days.
Why are they offering everything Unlimited? Well, it's not launched yet and they want more people to test their service before they launch.
So, it's been more than two weeks I am using the Reliance Jio 4G Internet and totally loving the experience.
Let's talk about the Speed
I know it's 4G, which means great speeds, but honestly speaking, I did not expect this much, especially after using the 3G offered by Vodafone and Airtel. Vodafone and Airtel 3G do give some good speeds, but it isn't consistent.
Even the Reliance Jio 4G is not consistent, but even when it isn't, I still get the speed to get my work done. If you read my review of the Reliance Wi-Pod, you will find my number one priority is to get a stable connection to get my work done.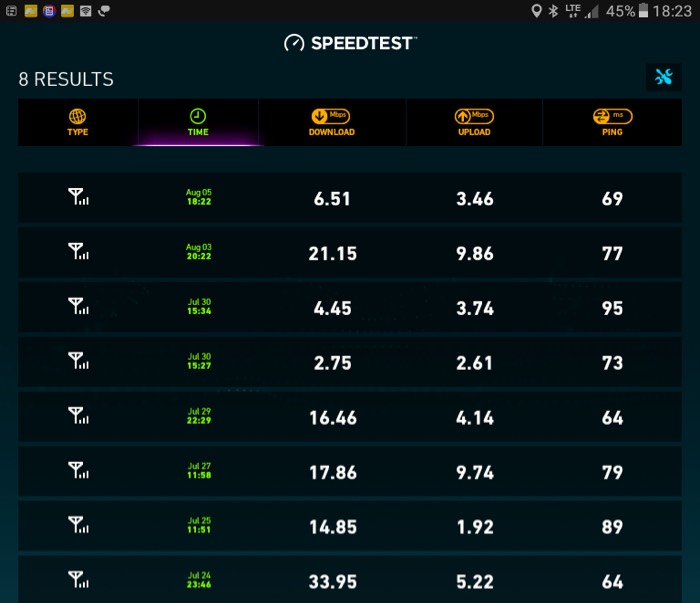 I did a speed test in different areas for you to check for yourself. The places where I got only 1 or 2 bars, I still managed to get a decent speed.
How's Unlimited Data Playing?
I want to make it clear that when a company offers unlimited plans, there is definitely a FUP Cap. But in the case of Jio, there is no such cap. It's truly Unlimited, I've seen people crossing over 1TB (yes, that's freaking awesome)
Also, I believe this Unlimited Internet offer is just available for the testing phase, and once it is launched, they will come up with plans similar to what other companies are offering.
Experience with Reliance Jio Content Apps (Play, On Demand, Beats)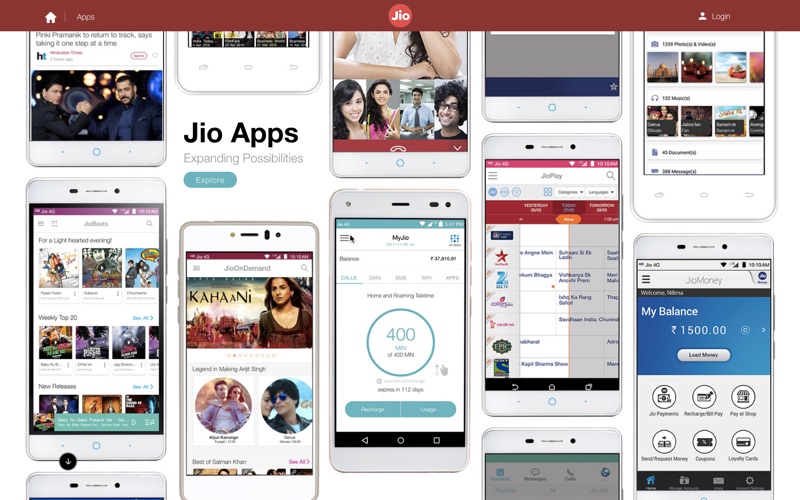 But till then, I am enjoying my Unlimited data by watching YoutTube, Netflix and RelianceJio's own content apps like Jio On Demand, which offers a nice collection of Movies and Shows.
The Jio Play app offer live TV, and It's truly Live and offers a lot of channels, I didn't use it much, I don't watch TV on TV why would I watch TV on Mobile. But it's still great for catching up on your favourite TV series when you are on the Move.
The Jio Beats app offer music in HD, it's something like Gaana app with premium features, at least till the 90-day preview offer.
Reliance Jio is making people addicted to fast Internet
After using Reliance Jio 4G I feel I've got my Wired Airtel Broadband of 16Mbps connection is always with me in my pocket, because it is literally my main internet connection right now as I write this post from a local Cafe  connecting my Macbook Air to my phone's hotspot which has the Reliance Jio SIM.
I kind of feel addicted to the speed, I can now truly move around the city with a broadband Internet in my pocket. Looking forward to the Official Launch to see what kind of plans will be available once my 90 Day Honeymoon period with Reliance Jio ends.