If you use Reliance Jio number then I am sure if you might be aware of their new Hello Jio Virtual Assistant.
It gets automatically enabled when you update My Jio App, which is the center hub of all the apps from Jio,
Jio Music – for streaming high definition music
Jio Cinema – for watching HD movies, from Bollywood Hollywood and regional movies
Jio TV – watch TV channels live on your mobile phone
Jio Magazine – read magazines in digital format
Jio Newspaper – read your favorite newspaper all at one place.
Apart from all these services, you get to check your data usage from MyJio App.
And you also get to recharge, which means, it's not a good idea to uninstall the app just because the Hello Jio Assistant annoys you.
So here is a simple way you can disable that HelloJio assistant on your Android smartphone.
How to disable hello jio assistant?
Open my jio app
Tap on the hamburger icon on the top left.
Then tap on settings where you will find the app settings
After typing on the app settings, you will find the option for hello jio on the next screen,
You can tap to enable or disable it.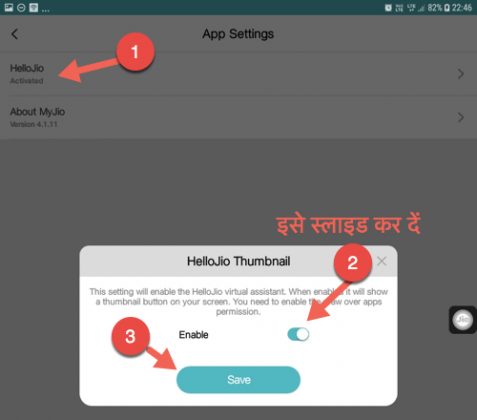 How to completely disable HelloJio assistant from every screen.
You will notice that this does not disable the floating bubble on either side of your smartphone screen. It remains there no matter what option to choose between enabling or disabling Hello Jio.
To disable it completely, you need to deny the permissions for MyJio App to draw on other apps.
This can be done from the app info area under the permissions section.
To get this done, long press on my jio app, then drag it worth to ' app info' which will open the app info page of my Jio App.
You can then go to the permissions section, find something like 'Float on top' and deny the permission.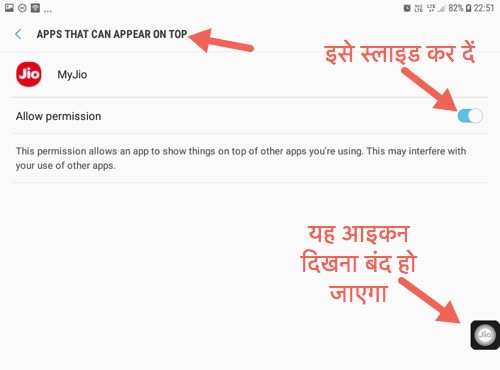 What's the permission is denied, the Hello Jio Assistant bubble won't be able to float over the screen.