Facebook is reportedly working on a feature to let Instagram users post their Instagram stories directly on WhatsApp.
You may already be aware of Facebook's existing feature of letting users post to Instagram stories directly to Facebook stories.  The teacher gives Instagram users a wider audience on Facebook.
Now the similar feature is going to be available for WhatsApp users as well. If you are an Instagram user and also use WhatsApp then you will be able to save some time by automating the process of posting stories on WhatsApp.
I had mentioned in my earlier articles about Facebook testing a dozen of things at once so this feature is also being tested on a limited number of users.
TechCrunch has already confirmed this from Facebook's spokesperson that the feature will be rolled out soon.
The Instagram stories and WhatsApp stories have already been getting 300 million daily users and the number is on the rise, and, with this feature being available, the three hundred million people will get a wider audience on Facebook
How to enable this feature of sharing Instagram stories on WhatsApp?
For auto-sharing Instagram stories to Facebook, you can find the option to enable in the story settings that can be found in the Instagram stories.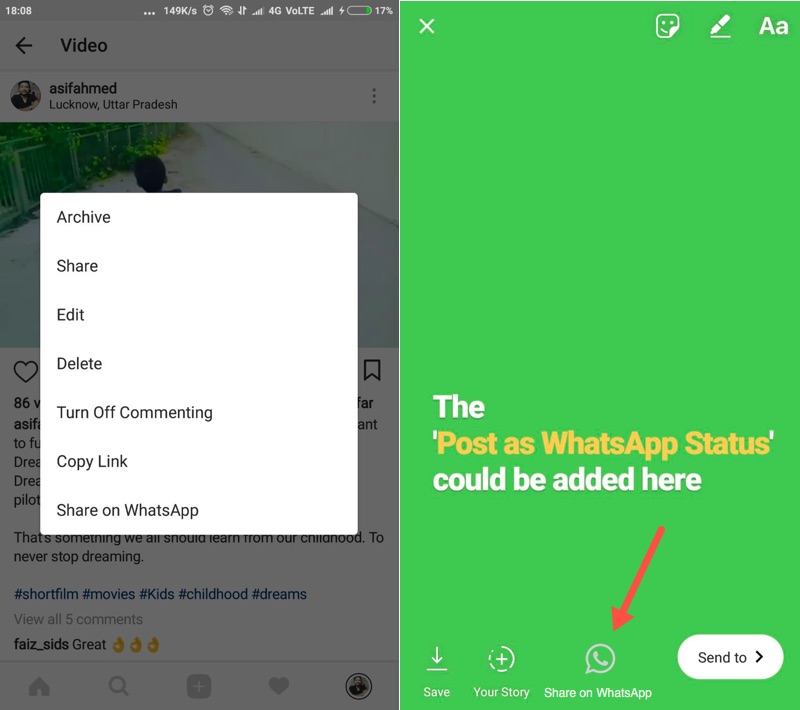 But since WhatsApp has a different authentification system, that is, using your mobile phone number, I guess the process for posting Instagram stories to WhatsApp would be different than Facebook.
A button could be added on the Stories screen itself that needs to be tapped if the user wants to post the stories to WhatsApp, just like you are able to share Instagram posts to WhatsApp by tapping on 'Share on WhatsApp' button.
I'll update this article whenever this feature is available for me or it gets rolled out to a larger number of users.
You can like the Techtippr Facebook page for more tech updates