We all can find ourselves in situations where we have to send a file or a message on WhatsApp to a person whose number is not saved in our contact list.
And often times there are situations where we wouldn't you really want to save that number in our contact.
Sadly, WhatsApp does not offer any type of functionality that allows us to send messages to someone whose number is not saved in our contact list.
But there is, however, a way to do this, let's find out how.
How to send someone a message on WhatsApp without saving their number on the phone
There are actually two ways to do it.
Method 1
One is the simpler way by installing a third party app from the Play Store that allows you to do it.
There are plenty of apps in the Play Store that will let you do it, one such app is called WhatsDirect, and as the name suggests, it allows you to directly send a message or a media file, by allowing you to copy paste the number in the recipient field just like you can do you while sending an SMS.
These apps are pretty lightweight, in the range of 2 to 5 MB, so they want to really take a lot of space on your mobile phone and are also great if you do this more often.
Method 2
The other way is by following this workaround. Any to open the browser on your mobile phone and copy paste this link (https://api.WhatsApp.com/send?phone=number) in the address bar. Where the 'number' is the actual number you want to send the message or media file.
While writing the number, make sure you type in international format (i.e enter the Country code without the + in the start, For Example, https://api.WhatsApp.com/send?phone=9109876543210, 91 being the country code for India)
Once you have entered the link in the address bar of your browser correctly, WhatsApp window will be opened and you have to tap on the message button to get the option to send a text message or media file.

Method 1 might sound easier than the Method 2, since you will have to type this link every time you want to send a message, however, here is a trick you can follow to make it easier.
Method 3
Create a personal group in WhatsApp:  you can do it by adding yourself and some other number to create a group then you can remove that particular number so that the group is available to you only.
You can name it something like 'Personal Notes' or 'Important Notes', And use it for keeping important things you would require again.
You can also use this group for the purpose of sending messages to unsaved numbers.
Use Clipboard Manager Feature of  Swiftkey Keyboard:  the SwiftKey keyboard is available for free you can install it from the Play Store, its clipboard manager feature is pretty useful.
Copy this link https://api.whatsapp.com/send?phone= and then pin it, so that you can use it several times.
The next time when you copy a number you want to send a WhatsApp message to,
Simply copy the number,
Come back to the personal Group created in Whatsapp,
Tap on Clipboard manager, and tap on the Pinned link
Tap on the number from the list, you just copied,
Send it to create a WhatsApp link,
Tap on the link, it will open the message window of the particular number.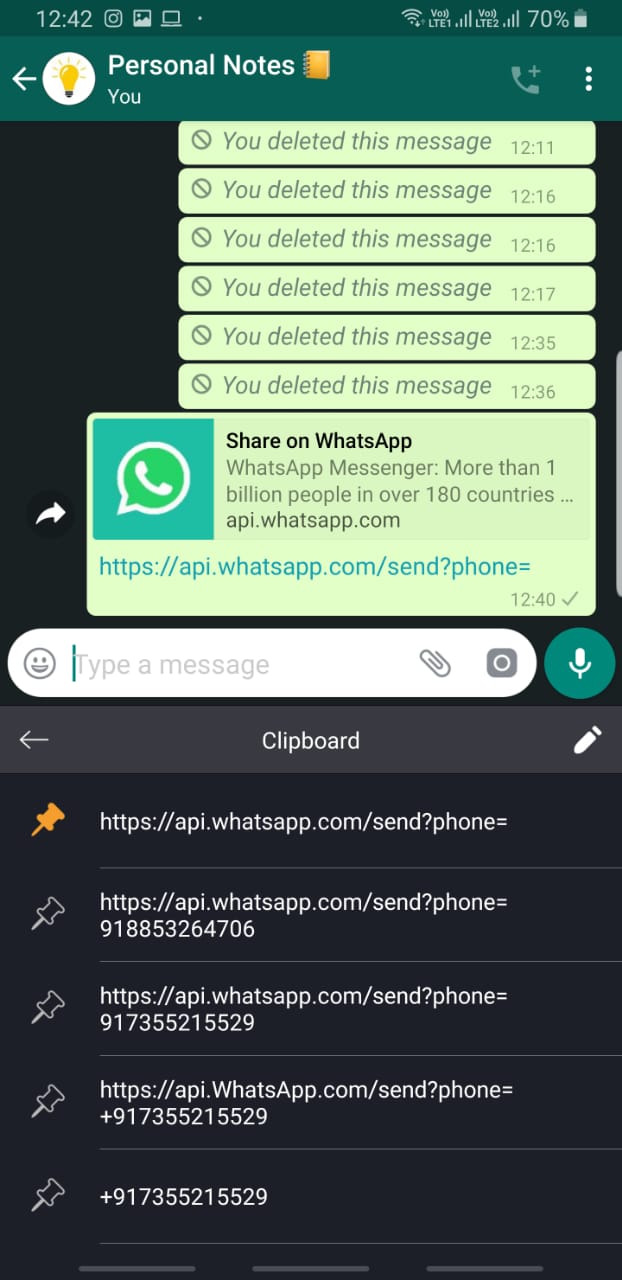 With this trick, you don't need to install any app.
I've added a new trick for you guys. You can simply type tippr.in/sendwhatsapp and you will be redirected to a webpage on WhatsApp which looks something like this.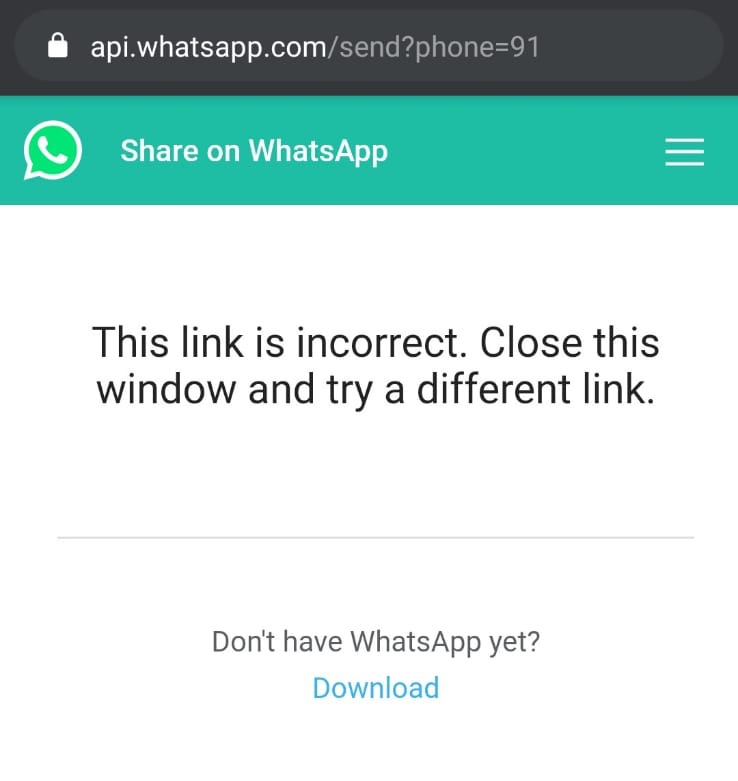 It's because the number isn't type yet. You have to now edit the url by adding the number you want to send the message on.
Once, after typing in the number, tap on enter and you will be redirected to WhatsApp and the chat window for the number would open.
You can then send messages or media files to the number.